This isn't going to be a review in the typical format I go through in reviewing comics, and it may have more spoilers mixed in than usual. Though there's one piece I will avoid because it's the thing that ends up making the entire issue work and is what actually ended up moving me to write about this title once again.
We use the Protectobots for our point of view - and specifically First Aid since he was the major cast member from the team before the team was a team. Go team. It's a good way to bring us in since the return of these characters to the ship is kind of long overdue after they had to be dragged off the play in the Combiner Wars. And so we go through the process: An off-panel little disaster has happened and the shuttle carrying First Aid and friends is damaged and the engines aren't really working and will probably explode, and they're going to crash in to the Lost Light. And while we as readers might expect the suspicious, armed greeting they get as they disembark, it's all a bit shocking for the returning medic and his combining buddies (and Mirage). But Getaway swoops in and defuses the immediate situation, drawing yet more confusion as First Aid and company clue in that Rodimus, Magnus, not even Megatron is there to greet them. But before First Aid can press the questioning too much, it turns out Blades was injured somewhere along the way before they landed, and Getaway shoos them off to the medbay to attend to that.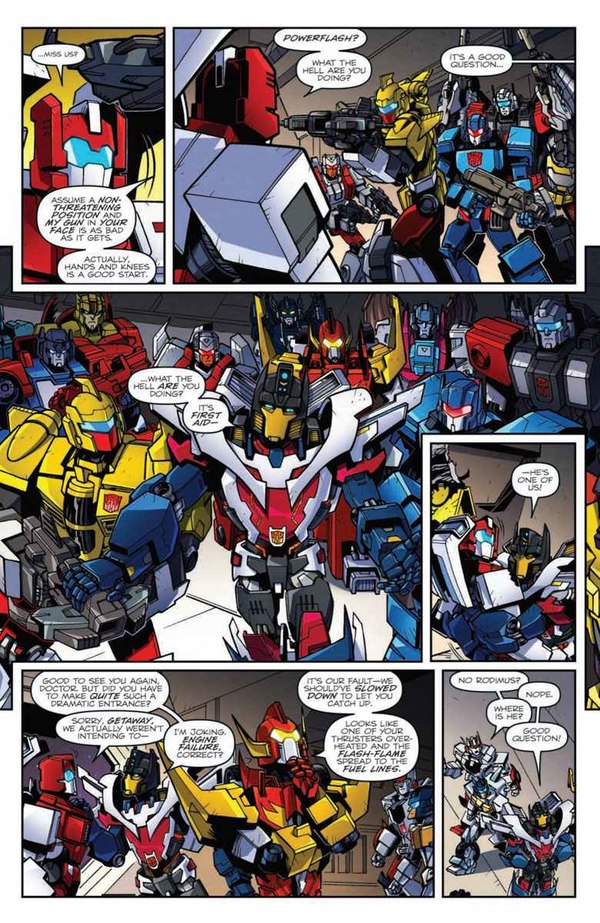 cringe.jpg
That's our basic setup, and from this point I was interested because it was already reading more like the older form of the book. A mystery is put before us! Except not entirely seeing as we have a lot of the answers First Aid needs right now. But that wouldn't be any fun, would it? So we have some extra twists dropped in so that we have an avenue to be questioning the exact situation that's developed on the ship. For instance, where is Thunderclash? And why is there a locked door in the sickbay? Okay, so some of this gets answered within this issue, and that too kind of makes for a head scratcher. Because why would we already be given these answers? That is, unless the answers themselves are just there to obfuscate the reality. Ultimately, it doesn't take long for First Aid to decide everything is wrong. Mirage is meanwhile quite happy to go back to his own bar, especially since Swerve's has been shuttered. He's not quite as focused on the wrongness surrounding him so far. And it's actually at Swerve's that we hit the crucial turn of the issue that makes its story work, where the Protectobots and Mirage decide they're not having any of this and everything goes downhill from there.
I don't want to get too optimistic about this. Back in the 40s (of MTMTE) we had good setup issues only to find terribly unsatisfying resolutions the next issue. But something of the feeling I get in reading this has me hopeful, and I think a big part of that is that final twist in the issue that pulls the entire idea together. Something about that reminds me of going in the "slaughterhouse" story way back in the 30s, and that was something with a weird, interesting set up that paid off for me big time. I guess the circumstances around that are a little different, since back then I was catching on to the story hook as it was going along so I felt really connected and engaged with the story and got some extra satisfaction the following month when I was proved right. But the surprise ending of this issue which is actually telegraphed well in advance hooked me in much the same way. I don't know if issue 11 will carry this forward, but all the same the one cover for I think issue 12 that shows Defensor formed has me hopeful for this at least turning in to an interesting - or at least therapeutic - spectacle.fuses the immediate situation, drawing yet more confusion as First Aid and com
Basically, I'm not a fan of big chunks of the writing choices James Roberts has made for quite a while now. I don't want to turn this in to tearing down the writer so I'm not gonna dive in to details here, but it's enough to say that I've not enjoyed the directions we've gone with the book for most of the last two years or so. He's chosen certain elements to focus on as the book goes on, and I'm not going to say he's wrong for that; only that it's been a focus on things that don't click with me. Now I'll be real here and say it's gone far enough that I've involuntarily uttered angry expletives at certain points in multiple issues and probably not in the way that might have been otherwise intended or hoped for. But there is a whole area of Roberts' writing that resonates well with me, and this issue at least is putting that majorly back in focus and I like that. I hope this move doesn't end up isolated to this issue, or just this trilogy of issues. I'd love to be able to enjoy this series again.
Okay, so while the writing direction this time connected better with me, I don't feel the art style is meeting it. I don't think I've really talked about Jack Lawrence's art before, so here we go: There's a good bit that I think he's good at achieving. His layouts are clear and easy to follow, so I have no problem following the visual storytelling. Even other artists I like in different respects sometimes can't quite get that one part down. I'm also pleased with his consistency in rendering a given character. He's not only got his particular style that he draws them in, but from point to point they look spot on, regardless of position or angle or whatever. It's solid character construction. And his background work is pretty good too. There's not a lot about it that specifically stands out to me, but it's just there enough to give an environment while not taking away from the foreground. It's good. Where it falls down for me is in the small details. Or rather what I see as a kind of absence of them. The design style is a little too simplified for my tastes, and it gives everyone a sort of cartoony look that I don't think exactly plays well with the tone of the story. Added to that, or perhaps as an extension of it, the facial expressions aren't quite there either. One stand out instance of this is a panel on Streetwise's face where, based on the context, he's probably meant to look somewhere around "smugly clever" but instead he looks downright nefarious. It breaks the mood and the moment of the scene, and kind of confuses things too as you stop and try to figure out why he's got that look on his face in that moment. That's why I say I don't think the art is quite meeting the story. Lawrence is a fine artist, but in my opinion isn't quite nailing the little things that this book really needs to make its presentation come together and work from top to bottom.
So, where am I at right now? I don't know if Lost Light will win me back or if the renewed qualities I'm seeing in this issue will stay present when the next story arc comes in. But I think I will give the series at least this three-parter to try to get me to change my mind about the decision I made earlier this year to drop it. Even if all I get out of the experience before I have to put the title back down is seeing Getaway get the glitch beat out of him by an angry combiner, I think it'll have been worth my time. And fully deserved.
| | |
| --- | --- |
| Reviewer | ExVee |
| Date | October 30th 2017 |
| Score | (7 out of 10) |
| Reads | 3750 |
Back to Reviews Index