Aileron's team of colonist soldiers finds Jazz in Mexico - but it's not a happy reunion. Out at Sanctuary Station, Thundercracker's busywork points to a minor mystery that may swing back around to some larger events. All this, and trying not to start a war between Earth and Cybertron! "Primeless, part 2" written by John Barber, art by Andrew Griffith, colors by Josh Burcham.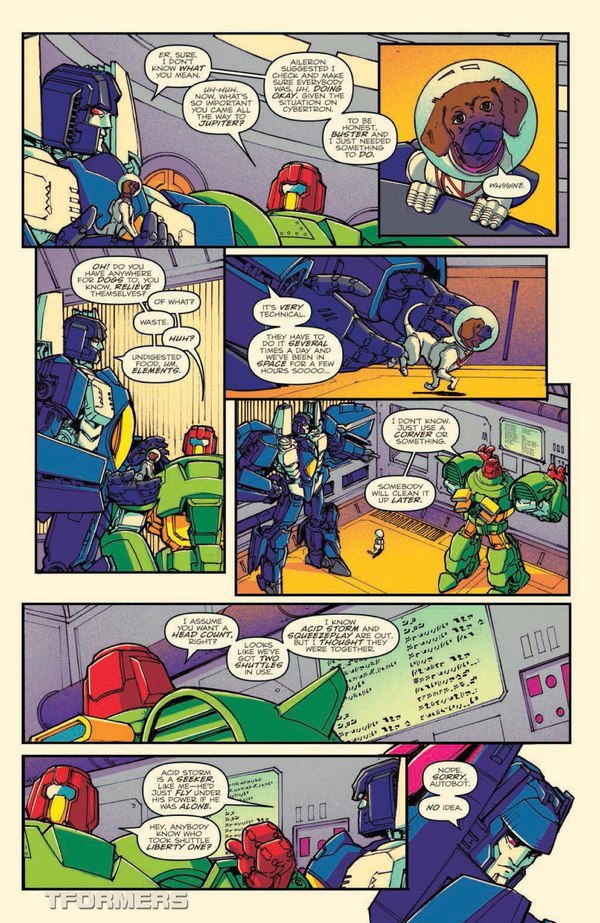 SPAAAAAAAAAAAAAAAAACE DOG!
The mission to rescue Jazz is complicated by Jazz's refusal to be rescued. Instead we have Jazz taking on his own mission to halt the spread of Cybertronian weapons among Earth's people, and for the purposes of narrative, Aileron and friends get dragged along. We carry on the thread from last time, that Aileron is in a bad place. She's losing confidence in a lot of things, and the fraying edges are starting to show. Because of her faith, she's been trying to take up the slack for Optimus Prime for a while. Trying both to smooth over the rough spots in her own perception of him as she sees more and more the real person behind the title she reveres, and also trying to cover for those same shortcomings with the others. The strain of that is obviously becoming unbearable. It doesn;t seem like a huge spoiler to point out that the final panel is Aileron lying awake, lamenting that as much as she wants to she can't sleep. She's not able to find mental peace for even a short time, instead being consumed with her own worry and doubt about, well, everything. It's a pretty powerful image to end on, when taken with her character arc so far.
We can presume based on the events of this issue that the subplot of the super weapons in human hands is probably mostly done with. That may not have been the sole reason for Jazz disappearing a little while back, but pursuing this goal seems to have been a lot of what's kept him away since. He's carrying out that mission even with the colonist troops in tow. Spending time around Jazz and watching him interact with humans is contributing to where Aileron is at by issue's end. At one point she even wonders if she'd be able to stop herself from killing a human if it came down to the choice between that or saving another Transformer. Going along with this thought is a lot of show of the team from the colonies questioning whether human life is really worth the effort to protect and preserve. Traditionally, that sense of humans as inferior or unworthy life is a typical Decepticon thought. But here it's the neutrals who, while maybe not outright contemptuous of human life, maybe don't entirely see the need to uphold it above all else. As general confidence in Optimus Prime erodes, I see this likely to become a greater part of the ongoing story on Earth.
The issue also has recurring element where a page will be devoted to some talking heads. I'm not sure exactly how they're meant to be taken within the context of the issue, but they're like interview soundbytes, and offer a chance to get a little bit in the heads of different factors in the current situation. First is some representatives from Sanctuary Station reflecting on the current, uncertain Cybertron situation. We get a page of humans talking around the issue of the heavy weapons they've started stockpiling, and then finally a page with Aileron and her group, showing the shifting views on Optimus now that they've all been around him for a while. Back however long ago it was that we had the solicits for the "All Hail Optimus" arc, I predicted that the plan to annex Earth would go horribly. Now, of course I meant that in the relative short term - within months. But we're still making strides toward the end, just in a more elongated timeline. Ultimately I'm sure this is better, afterall a scenario like this shouldn't collapse all at once. But collapse it certainly will.
It was a fun treat this month to see Andrew Griffith on interiors! His lines paired with Josh Burcham's coloring style for this series makes a pretty unique spin on the look of the comic. Griffith's lines are of course unmistakable, but the consistent coloring helps to blend the presentation in with the normal look and feel. One of the things that stands out is how good Jazz in particular is looking through the issue. There's even a couple of transformation sequentials that come up that look fantastic. Nicely detailed without being overdone. Jazz isn't the only one who enjoys this, but he's easily the one that looks the coolest during it. And where I think lines and color come together best is that same final panel I referenced earlier. It's some simply outstanding work on both sides. Plus, Griffith got to draw a dog in a space suit. How much more is there to say than that, honestly?
It looks like we won't be "Primeless" next month as we shift away from Earthside hijinks and get ...an issue with a cover that would make an awesome poster. Somebody get on that for me.
| | |
| --- | --- |
| Reviewer | ExVee |
| Date | October 30th 2017 |
| Score | (8 out of 10) |
| Reads | 3670 |
Back to Reviews Index