After
First Strike
, Optimus Prime retains a full schedule. Funerals, politics... and finding the first new life on Cybertron in millions of years. All this, plus Throttlebots!
The Dead Come Home (Part 1 of 2)
is written by John Barber with art by Livio Ramondelli.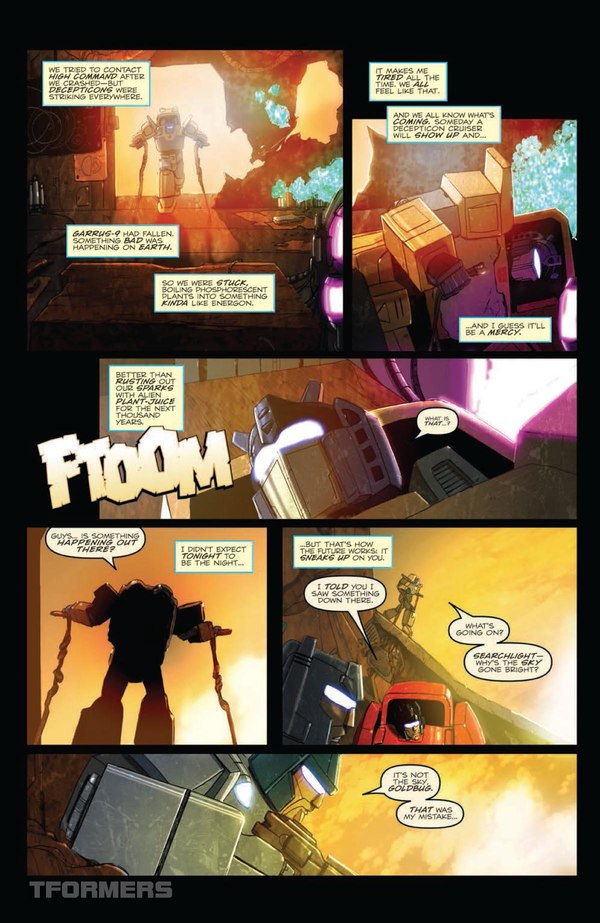 So, hey: Goldbug is a guy who is not and has never been Bumblebee, and has existed in IDW continuity since 2009. I had no idea since I jumped on with the "Phase Two" books. And they both have/had canes, which is just kind of weird.
This story really draws heavily on everything John Barber's written for the past couple of years, and seems like it's beginning the process of bringing it all together. It's got characters and plot threads from
Revolutionaries, Rom vs. Transformers,
and the one-shots following the Dinobots. I'll admit some surprise that the Throttlebots figure into this storyline... for one thing, because I didn't even know they existed in IDW since they predate where I jumped on. Or that Goldbug was a separate character from Bumblebee. Still, it's neat that Barber is still tying in more layers of pre-existing continuity even as he gathers his own plot threads for what seems like it's going to be a big story.
And while I like that concept and want to see where it goes, this issue feels oddly short to me. I think that's probably because most of it is setup, and of course largely setup of things that as a regular reader I (mostly) already knew. But even so there's some good scenes here, and by coincidence or design my favorites largely involve Arcee. There are also a few interesting new revelations - the last page is one that you will either cheer or groan for depending on how you feel about the character(s) involved. I'm... kind of on Team Groan? But we've had a pretty solid intermission since we last dealt with this particular corner of Barber's story, so I'm willing to give it a chance.
Livio Ramondelli's doing the art this issue, and he's going rather heavily on his colored "lighting" overlay filters. I still think they rob his artwork of much of its force. There are perhaps three pages in this issue where the dark areas are actually
black
- and one of them is the cover. And the cover plus the sequence with the Torchbearers and Arcee are the best looking images in the issue to me. It helps that he selected a green filter for when Arcee talks to the green robots, but still there's a particularly nice profile shot of Arcee in shadow that the unobstructed black helps immensely. That conversation at least is where the story and art seem most compatible. Other than that, you probably know what to expect from this style by now and whether that's your thing.
Livio's cover is a fairly simple image of Optimus Prime - but again, he dialed back the muddiness so it looks quite good. Kei Zama and Josh Burcham's cover shows Optimus, Blackrock, and Arcee looking up with an angry Trypticon in the background. I hope Zama gets to draw interiors on a Trypticon appearance sometime, because he looks great here. We've said much in the past of Burcham's very bold, very `90s coloring for this series and how well it works with Zama's style, and that's still very true here. Great cover! Casey Coller and John-Paul Bove's cover show the Throttlebots camping out on the planet they've dubbed "Botanica," and it's very well-composed. I like the way the sky fades from the stars around the Throttlebots to the yellow sky of the planet, leading to a delineation between the "space" Cybertronian elements to the more organic ones of the planet beneath them. Lastly, we get a portrait of Slug in one of those rare moments where Andrew Griffith gets to color his own artwork. And it looks good! It has a slightly rougher feel than I usually associate with Griffith, which I think works really well both for Slug and for
Optimus Prime
as a comic.
This is one of those issues that I'm not big on as an issue unto itself, but is setting up good and interesting things for the future. It's also a fairly decent place to jump on, as it gets people up to speed on the various plot elements from the past that it's bringing together. So, we'll see how it ends up doing in the final analysis once we can judge Part 2 next month.
| | |
| --- | --- |
| Reviewer | RAC |
| Date | November 20th 2017 |
| Score | (8 out of 10) |
| Reads | 4270 |
Back to Reviews Index