Okay, but the thing is, as bad as this has been for all the rest of you, you need to understand that this has been really difficult for GETAWAY as well. You should really stop and think about that before you judge what he's done, because he's tried really hard to deal with all of this as best as he possibly can under the circumstances. "The Plotters Club (part 2): Filling In The Blanks" written by James Roberts, art by Jack Lawrence and Alex Milne (pages  6 and 7), colors by Joana Lafuente and Priscilla Tramontano (pages 6 and 7).
First up, I wanna go ahead and give points to the art team. I don't have much specific to say about this issue, but Joana's colors are their usual strong performance that really makes each page pop. Actually, scratch that, there's one part of a panel on page 5 that I think came out looking especially good because of Joana's excellent talents in coloring, and that deserves to be singled out. In fact, that panel is probably the best overall show in the issue for the strength of the art. Jack Lawrence's lines are really on point and the composition works very well. Top off with the colors, and yeah, a highlight for the issue. But for now, let's talk about Getaway.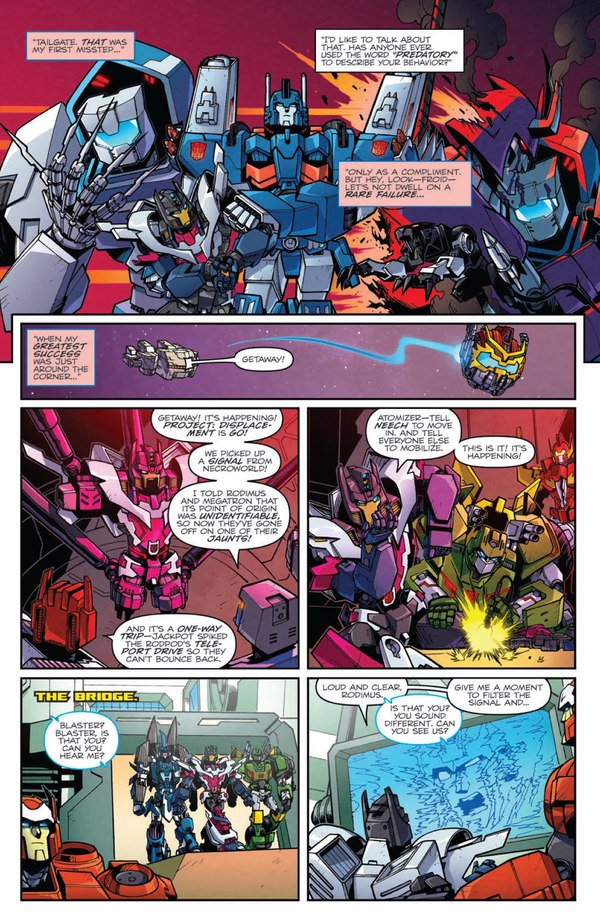 Because indeed, this issue is entirely about Getaway and closing the door on any ambiguity may have ever possibly been left about him. So let's backtrack. When introduced, and for a little while afterward, Getaway was presented as personable and charming, and maybe a little bit slow to actually integrate with the crew in general. He kept a little bit of distance which we were led to believe was out of a difficulty of comprehending the sheer density of personality quirk present aboard ship. But under it all, he was plotting. The business with Tailgate is first rank garbage to put it very mildly. It made many people despise Getaway, and not undeservedly. The thing about that, well, maybe he wasn't evil. That kind of thing is consistent with the Prowl school of behavior, where one sets aside some moral concerns in favor of accomplishing an objective meant to serve a greater good. A greater good that better people can't undertake on their own for the very reason that it'd run up against that "being better people" bit. It's not to excuse the actions of Getaway, or indeed Prowl, and in fact this kind of thing is a very slippery slope, both in-universe, and in a narrative sense. Because once you take the first step, it's easier every time afterward to justify that again. Turning a character in to an awful person doesn't automatically mean making them evil, because the journey through that state of being terrible can be used to grow them out the other side if you're playing a long enough game. Up to a point one could argue that Getaway was going through a process like that. Not anymore.
This issue does nothing if not cement that, no, Getaway is not shelving his own morals for the benefit of nebulous "others". He's abandoned morality and just become evil. Stereotypical, dripping-with-cliche, comic villain evil. This entire issue taken from solely his perspective shows him doing nothing but serving his own self interest and trying to play that off to the rest of the crew like it's still about achieving something more. He's become so two-dimensionally villainous that his typical charisma isn't even working anymore, so he has to start resorting to specialist help to make sure the crew doesn't rise up against him. Because he's evil. And the way that process works requires making yet more choices that seal the deal, right up to the very end of the issue with an act of utter cruelty spurred on not out of necessity, but because there's someone he doesn't like.
Is this all a build towards making the readership feel fulfilled if he gets a combiner-sized beat down in part 3? Because let me tell you, Getaway didn't need the help. All that's been accomplished at this point is retroactively taking away from who and what Getaway was earlier in his run on the book. The only place to maybe take this is at the end to have someone list off all the things he's done and tell him he's just as bad as Megatron who he did all this to see punished in some way or another. But we're going a hell of a distance to deliver a lesson that heavy-handed if that's really the point of what's happened to him. I also take exception with majorly pandering dialogue that feels incredibly forced and out of place in various parts of the issue, but my real beef is taking away any greyness, any ambiguity from Getaway. I think it's a waste of potential, and a very weak move taking the character to that. I'm not mad. I think I lost the capacity to be mad at this book anymore after Tailgate was literally put in a box forever rather than getting to have personal agency.
No, I'm not mad; I'm just disappointed.
| | |
| --- | --- |
| Reviewer | ExVee |
| Date | November 27th 2017 |
| Score | (5 out of 10) |
| Reads | 6386 |
Back to Reviews Index