You got your Dire Wraith in my Duly Appointed Enforcer of the Tyrest Accord! No, you got your Duly Appointed Enforcer of the Tyrest Accord in my Dire Wraith! ...no, it's definitely the first one, and it's trying to kill everything that's not a Wraith. Will anyone survive the combined forces of Cybertronian science and Dire Wraith magic?
Rom vs. Transformers: Shining Armor
#5 is written by John Barber & Christos Gage, with art by Alex Milne and colors by Josh Perez & Priscilla Tramontano.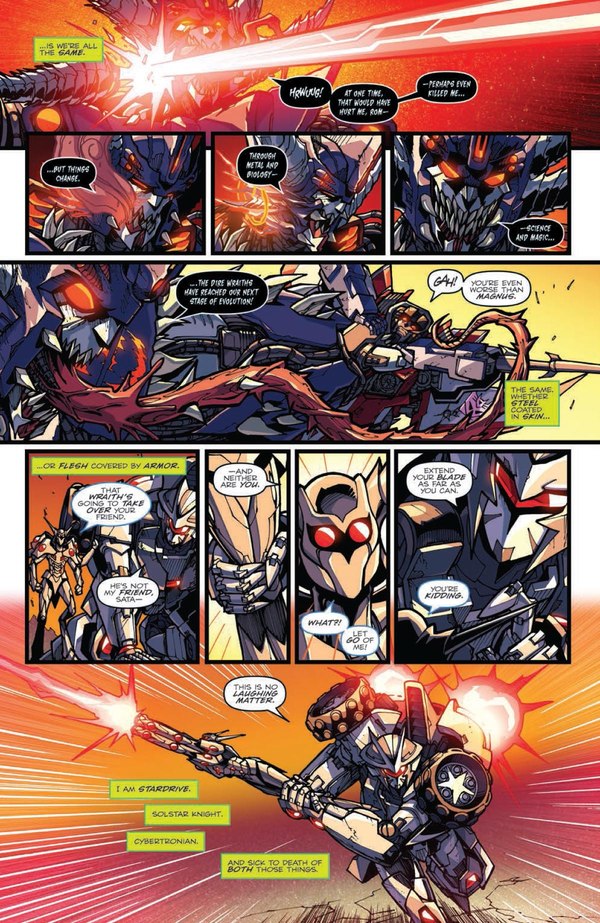 Sata's expression is perfect.
Stardrive has made her decision - and in my opinion it's a good one, even if where it ultimately leads her (as seen in last week's issue of
Optimus Prime
) isn't what I'd have hoped for. I wish that she'd been able to spend more time talking to Bumblebee, as he's basically the only sane and entirely trustworthy person here. Well, maybe not entirely: Bumblebee and Rom are two sides of the same coin in this story, burdened with the responsibilities of meeting certain goals but unable to control how those goals are carried out due to the actions and attitudes of their fellow soldiers. And Stardrive - and the people of Xetaxxis - are caught between those goals as well as those of the Dire Wraiths and Decepticons. In the end, nobody really gets what they wanted - and if they do, not the way they wanted it.
Certain specifics of the events near the end of the story seem like they're designed to fill specific continuity needs - and since John Barber is a writer on this book, I've no doubt that's the case. It's not clunky, but longtime Barber readers will see what he's up to immediately. But I also wanted to point out the nice touch that Barber's used across several books now, of Starscream referring to Cybertronians as "Normal People." I like that; it speaks to the superiority and xenophobia of IDW's Decepticon philosophy, and also proves how useless a descriptor "normal" usually
is.
Possibly my favorite thing in the entire book, though, is where Stardrive uses Sata as a sword, and again I marvel at how much expression Alex Milne can get out of a Spaceknight's face. That look of wide-eyed panic is wonderful (and again,
so satisfying,
because Sata's a jerk). Milne's talked about how much fun he's had doing this series and, as I probably said before, it shows. From the complex Magnus Wraith - such a fun design! - down to something as simple as an explosion, there's so much energy to everything. And Josh Perez continues to do great work with Alex here. The "mindscape" scenes with Magnus struggling with Vekktral are particularly good, with the color of the grid Magnus stands on showing squares of Dire Wraith purple here and there to suggest the spread of the "infection." Priscilla Tramontano took the coloring duties over for the four "Epilogue" pages at the end, and her work is just a bit more muted than Josh's colors have been during this story. It gives a nice "back to reality" feel, like things have been reduced in intensity compared to the time on Xetaxxis, and it fits very well.
Alex & Josh's cover is a great, vivid image of our heroes surrounded on all sides by their various enemies - with the Magnus Wraith looming in a non-spoiler silhouette in the background. Nick Roche and Josh Burcham offer a very red cover showing five of our leads, those being four robots and two Spaceknights. (Trust me, the math checks out.) Something about Stardrive's open hand versus Rom's closed fist seems appropriate to what's been going on here - though Livia would've been the better choice if that was a thematic thing Roche was going for. Lastly, David Messina has a cranky Bumblebee standing behind a slightly startled-looking Rom. I like the art and coloring style on this pretty well - hope Messina does more Transformers work sometime.
I think this is probably my second favorite Transformers series of the year behind the late, lamented
Till All Are One
. It's been great to see the team enjoying themselves on this, and Stardrive is an interesting character. It's good to see she's back already as of
Optimus Prime
#13. Where her travels have led her in the meantime and where she'll go from here should be interesting to see - and hopefully this isn't the last we'll see of her adventures from this team of writers and artists.
| | |
| --- | --- |
| Reviewer | RAC |
| Date | November 27th 2017 |
| Score | (10 out of 10) |
| Reads | 5336 |
Back to Reviews Index