The Cybertron general election is close at hand. The frontrunner candidates are Elita-1 and Starscream, options not giving a lot of people feelings of confidence. Meanwhile Windblade has returned to her life and is given a hero's welcome back to the council ...until she takes it upon herself to air the biggest secret thy'e holding out to the general population. "The Chosen One" written by Mairghread Scott, art by Sara Pitre-Durocher, and colors by Joana Lafuente.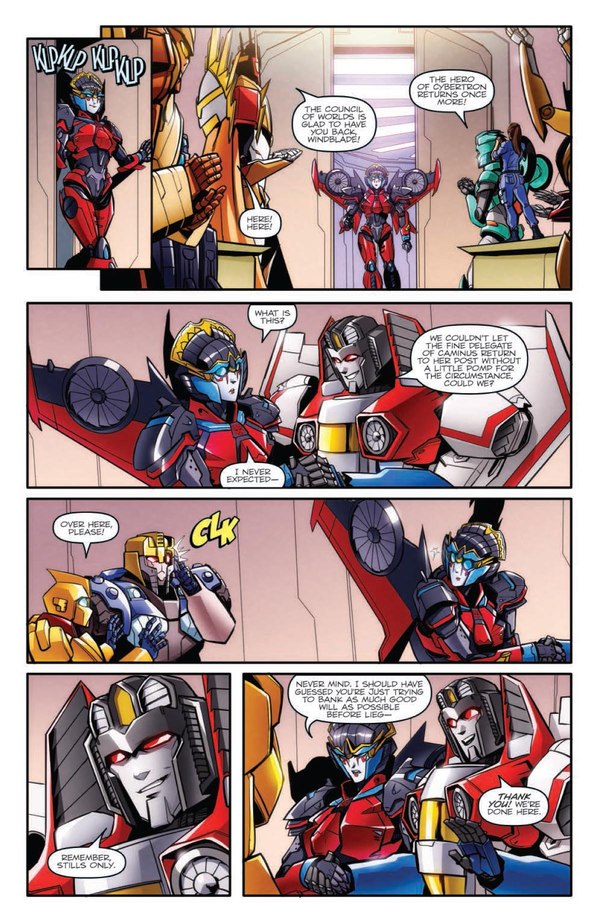 That's our Starscream! *cue laugh track*
It's time to say one last goodbye to Till All Are One, the series that basically single-handedly upheld my interest and enthusiasm in Transformers comics for much of 2017. I think I can only understate how much this series has meant to me for being exactly what it was. In 2012, I was introduced to the genre of Robot Politics under the pen of John Barber. The Windblade miniseries and abbreviated volume two and then Till All Are One as their successor kept the spirit of that alive even as the other main books took off in different directions. But it wasn't just about political maneuvering and grabs for power and the like. Starscream had already grabbed power. He was there. The politics were his story now. Because as much as any of these titles were theoretically about Windblade, it was about the reign of Starscream just as much. It became this lovely ongoing process of the two of them growing and influencing the growth of each other as they went along and had to deal with each other. And it was this gradual, fairly subtle process that let both of them develop in a very natural feeling way. It's truthfully been the best character growth a Starscream has ever had, and it let Windblade go from effectively zero to fleshed out in a way that never felt like we were being beaten over the head with the incorporation of a new character to the universe.
I think then that the Annual closes the door on this story by picking right up from where the regular series left off: Windblade and Starscream having both come out of their minds being linked, giving Starscream a glimpse of who he could have been, and helping Windblade overcome her own trials and work through many of her own doubts about herself. She didn't become magically confident, but she's ready to challenge some of the things that could have been holding her back. And Starscream still behaves like Stascream, but he's now in touch with a new part of himself that's guiding him to different paths, some he probably wouldn't have seen or considered before. It's a positive direction of growth and it moves Starscream to a place he's never gone before. I know that in summary, on paper, it sounds like it must be this abrupt shift like you might expect from one volume trying to tie up what loose ends it can, but the execution is handled so well it never read as forced to me.
Windblade's part of the story is centered around her grassroots campaign to enter the general election, an idea pushed on her by those around her. For her part, she's having a small personal crisis as she decides this is something she wants, but having just had the mental echo of an evil Titan in her brain is worried that not all of these thoughts are really her own. It's something I find very comparable to the experience of having a dramatic event that affects your sense of normalcy and you come out with new realizations - not always good ones - and have to spend a lot of time reflecting on if that has always been there and how it's influenced choices, relationships, and who knows what else. Both sides of this story were handled so well the whole way through. I wish there had been space to see Starscream's side developed out more, but while both were stars here, it's clearly more Windblade's show for this last outing.
The art side is no less well executed. Just in the first couple pages there's wonderfully done poses, the expressive faces that are one of Sara Pitre-Durocher's absolute strengths, and if you like the background robot designs, this issue will certainly be a treat as you have many many crowd shots over the course of the issue. The colors are really sharp too. Joana Lafuente is her usual strong game. One particular example I can call out is a sunset shot over the cityscape that's just beautifully lit. Later on, the effect of being overexposed thanks to some strong spotlights in the setting is emulated pretty much perfectly and really drives home the thematic point of the scene it happens in. I love seeing these two work together, and I'm sad that there's nothing upcoming (that I know of right now) that will be bringing them together again.
I also want to give a special shoutout to the main cover, which is full on the work of Sara, in her painting style that I love. The composition (and characters) are built around the cover from the first issue, which I liked so much I bought a print of at the final Botcon shortly before everyone started coming down with The Plague. It reflects a lot of the change of the characters over the series, and serves as probably the best artistic bookend to the title that you could ask for. Windblade shows new confidence, Starscream is weary, Elita has gone from an almost nefarious look of confidence to something more concerned, and the Combaticons, besides having Swindle back, are now all facing in toward each other where in the first cover they were arrayed outward to reflect the fractured nature of the group. I really like these choices and getting this as the final main cover image. I wish I could say more about the art in particular; I feel like I'm shortchanging it after the more lengthy dive in on the writing side. But the art is always so good that I've long since run out of new ways to describe how much I enjoy it.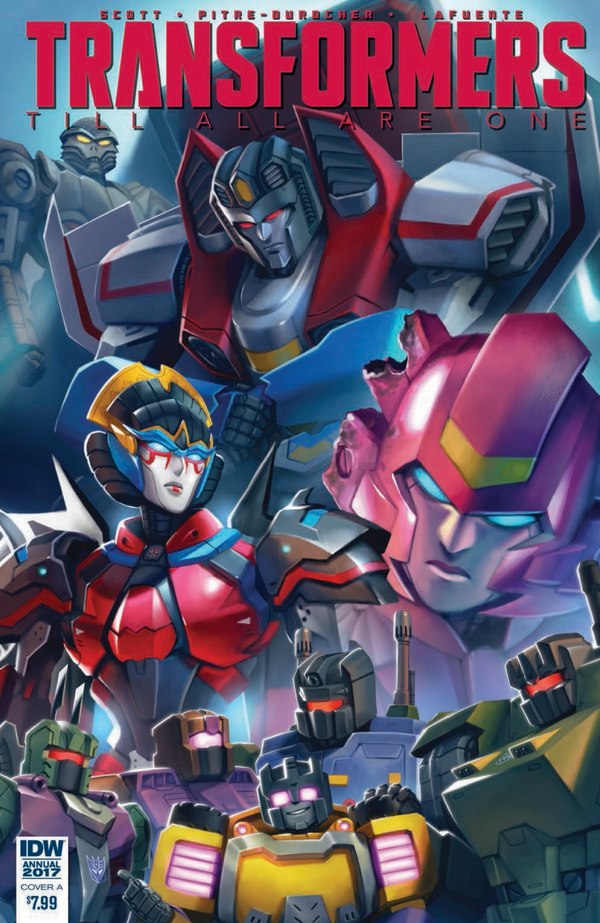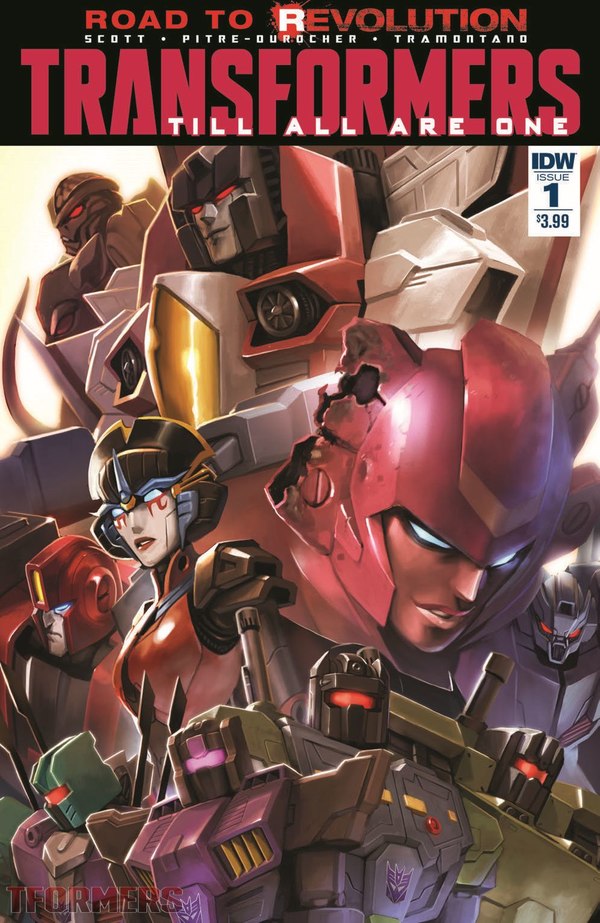 RAC shared his brief, and non-spoiler thoughts on the issue with me before I started writing, which basically boiled down to that he felt it was the best cap off to this we could get, and I can't disagree in any way. I've not been looking forward to this day, where I finally have to say goodbye to my favorite Transformers comic series. But as the issue played out, and as the love for the work showed through from Mairghread, Sara, and Joana throughout, I can't feel sad about this. I wish the story could continue. Immediately. Like, right now. But they also brought me a satisfying end to the things the series had been working towards. Not everything could be touched on and resolved, but since I didn't feel like I was missing out on anything, I feel confident saying that everything I was really invested in got wrapped up, and I'm good with that.
I hope I can see these people visit this world again someday, but until then... thank you for the memories.
| | |
| --- | --- |
| Reviewer | ExVee |
| Date | December 18th 2017 |
| Score | (10 out of 10) |
| Reads | 5164 |
Back to Reviews Index