The Mutineers Trilogy concludes in "The Plotter's Club, Part 3: Journey's End", which was written by James Roberts, featured art by Jack Lawrence and Andrew Griffith, and was colored by Joana Lafuente, John-Paul Bove, and Priscilla Tramontano. I must advise you that this review will have implicit, if not also explicit spoilers for the story, because I can't convey my thoughts and feelings about it without giving away the ending and/or details to some degree. Interpret that as you will...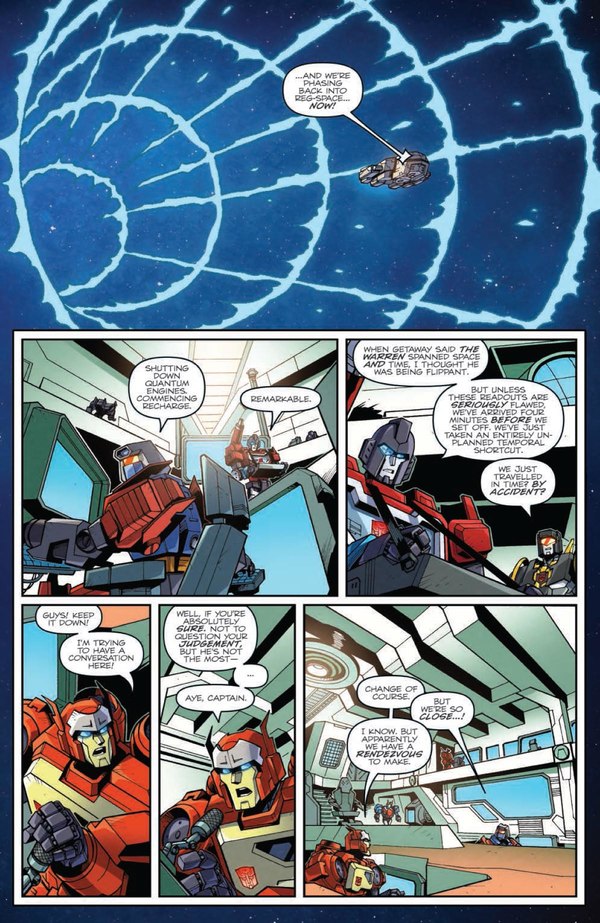 I'm surprised there was no payoff to Chekhov's Four Minutes this issue. Oh well, I'm sure it'll turn out to be of pivotal importance in like three years.
I shall start with what can be plainly seen in even the iTunes-abbreviated preview and thus is the lowest degree of spoiler that is possible: Riptide joins the ranks of Dramatic Cliffhanger Death Fakeouts ...hm, I wonder if I can rephrase that as a catchier acronym? Fake-Out Cliffhanger Killings? ...no, FOCK seems to lack a certain punch somehow. Well, I'll keep workshopping it. While I'm sure fans will be relieved or something to find that one of the b-listers didn't actually get gruesomely offed, it's at this point just a reflexive eye-roll for me, and what I think in hindsight should have been the warning sign for what was going to come. Though in greater retrospect, last month's issue really ought to have been that for me.
That's perhaps the really frustrating, if not infuriating part of this. The first part of this trilogy was honestly pretty good. I'd have to double check, but I probably said in my review of that issue that it felt like going back to the good days of More Than Meets The Eye. It had the qualities I loved from the title, and importantly showed that James Roberts could actually still deliver that. That issue was incredibly misleading. I had my doubts last month, but to be fair, an exploration from Getaway's point of view had the potential to be a really interesting direction to take in the middle of the storyline. But it was fumbled and only served to make Getaway lose the nuance he possessed once upon a time because he ended up written as leaning hard in to being a villain. It clashed badly with how he'd been portrayed; how we were taught to understand the way he thinks both about himself and those around him. The only thing we could really hope for to come out of that was some form of building Getaway up so that part three could thoroughly tear him down. Destroy him, conceptually if not literally. Spoilers: that didn't happen.
This issue is at least probably not fully FOCKed. While we open with Riptide's miraculous survival which actually boils down in plot to that he's too stupid to die, we are presented with the strongly implied death of several other characters, and very certain death of at least two more, including your favorite Combiner Wars toy just because. Where the issue leaves off does at a minimum preclude the likelyhood of seeing any of these victims be set up immediately in the next issue as somehow amazingly still hanging on by a thread. The trilogy is over now, after all, it's time to go look at something else. But that doesn't mean that six or eight months from now it won't happen. The only guarantees in life are death and taxes, supposedly. I would put even money at this point on someone being ruined by taxes at the end of an issue and open the very next with the debt being forgiven, since if even in-panel death can't be trusted, why let the tax man still wield any power?
There's more I could go on about in the way that cover images have been designed, or the preview blurbs written for this arc that - to put it mildly - I take exception with, but I feel like that would just come off as beating a dead horse. It's all variations on a theme that boils down to something relatively simple: frustration, and dissatisfaction about how the story is structured and the direction it's gone in. This is not a new thing, though between this and the end of issue 7 this feeling is stronger than it ever was previously. And this goes back as far as the summer of 2015 when it really felt like More Than Meets The Eye had lost its way narratively - something that, besides small blips here and there, I feel it has never recovered from.
Though I feel little but disdain for the story this month, I can give some points to the visual presentation. While I don't think Jack Lawrence's style will ever quite fit right for me for this book, he does a good job at staging what I think are some difficult scenes and keeping a lot of action filling some of the pages without it getting bogged down and hard to figure out - a benefit of the lower detail level of his character models. In a title that sometimes calls for the ridiculous in terms of how much has to happen per panel per page, that part of Lawrence's style really does help. An interlude in the middle of the issue is drawn by Andrew Griffith, which is a fun thing to see. I think this is the portion colored by John-Paul Bove, though it's not quite consistent with his coloring style I'm most familiar with and my review copy of the issue did not specify by page who did what. There's a bit of a strong stylistic shift here, but it's not something that becomes jarring in context. It's actually a pretty fun diversion visually. Otherwise in the book, we have Joana Lafuente and Priscilla Tramontano sharing coloring duties. I have a pretty good idea where they switch off, but I'm going to refrain from saying since the styles are kept similar enough that I'm not super confident and I would rather not accidentally misattribute work. I kind of like the slightly more subdued coloring in the second half of the issue. As I said, there's not a huge style difference between them, so it's not like suddenly going back to Josh Burcham's More Than Meets The Eye colors. It's subtle but just there enough to notice if you're looking for it. Overall, my thanks to the art squad for putting in a top-effort showing and giving me some good to hold on to in this issue.
I don't know if I would have chosen to continue reading Lost Light again going forward if this issue had taken a different turn. It was always the specific pitch of First Aid coming back with his combiner buddies and finding out Getaway engineered a mutiny that drew me back in, and even that ending differently than it has wouldn't have fixed other problems I have with where this series had gone in the interim since the last time I stopped actively reading it nearly a year ago now. But having given it another chance, after actually being able to feel positive with it for a brief moment, and then having it all double down on everything that pushed me away originally, I think I can say the final nail in that coffin has been set. This is something that I need to walk away from and not look back at again.
For me at least? It's over -- finished.
| | |
| --- | --- |
| Reviewer | ExVee |
| Date | December 26th 2017 |
| Score | (4 out of 10) |
| Reads | 6541 |
Back to Reviews Index