Two issues in one week!
The Falling
continues with "Chapter 3: The Ground" and "Interlude: The First Who Was Named," both written by John Barber and lettered by Tom B. Long. "The Ground" has art by Kei Zama with colors by Josh Burcham and "Interlude" has art by Sara-Pitre Durocher and Livio Ramondelli, with colors on Pitre-Durocher's pages by Burcham.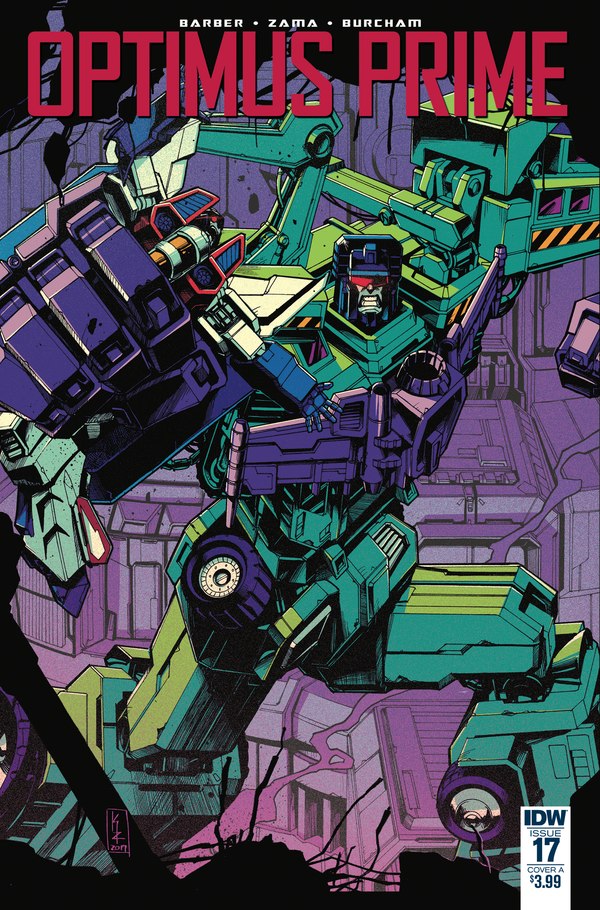 Let's just go with the cover as our sample image for this one, because it's beautiful and I LOVE STARSCREAM'S FACE.
This is going to be a little tougher to write than usual, because Issue #18 is entirely dependent on a
major
spoiler from the end of issue #17. So I thought I'd roll the reviews together so as to hopefully get enough spoiler-free commentary on both to make something satisfying to read.
Aileron's inner monologue is used as the narrative framing for issue seventeen. That's something Barber's been doing for a while now, taking a character who's not necessarily the center of the action for the story and using their perspective on their own lives to give context for what we're seeing. It's used to very good effect here. I like how Onyx Prime's scheme from the previous issue doesn't quite pan out. But when framing Soundwave for the death of Alpha Trion doesn't produce the desired results, the truth - a truth from
way
back in the early stages of
Robots In Disguise
- does just as good a job of sowing discord. From there on it's a pretty busy issue as Onyx sets the stage for whatever the next phase of his plan may be...
...which we don't find out in issue #18. The revelation at the end of the previous issue warrants a bit of explanation, and a re-examination of key moments in Cybertronian history in light of the new information. And so we get a split issue with Sara Pitre-Durocher handling the present and Livio Ramondelli the past!
Kei Zama and Josh Burcham handle issue #17. And as always, that's a treat to see. Especially with so many big things happening in here. Onyx's creepy eyeball ship is always fun to look at, and there's some really dynamic panels, particularly Devastator's appearance. It's well-posed to convey motion and scope. It's uniquely difficult to make combiners imposing when mixed with smaller giant robots, and Zama is very good at it. Burcham's bright, super-saturated retro palette continues to make very significant and noticeable contributions to great lineart; I can't talk about my favorite one, but it really adds punch to a simple beam being fired.
It's neat to see Sara Pitre-Durocher play in the visual styling sandbox that Zama and Burcham have laid down. You can still tell it's her, obviously - her style of drawing faces in particular is quite distinctive and appealing. It's especially nice to see her handling Liege Maximo again, considering she designed and introduced this version of the character! She takes to the heavy shading and the thick, rough lines that I associate with
Optimus Prime
very, very well, and with Burcham backing her it's a very comfortable transition from #17 to the beginning of #18. Livio, of course, is doing his own thing, which is an appropriate style for a past so far back it's considered mythical. I've talked about what I feel the ups and downs of his style are a lot, so I'll stick with what I like here. And I especially like his most dramatic images of this issue, which are all framed and posed with a great sense of drama. I feel like Livio is best at the big and broad moments, and there's plenty in his part of the story.
Going to do highlights of covers since there's a fair number between both issues. Kei Zama and Josh Burcham do my favorite covers on both issues, with Devastator brandishing a terrified Starscream on issue #17 and Solus Prime forging the Star Saber on the next. The coloring on #18 is somewhat muted (for this comic,) with the light from the Star Saber tinting Solus to gray and purple. And Starscream's expression on #17 just makes me laugh. It's great. Honorable mention goes to Casey Coller and John-Paul Bove's poster-style cover for #17, with the gray cast of the book standing in the silhouette of Aileron. The grayscale's a good choice that makes the pink of the background even more prominent.
On first read, I wasn't thrilled with the big twist. There's nothing wrong with it at all, but it's a narrative move that I've come to be a bit wary and weary of in my comics anymore, even though it's not exactly an uncommon one. But it's not one Barber habitually abuses, so I've tried to keep an open mind and let it sink in. And now that it has, I think it's a good way of tying everything together. We've got elements from Barber's entire Transformers run at play here now, and some of this has to have been in the works for years. I hate that something this ambitious has to end, but I definitely want to see how it all works together.
| | |
| --- | --- |
| Reviewer | RAC |
| Date | April 17th 2018 |
| Score | (9 out of 10) |
| Reads | 6723 |
Back to Reviews Index