Kup is dead. The news has hit Springer hard, so he decides to take Verity Carlo on a trip to meet with the last living link to his past. But that's the thing about a past like Springer's: pull on
one
thread, and...
Requiem of the Wreckers
is written by Nick Roche with art by Roche, Geoff Senior, and Brendon Cahill, with color by Josh Burcham & Josh Perez and lettering by Shawn Lee & Tom B. Long.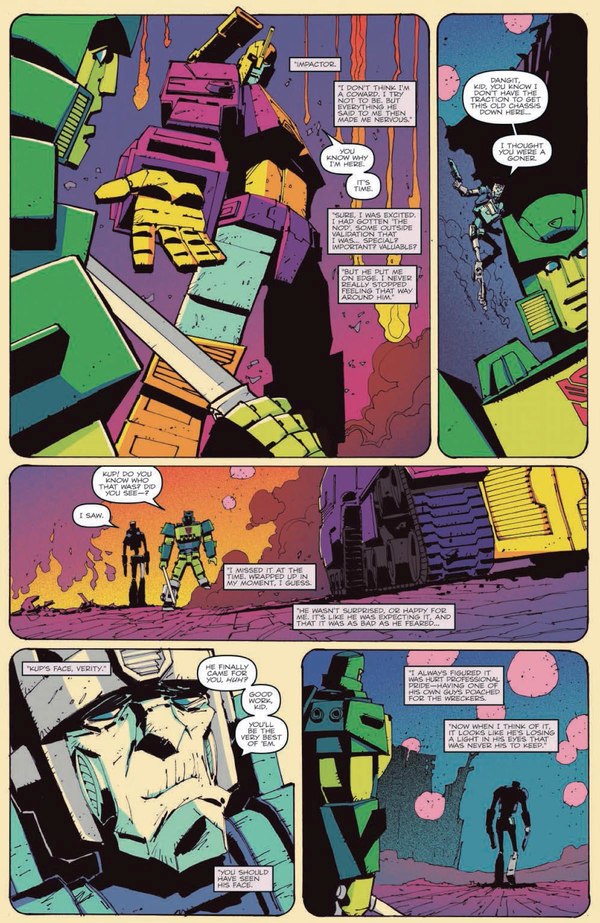 Kup's expression is something I don't think I've seen in Geoff Senior's work before. Nice to see him get a chance to display his range!
Let's start out with the basics: I like
Requiem of the Wreckers
a lot more than I liked
Sins of the Wreckers.
A lot of that comes down to the fact that I was more or less on the other side of a political point that
Sins
was seemingly trying to make, and didn't feel that people that felt the same way were particularly well-represented. But
Requiem
doesn't particularly have that problem; it feels much more solidly about the characters and resolving their stories. Politics aren't absent, but they feel as more of a side issue than what's driving the plot. That helps. And overall I'd say
Requiem
does better by its characters too, particularly Verity and Springer. It just feels different, in a good way. It feels more distinctly like a Transformers UK kind of story, I'd say.
If that was the plan, having the great Geoff Senior onboard for Springer's flashbacks was a good choice too. Senior's chunky brutalist style of drawing Transformers looks as good as ever, and as always he excels at action scenes. That said though, the emotional moments in the flashbacks are very effective too. There's a shot of Kup that is a kind of feeling I don't think I've ever seen out of Senior before, and it's nice to see.
Josh Burcham & Josh Perez do a great job with Senior's work, making it stand out from the more nuanced, darker colors in the rest of the comic. It fits thematically - the young, enthusiastic Springer in a brighter, more colorful phase of his life - but it also fits Geoff Senior's art perfectly. Some art styles just work better with the right style of coloring, and IDW's elite team of Joshes understand this very well. To be honest, I'm not exactly sure how the labor was divided between colorists in this issue, and I hope they take that as a compliment, because it means the change between creators isn't jarring except where it's
supposed
to be, for the flashback. Likewise, Brendan Cahill does well integrating his pages into the story, with the only real tell being the difference in how the two artists draw faces. Cahill gets to do a key scene with a neat reveal and really cool body horror shot. It's always good to see his art; in a stable of artists as big and as good as IDW's it's bound to happen that some people get under-utilized, but I think Cahill and Priscilla Tramontano are the ones I'd most like to see more of.
Then there's of course our writer, artist, and coordinator Nick Roche, who remains a great artist capable of tremendous detail, be it mechanical or organic, and expressive faces. Like Senior before him, he also makes excellent use of solid black inks for shading and depth.
But while his writing and art skills are easier to see on the surface, his work on bringing
Requiem
together shouldn't be overlooked. The section at the end, with Roche's notes and sketches for the book, also goes into a little bit of detail into how carefully he coordinated with Senior and Cahill to get what he wanted. IDW's
Wreckers
series is obviously dear to his heart, and he clearly wanted to send them off on a strong note.
And I think he has. At the beginning of a season of conclusions for IDW Transformers, sending off the Wreckers on a final yet hopeful note is a great and appropriate thing. Along those same lines, Roche identifies
Requiem
as "my final Transformers story" in the supplemental section - and while that's obviously true in this universe, I'm hopeful it's not the last time he's playing with these characters overall.
| | |
| --- | --- |
| Reviewer | RAC |
| Date | May 29th 2018 |
| Score | (9 out of 10) |
| Reads | 3855 |
Back to Reviews Index