After years of stories: Optimus Prime and Bumblebee, together again! But together where -- and
how? The Falling, Part 5: Endless Forever
is written by John Barber with art by Kei Zama, finishes by Casey W. Coller on pages 14-19, and colors by Josh Burcham, with lettering by Tom B. Long.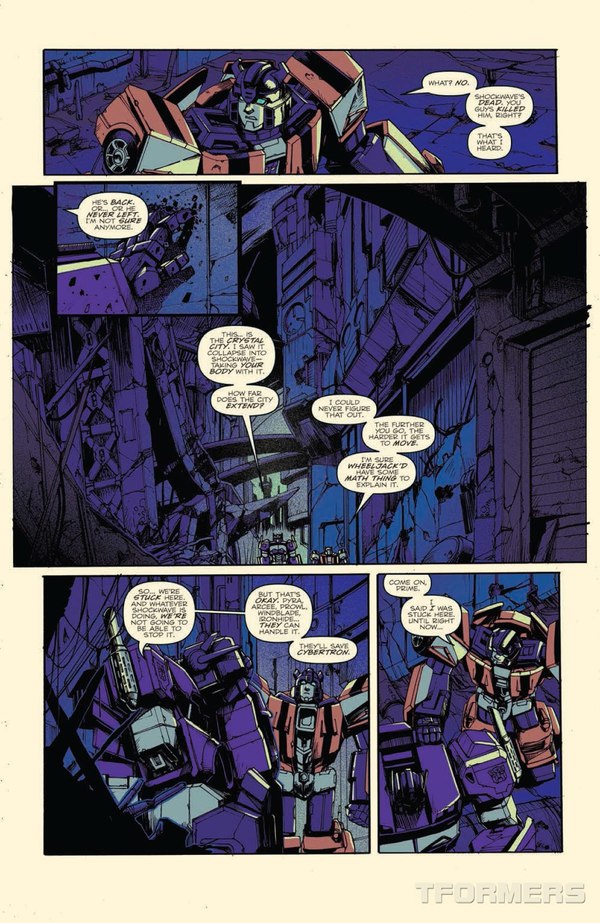 Kei Zama makes desolation pretty.
It's good to see Prime and Bumblebee together again in the present day, or as close as either of them can get right now. In this issue, we at least get... well, not precisely an
explanation
of what happened to Bumblebee, but a full confirmation that he is not just a voice in Starscream's head. Unfortunately the compressed publication schedule IDW's following to get
Unicron
made gave us some indication of that, and also of what happens from here. That foreknowledge makes you want to focus on the other characters in the issue, and what's going on with them, but that amounts to some scattered scenes that build to a finale we can, again, kind of see coming. It's not ideal in its positioning, but that's not the comic itself's fault. It's a good issue all the same, just one that's harder to take on its own merits this way. But the writing is typically great; I especially liked Arcee's reaction to the etymology of the IDW Maximal faction.
Kei Zama is back, and she continues to do beautiful work. Or rather, she manages to make ugliness beautiful, from her Liege Maximo to the ruined landscapes to her take on Optimus Primal and Beast Wars Megatron. I could cite her use of black again, or the level of detail she puts into everything, or any of those things, but there's just a low angle shot of Devastator in a small panel of this issue that is just wonderful. Both by virtue of those aspects, and also just because it's a tremendously well-done panel at an interesting perspective. I don't think I'll ever be able to say enough good things about Zama's art. This issue Casey Coller provides finishing work on a few of Zama's pages and man, that's an interesting combination. It's hard to say exactly what "finishes" are in this case - inking? Final-stage pencils
and
inking? - but there are some subtle differences from Zama's solo pages, especially in faces, that help show the difference. It's not enough to really change the feel of the book, but you can see it if you look closely.
Besides the retro palette of his work on
Optimus Prime,
Josh Burcham understands
how
color was used in the era of comics he's trying to evoke here, and he applies those principles very well. There's a panel of Arcee fighting, and the way she and her target are highlighted, the only things in the panel not in shades of gray or red, is just excellent. It's coloring that adds to the artwork and brings something new that the lineart can't convey alone.
Casey Coller and John-Paul Bove's poster-style cover this month is my favorite of these so far, with a very symmetrical illustration inside a silhouette of Bumblebee. And Kei Zama's cover of Optimus Primal and Megatron under Shockwave's giant eye-ship is just spectacular. Give this woman a Beast Wars ongoing! And again, Burcham's coloring. Megatron looks so good here in particular.
I think that this issue is probably going to fare much better taken as part of a whole in a trade paperback at the other end of the year. It's kind of a difficult issue to gauge because of its release timing. Part of it is the thing we knew had to happen if we paid attention to the advertising, and the rest is ratcheting up tension for the finale we can have some idea of the shape of, again, because of the advertising - and because we can read a future part of the story this week in
Unicron
#1. What can I say? The business of comics has been, and always will be, the weak point of the art of comics.
| | |
| --- | --- |
| Reviewer | RAC |
| Date | July 10th 2018 |
| Score | (7 out of 10) |
| Reads | 4552 |
Back to Reviews Index