Okay, here we go - a review of my first ever Binaltech with pics. There's a few, so if you've got dial-up like me, you might wanna make a cuppa...
I haven't bought any BT's up till now, just all the Alts so far. I'm perfectly happy with plastic, and they're easy to pose with no chipping issues. However, I really liked the yellow Tracks, and was a bit dissapointed that they went back to blue, even though that's Track's original colour. So I got my first BT. I loved Tracks as a kid, so I felt he was worthy.
No doubt about it, the Binaltech packaging is all class. I don't leave mine in the box ever, but it's hard to bring yourself to open these boxes, they look SO good. Not as heavy as I expected.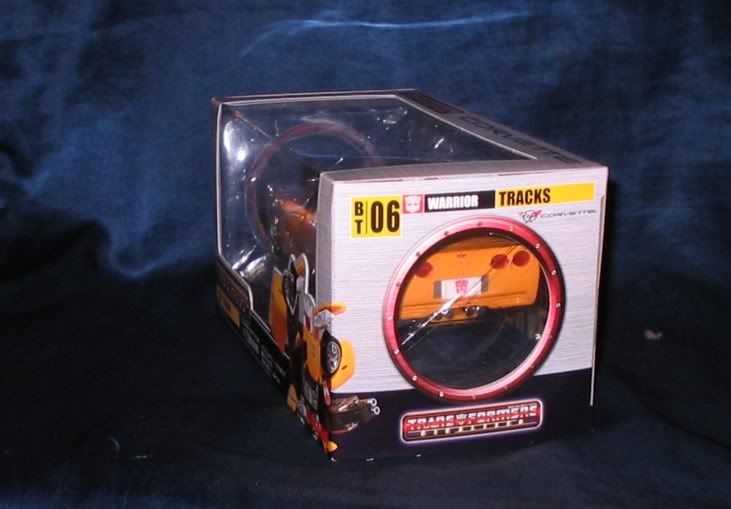 Side view of box.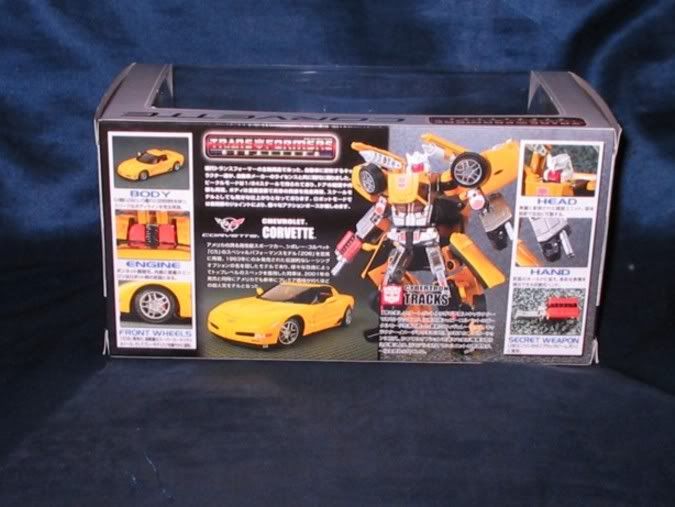 Rear view of box.
Some nice stuff iside too. Classy little cardboard display stand, nice collector card, and nice instruction booklet. No folded up pieces of paper here, but a proper booklet. Just as hard to read though, especially as I don't speak Japanese!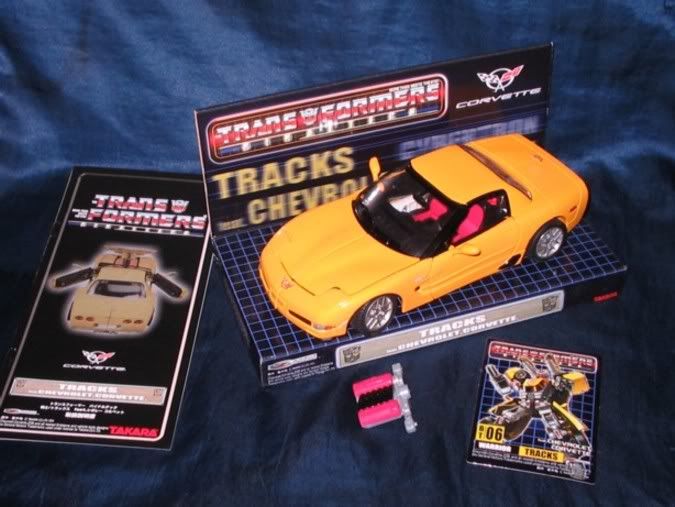 I don't get into the whole Takara vs Hasbro debate, but Takara certainly know how to package stuff.
The car is just gorgeous! Shiny, cold metal adds to a very classy looking alt mode. Not as much die-cast as I expected. It's pretty much just the bonnet sections and the doors. The roof, the entire rear section, and all the robot parts are plastic.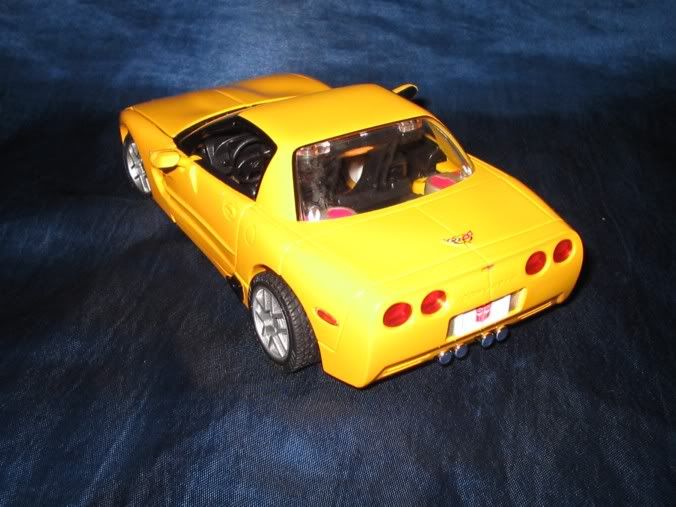 The plastic rear section especially puts to rest any argument that Hasbro went blue due to problems with yellow plastic. It looks great, proving that was just an excuse for bowing to fan pressure.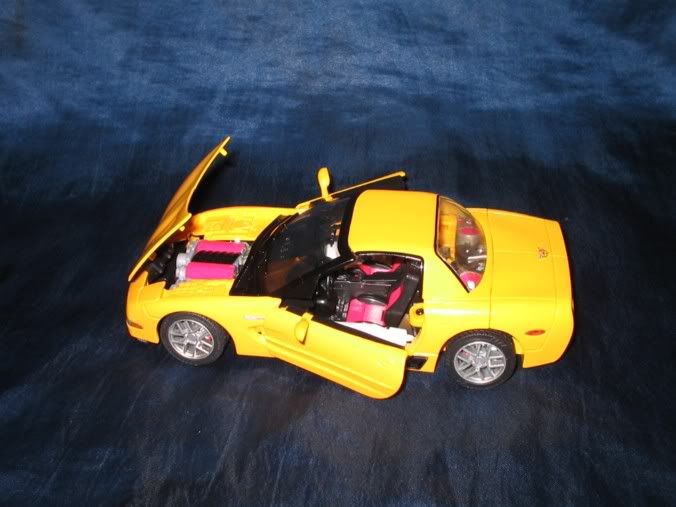 Great detailing, although the seats don't seem to be adjustable like some Alt/Bt's. Great red detailing on them though. The steering axle is a new design which works really well and is less fiddly to connect than on previous models. The engine 'gun' is well disguised and looks good.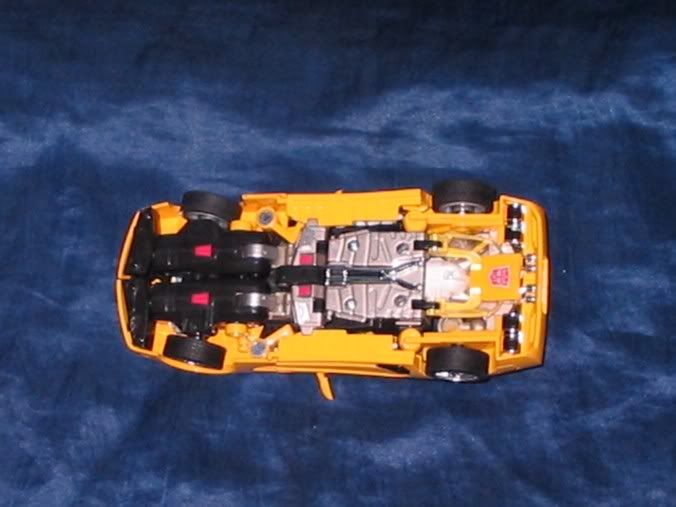 This is the closest an Alt/BT has come to having visible head syndrome. When I saw other pics like this, I assumed that you could fold that little flap over the head, but I was wrong. The head's too big for that, so this is how it goes. Nothing to freak out about though.
Robot mode kicks arse! Clearly it's Tracks. The false window on his chest was a clever idea to help capture the G1 look without compromising the car mode.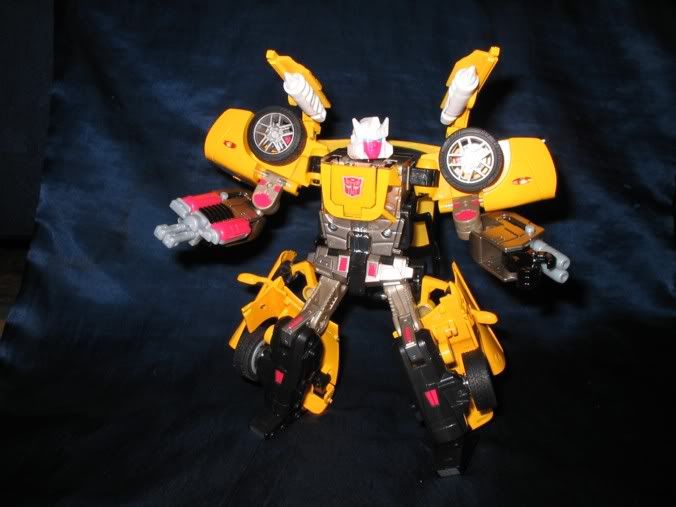 This is where the yellow isn't as great, because Tracks has always had that funny red face, and the yellow accentuates the 'sunburned' look. Not as bad in real life as in the pics though.
The transformation is a bit tricky at first (as with all the Alts/BT's) and there's the added paranoia of not wanting to chip the paint, but I managed to avoid that. I'm always petrified of breaking a Transformer when I first transform it, because you don't know wether you should be pulling this, or twisting that. It's even worse when you've spent almost $90 on it!
It's always great to have a new transformation scheme though, and this one is alot of fun.
Articulation is very good. His hands suffer a little due to their transformation, and aren't quite as manouverable as the others, but he still has the moving index finger and all that. His arms and legs are really good, although he kinda lacks up and down ankle movement, which I always find limiting. Overall though, one of the best bot modes of the line I reckon.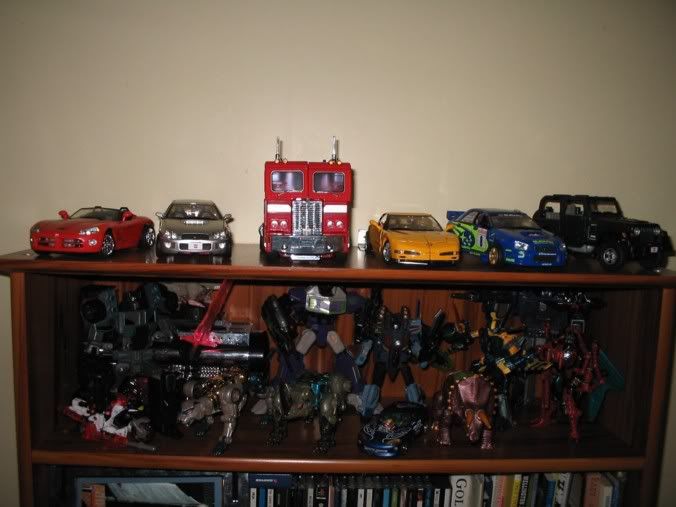 Overall, Tracks is a great addition to any collection, and well worth the wait in my opinion. He is more than worthy of his G1 legacy, and wether you fork out for the BT or wait for the blue Alternator, you're gonna love him. I loved Silverstreak, but I think I may have a new favourite! :wink:
(Can't wait to get DeadEnd!)
| | |
| --- | --- |
| Reviewer | Cameron Sutton |
| Date | August 31st 2004 |
| Score | (10 out of 10) |
| Reads | 12349 |
Back to Reviews Index