Haven't done a review for a while, but GF Starscream arrived yesterday, and although I'm not the first to pick him up, I thought I'd let those of you who haven't yet have a look.
I loved the look of this guy when I first saw the pictures, and when I heard that the mega size might not make it to the US version, I decided to snap him up. Besides, there's something extra cool about getting toys from Japan.
As most of you know, the design is based on Don Figueroa's War Within designs. There are some awesome designs in those comics, it'd be so cool to have a whole line based on them. But since that's probably never going to happen, I'm stoked to have this one. For those of you who are unfortunate enough not to have read this amazing series (RIP), here's a look at Starscreams design:
WW Vehicle Mode: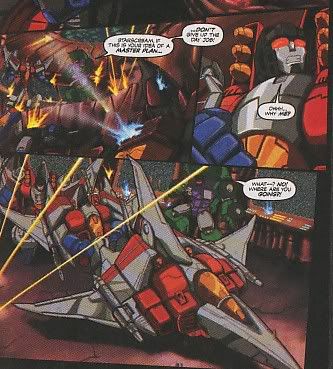 WW Robot Mode: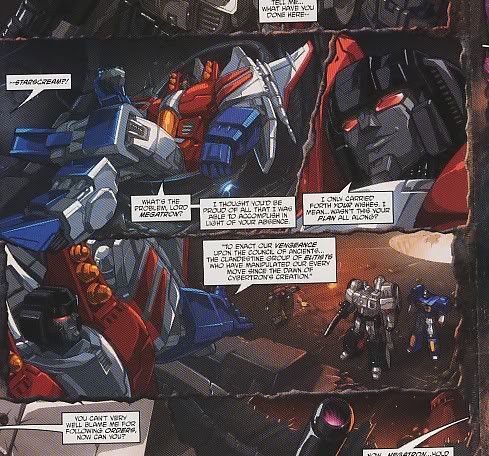 First things first, the packaging:
The Glaxy force packaging is pretty cool. Not as cool as the Binaltech or Takara Reissues packaging, but nice enough. The artwork isn't the best though, cell-shaded pics reminicent of the Energon cartoon. I do think moving to the window packaging is a good move for Takara, as most people like to see what they're getting. Interesting to see that 'Cybertron' is written up the side of the box. 7/10
Contents: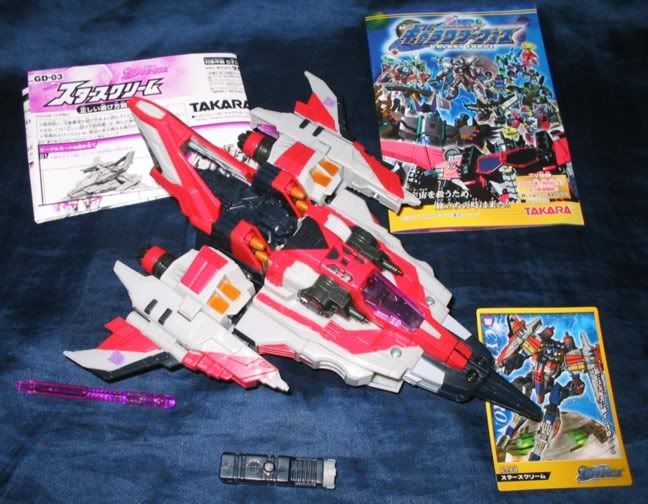 Starscream comes with everything you see here! (Other figures sold seperately!) Actually, the funny 'key' thing seems to be missing from this shot, sorry about that.
Vehicle Mode: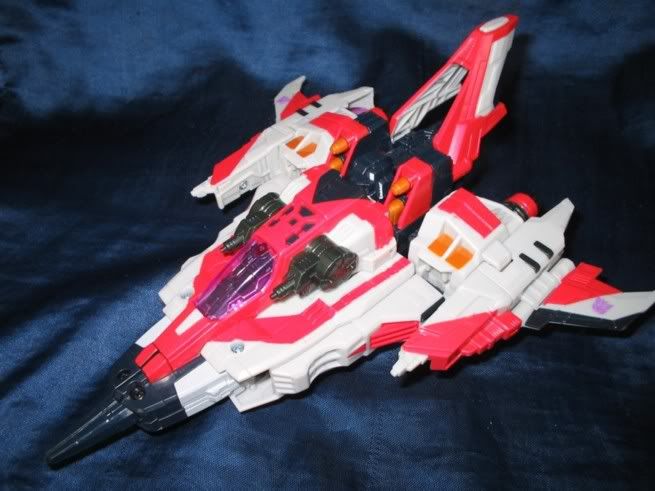 Cool 'Cybertronian Plane'. As you can see, it's not identical to the War Within design, just the same basic idea. It looks alot cooler in real life than what I thought from the pics I'd seen. The wings are slightly bigger than what I thought, and overall it's very nice.
The only downer really is that the gun turrets by the windows don't move. They look like they should swivel or something, but they're just fixed. Never mind. Somebody has mentioned visible head syndrome, but it's not really the case. You can only see the top of his head, and it looks like part of the plane. You can't see his face, and that's the main thing for me. 7/10
Transformation:
Anybody who's been following Transformers for the last 20 years knows that, in general, figures have got alot harder to transform. I challenge anybody under ten years to transform some of those Alternators! It's fun in a rubic's cube sort of way, but not good in the heat of battle!
I'm happy to say that things are a bit simpler here, in fact I'd have to say that they seem to have struck the perfect balance. It's not too easy or too hard. It's logical, not too fiddly, but still satisfying. I really enjoyed transforming him the first time. 10/10
Robot Mode: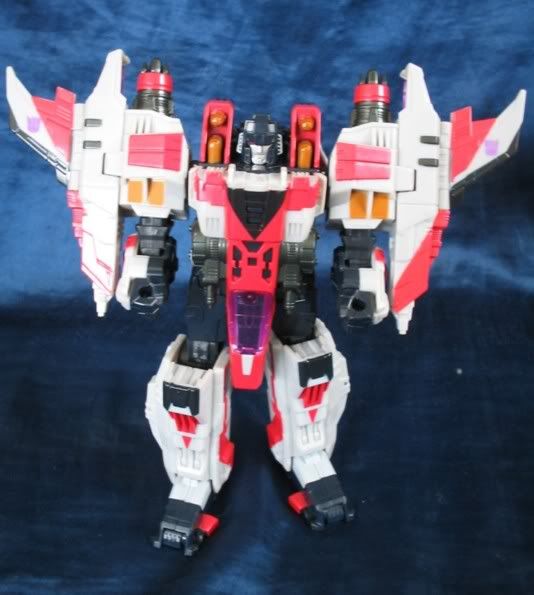 OK, now this is where it gets really good. I love the way this guy looks in bot mode. This is the 'non-posed' version, there's a better one coming soon.
He's one mean looking dude, and looks like he's been spending a bit of time in the Cybertronian gym since his Energon days. Great markings and over-all colour scheme. His front section (nose of the plane) actually reminds me alot of G1 Jetfire in this mode.
At first I was a bit dissapointed that there was no blue. It's kind of a staple Starscream colour, and it seems to be missing. On closer inspection in the right light, his head, fore-arms and thighs are actually navy, but it's so dark you can hardly tell.
I considered waiting for the US version for this reason (I'm sure they would have had more blue), but then I found out they probably weren't going to do one. This is, and the fact that his arms seem just a fraction too short, are the only reasons I'm not giving this a 10. (I'm treating articulation as a seperate catagory). 9/10
Articulation:
Here's something different, this dude has absolutely no ball-joints, from what I can tell. This is both good and bad. It means less of that horrible 'pop-off' syndrome, but it also means he lacks a little in the articulation department. His head only moves left and right (not up and down), his arms only have about three points each. Alot better in the legs though, about five points per leg (including 'ankles'). 6/10
Gimicks: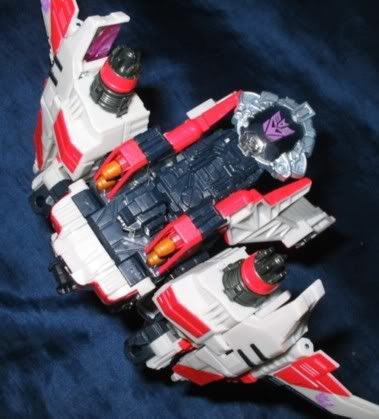 This is great. This thing plugs into his back and 'unlocks' great big energon swords from his arms. The pop out like cybertronian switchblades. Lots of play value here. They look cool too.
It's not a new gimmick really, pretty similar to what the minicons did in Armada, but you don't need an whole other robot to do it. The only bummer is that it would be very easy for a kid to lose the key thing and lose the feature. Maybe just a button on his back would have been enough? Hopefully all the keys fit all the 'bots, otherwise this could become a bit of a pain. But for overall coolness and nasty ninja styling, I'll give it an 8/10.
Overall: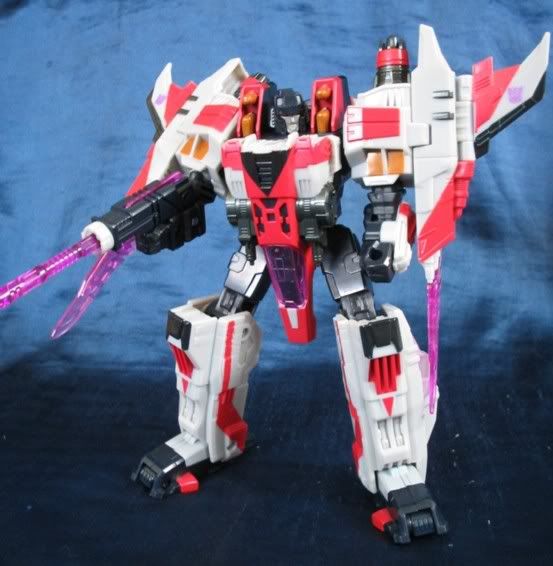 I love this guy. He's one of my new fave's. Nice size for a Starscream, he's too cool to be a deluxe, but having him as a supreme, as rumored for Cybertron, seems a bit crazy. I love the War Within comics, and I love the way this guy came out, especially in bot mode. Could have done with a little more blue as I said, but overall, very nice indeed. 8/10 (I just averaged my other scores excluding the packaging one). Thanks Takara!
| | |
| --- | --- |
| Reviewer | Cameron Sutton |
| Date | February 16th 2005 |
| Score | (8 out of 10) |
| Reads | 9368 |
Back to Reviews Index