So, what's in a name? Well in this case about $90 NZD. At one stage, I considered not getting the Alt Windcharger mold. I mean, I love Alternators, but one of their appeals for me is the homage, and I just found this particular homage so vague. Plus I already had a red convertable in Sideswipe, and I just thought I might pass on this one.
But, then I heard that the BT was called Overdrive, and my interest was sparked. "Oh, yeah!" I thought. I used to have G1 Overdrive, and I certainly could see the resemblance totally. Maybe this wasn't such a bad homage after all. Plus, I had to send away for G1 Overdrive, and patiently wait for weeks, not unlike the way I had to order BT Overdrive, although the wait wasn't as long.
Plus the fact that BT Overdrive has the full gun thing, and Alt Windcharger doesn't, well I was thinking of more and more excuses to get my second Binaltech (my first being Yellow Tracks).
It was an exciting day when he arrived. I really love BT's. They're absolutely the best line of TF's ever in my opinion. I love Alts too, as they give me an easily available, affordable alternative, but if I could afford more BT's I'd get them for sure. The finish is better, and they're more solidly put together. (and Shinier!)
So here we go...
Packaging:
Well, of course it's the standard BT packaging, and it's a thing of beauty. It's missing the cool Dreamwave (RIP) artwork of the hasbro ones, but apart from that, the packaging is all class. And since the Alts have changed to that silly 'no window' packaging, the gap between the Alts and the BT's has widened just a bit more. 9/10.
Car Mode:
Really, they couldn't have done it alot better. It's one of the best in terms of lines. There really is hardly anything to suggest this is anything but a high quality, die-cast model car. Apart from one small line down the middle of the front grille, Overdrive has no 'tell-tale' splits, if you know what I mean.
It has all the finishing touches we've come to expect too, like painted mirrors, detailed lights and interior, and on this occasion, fold down seats. Plus, he's right hand drive! (which is cool for me, cause that's what we have in NZ).
The only reason why it doesn't get a 10, is that I don't particularly like the Honda S2000 (looks like an old Mazda MX5) and it looks pretty naff with the roof on. Plus there is a little bit of colour variation between the plastic bits and the die-cast bits, which lets it down just a little. 8/10.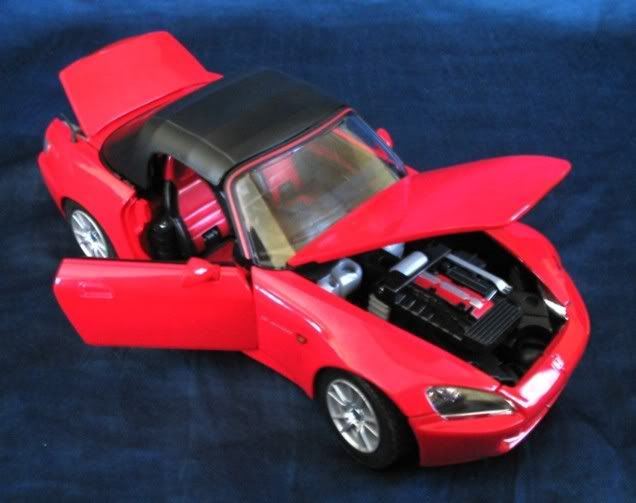 Transformation:
v By far Overdrive's strongest point. This is a great transformation scheme. Much easier than some previous BT/Alt's, but still interesting and very satisfying. I don't know about Windcharger, but Overdrive snaps into place really nicely, and I could easily do it without the instructions after the first go. That's not to say it's too easy, there's plenty to do, but there are no really dodgy bits where you think you're going to break it. His legs are pretty much the same as the Vipers, but the rest is new and really cool. I loved transforming him, and this bit gets a deserved 10/10.
Robot Mode:
This catagory is purely about how the robot mode looks. Articulation is coming up next. Basically he looks cool. Nice homage to Overdrive. Yes Overdrive, the G1 send away dude, NOT Windcharger.
I mean, here's G1 Windcharger...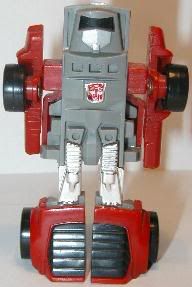 ...and the cartoon version? Nup, still can't see it.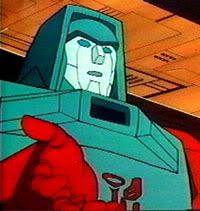 And Overdrive?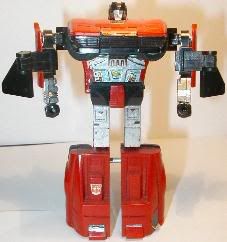 Tall, red and lanky. And check out the head...
And here's the BT one...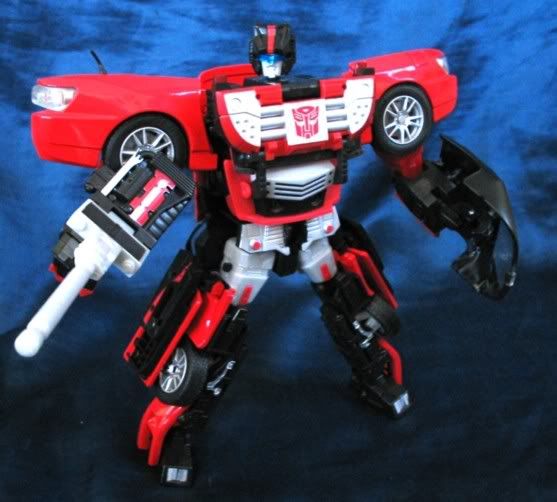 I think it's pretty obvious who this was designed to be. I know they ran into some sort of copyright thing... again... but Overdrive just captures my imagination far more. He's a cool looking bot. Tall and lanky, like the G1 version, and not so 'tough' looking, but looks like he'd be more 'sleek' and skillful'. 8/10
Articulation:
OK, this is where it falls down a bit. The artucultion kinda sucks for a BT/Alt. He has the usual BT/Alt hands and stuff, but there's virtually no knee bend in those long lanky legs. There's a bend, but it's so completely restricted it may as well not exist. No wonder all the poses we've seen have been the same, and I can't do much better I'm, afraid. Plus, there's no shoulder rotaion. His shoulders go up and down, but not around, which severely restricts his arm poses. This is a real dissapointment, to be completely honest. 5/10
Extras:
Overdrive comes with plenty if stuff, the booklet and the nice little display stand, but also the motor/gun/driveshaft, and the roof.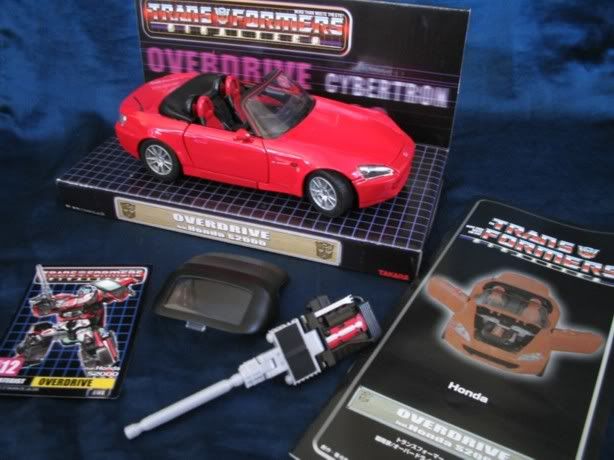 The gun is great, and I really can't see why they had to chop it off for the US version. I can't see it really injuring anyone, and it seems like over protective madness to me.
The roof I'm not so sure of. The car looks kinda dumb with it on, and it makes a pretty silly sheild if you ask me. Personally, they probably shouldn't have bothered, because there's another piece that goes on when the roof is off, and it just means that there is always an extra peice that you're not using when it's in car mode. Either the folded up roof peice, or the 'folded down roof' peice. Time to bring out that old container you kept all your G1 kibble in! 7/10.
Overall, well I'm just glad to have another Binaltech. These are truley great toys, and he was worth the extra money. Good homage (to Overdrive!), nicely made, and a real nice transformation scheme. The articulation really lets it down, apart from that, a very nice figure indeed. 8/10.
| | |
| --- | --- |
| Reviewer | Cameron Sutton |
| Date | April 24th 2005 |
| Score | (8 out of 10) |
| Reads | 12779 |
Back to Reviews Index