OOOhhhh!!!! 3 New Alternators at once, I can hardly contain myself!
Okay, so they're all repaints, so I won't go into too much detail, just the differences.
In Package shots...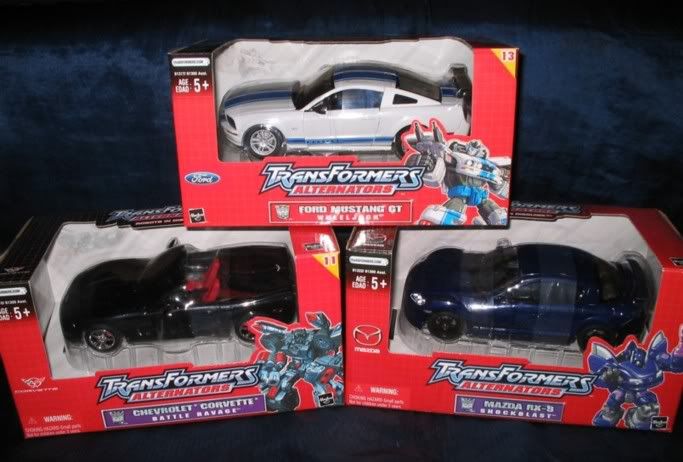 I still very much prefer the old packages, but I have to admit, the old blue boxes wouldn't have worked as well for Shocky and Ravage, too dark. Very exciting getting these three boxes together, they all look very nice in their packaging.
Car Modes :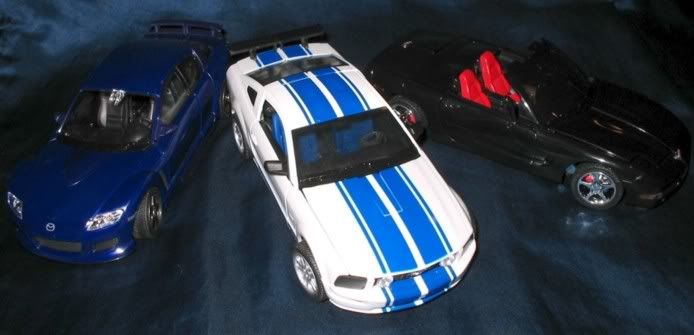 Okay, see what I mean about the dark packaging not working as well? I mean you can hardly see the two Decepticons in front of that backdrop. No no no, this isn't going to work.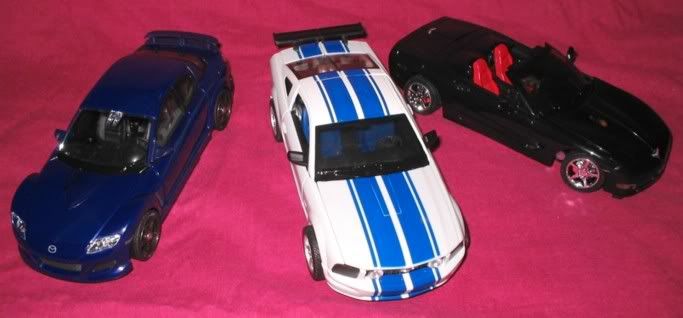 Ah, that's much better. Wheeljack and Shockblast look awesome in vehicle mode. You'll notice that Shockblast is a little more Blue than G1 Shockwave and Energon Shockblast. Kinda navy actually. The BT pictures I've seen look more purple to me, but this colour works really well for the car. The Mazda Speed RX8 looks like a real boy racer car, especially with the dark mags. Looks like somebody did it up in their garage at home. Not a negative though, he looks great.
Wheeljack is awesome too. I love the retro 70's look. Very reminisent of 'Starsky & Hutch'. My only concern is that the blue stripes look as though they may scratch off fairly easily, and even appear to be doing that ever so slightly straight out of the box in some parts. Could be just paranoia.
Ravage is a little weaker in car mode. The Alternator version is fairly unexciting given the unpainted black plastic. Not too bad though. The roof looks a little 'broken off', and you also notice a bit of Fred Flinstone syndrome without the roof. I'm referring to major gaps in the floor of the car thatFred might put his feet through to get it going. I never noticed this with Tracks. It's there, but the roof desguises it a bit. On Ravage, it's plain for all to see.
Robot Modes: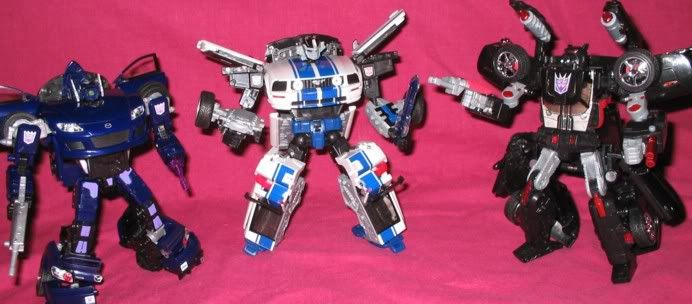 These are all great, even Ravage. I admit I was a little disturbed when I first saw Ravage pics, I really only got him because I decided to get them all. But he does actually look pretty cool. I've gotten used to the idea a bit (helped by rewatching some Beast Wars episodes) and while he's a freak, that's part of his appeal.
Wheeljack is the meanest looking Autobot I've ever seen. I can't help wonder if they were thinking about making him a Decepticon, like they did in Armada, but I'm sure glad they didn't. Nothing wrong with a mean looking Autobot. Maybe he took one of his scientific experiments and it made him go a bit psycho, who knows. But he looks great. Shockwave/Blast is my favorite I think. I wasn't sure about this one when the first pics came out either. Shockwave as a car? But the RX8 is a really cool car, and Shockwave is one of my all time favourite characters, so what's not to like? He looks cool in both modes, and he's way more 'Shockwave' than the Energon version. I think he rocks. I love his gun hand too. All in all these are pretty awesome repaints. They do have the same problems as their original versions though. Ravage's legs are just as stiff and tricky as Tracks, Wheeljacks doors pop off just as much as Grimlocks, and Shockwaves bonnet (hood) pops off too. Shockwaves arms seem to stay on alot better than Meisters though. Another problem I had with Wheeljack was that the part where his 'groin' turns from his 'waist' is very (for want of a better term) ...stiff I thought I was going to break it trying to turn it around, and I had to check with Grimlock to make sure that was what you were supposed to do. Got there in the end though. I noticed that the pictures in the instructions have their original heads (Tracks, Grimlock and Meister) but who cares? They also come with the latest Energon comic. Nice. Anyway, if you don't have 'em, GET 'EM!!!
| | |
| --- | --- |
| Reviewer | Cameron Sutton |
| Date | May 12th 2005 |
| Score | (9 out of 10) |
| Reads | 10210 |
Back to Reviews Index