Name: Skygarry
Series: Transformers Battlestars
Faction: Cybertron
Size: Ultra
Packaging: Window box packaging
Release: 1991
Accessories: Two rifles, Booster pack, Ramp, Launcher, and Micromaster companion Shot Bomber
Variations: No Hasbro or US Variations Japan Exclusive. Re-released in a Brave series in the mid-90s as Deathgarrigan painted in red and black.
The Series:
To be clear about Transformers Battlestars regarding if they had a one shot TV anime... The answer is no. The adventures of Starconvoy, Grandus, and Skygarry was docomeented, through Japan's TV Magazine in manga format. The last series being shown before Battlestars was supposed to be the 7-part OVA, which followed Transformers Victory, and that's the one shot episode of Transformers Zone.
Vehicle mode:
Skygally or Skygarry colored in blue, white and red this carrier transforms into a transport carrier. It can carry a maximum load of three Micromaster transport containers, and has a working pilot roosterpit, where you can put Shot Bomber or any Micromaster sized Transformer in control of Skygarry's missions. Since I don't have alot of Micromasters the Minicons or Microns is a good alternative for play ability. His Micromaster partner Shot bomber painted in white transforms into a missile tank.
Transformation:
Basic transformation and you won't have problem with him. The only thing that I was very cautions about is the joints when pulling his legs. The other part is folding the landing skis and being so careful about it, since this is a very fragile toy produced in 1991.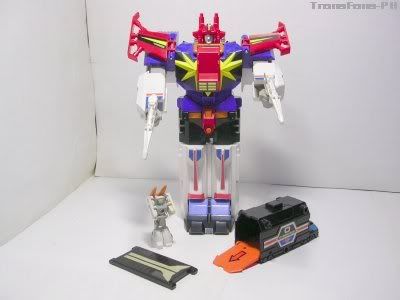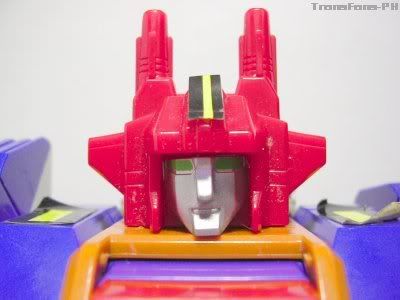 Robot Mode:
He has green eyes and head painted in red with minimal orange parts painted on his chest. His mostly colored blue, upper legs painted in black, and white on his arms. Stands a bit shorter than Metroplex. Articulation is limited only on arms and elbows.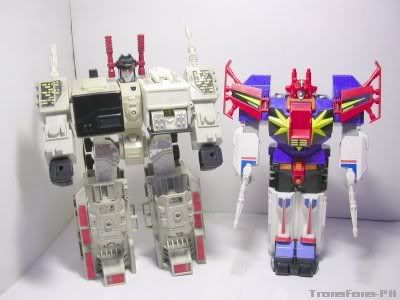 Base Mode:
There's one option that some doesn't know about Skygarry and that's his base mode. You just pull the middle part of his body to its maximum point. Unfold the grabber that holds the Micromaster container, and you just detach the booster pack to re-attach it to that middle part. Its where the suppose grabber is located plus attach the container with the optional ramp, that you don't usually use in vehicle and robot mode.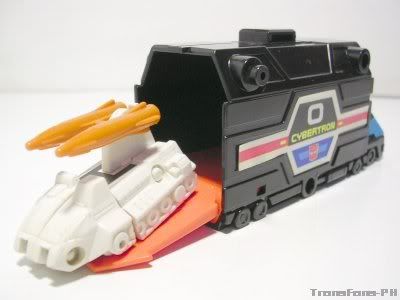 Toy Gimmick:
Dropping the Micromaster containers to Grandus (if you have one), which deploys all assigned Microns to there missions. Mostly the launcher that comes with Skygarry has its gimmick, which launch Shot Bomber into action.
Packaging:
Unlike the previous Generation One releases in red (Cybertron) or violet (Destron) with grid design the Battlestars boxes, where released in white window box and not in vehicle mode. If you remember way back there internal packaging is in styrofoam. I guess since the series is winding down in Japan Takara was cutting up cost on the box art and techs specs.
Overall Rating:
Skygarry's a rare find if you can find one out there, but hopefully with the reissue of Starconvoy there will be a fan following for its re-release. Play ability is great when he's on base mode or in his vehicle mode as a transport. It would be cool if he's with his brother Grandus in base mode.
Skygarry gets 8/10 robot points.
You can view the original review link
HERE
.
| | |
| --- | --- |
| Reviewer | MC |
| Date | November 8th 2005 |
| Score | (8 out of 10) |
| Reads | 16411 |
Back to Reviews Index