A few months ago, I decided that due to limited funds I was going to narrow my Transformer collecting down to the following catagories: Binaltech/Alternators, and G1 (including reissues). Basically that exluded the mainstream lines like Cybertron.
However, when I saw the preview pics of Galaxy Force Soundwave, I knew that was going to go out the window. I've always been a sucker for G1 homages, and what a homage. Perfectly capturing the look of Soundwave (and of course, Laserbeak) in an updated, modern way.
So a few months of waiting, and he's here in my hot little hands. I'm nervous as heck actually, because my last Takara import was BT Prowl, and needless to say, I was incredibly dissapointed with the quality of that product. Prowl has made me very weary of Takara imports post the Tomy merger. But I hold my breath, and get stuck in....
First up, the packaging. No surprises here, the usual, very classy Galaxy Force packaging, complete with lots of funny words that I can't read. The only comment I will make here is that the photos of Soundwave on the box look a little faded. I don't think it's sunfading, because most of it looks fine, just some average printing probably.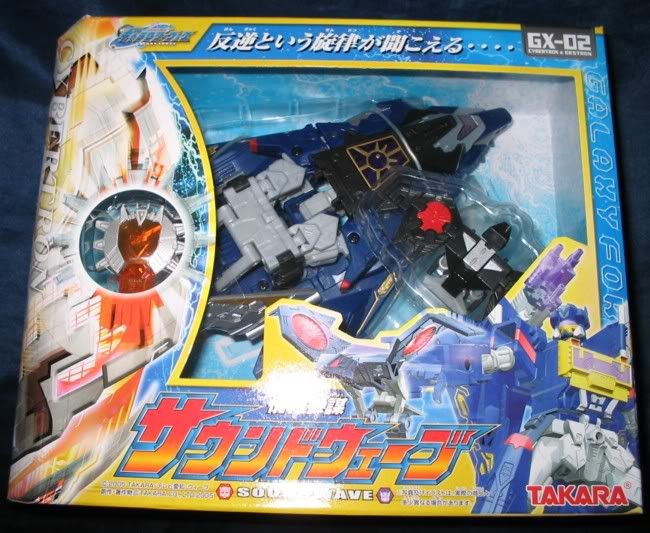 One thing that is obvious from the outset is that there's a section of grey plastic on the top/back section of the plane that is painted silver on the box pics, but just plain grey plastic in the production model. Looks OK though.
Also of note is the fact that the designation down the side of the box is Cybertron, not Destron. Hang on, is Soundwave an Autobot? Surely not. The box features both Autobot (Cybertron) and Decepticon (Destron) symbols, and the cut-out points thingee is a 'half and half' logo, alah Armada Sideways. Has my favourite Decepticon turned into a double agent? Guess I'll have to wait for his appearance in that silly cartoon series to find that out.
So the contents. Soundwave comes with everything you see here...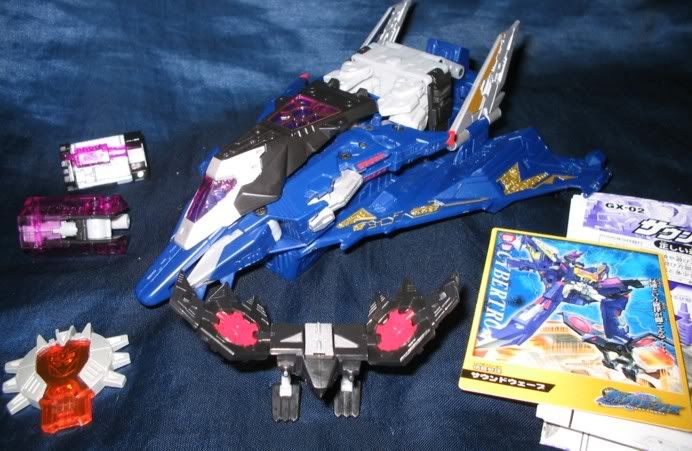 Lots and lots of extras. Very cool. There's no shortage of interesting bits and bobs here. Prying him out of his packaging is a real mission, especially as I am paranoid about something coming off. I eventually get him out, and nothing falls off so, so far so good.
Alt mode:
Soundwave's alt mode is some kind of futuristic stealth bomber. Probably not ideal for playing your favourite Wham! cassette tapes on, but very cool anyway. He'd look just right flying along next to Starscream. Only thing is I'm not sure if they're on the same side!? :? Lots of nice paint apps too.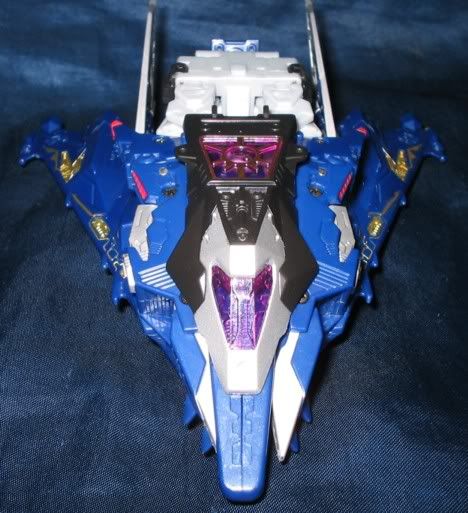 Condor:
Condor is a real nice touch. In fact, it's really what finishes GF Soundwave off as being such a great homage. He's also a bit of a homage to Energon Divebomb, with the wing mounted rotors.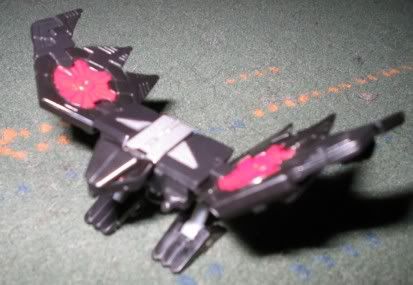 A little fragile feeling (well, a lot actually) but way cool.
In fact, as mentioned, Soundwave is loaded with extras, in the form of his 'hexagons'. Basically they're the Galaxy Force/Cybertron equivalent to his Cassettes, and all of them can fit in his chest. (Although not at the same time).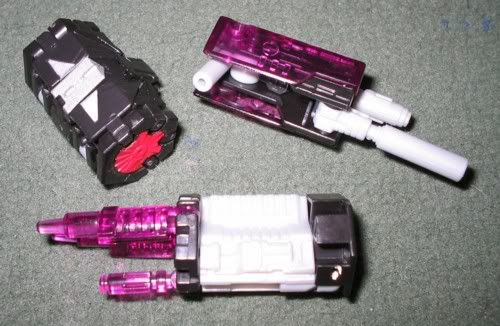 In this pic, the two weapon hexagons are in their gun mode, and I have turned Condor into his hexagon mode. It's a bit wrong though, I figured it out properly after I took the pic.
Here's a shot of the underside of the Alt mode with the Weapons attatched and Condor sitting inside the open chest cavity, ready to be locked up for travel. This pic also exposes Soundwaves chronic VHS (Visible Head Syndrome). Not quite as bad as Energon Ironhide, but pretty bad.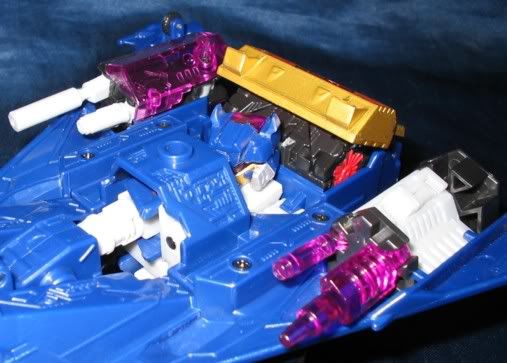 It's important to note that the cavity can only be opened with the cyberkey. This is his special 'cyberkey feature', so you better look after that key!
Transformation is great. Complicated at first, but that's really just because it's quite inovative. Nothing fell off during transformation, which is quite rare in these days of ball joint pop-offs and Alternator door issues. Those japanese instructions aren't easy to read though, especially with all the funny scribbles instead of words. Plus the fact that the photos are all of a grey, unpainted prototype, making it that much harder to figure out which bit the arrows are pointing too. But I really enjoyed transforming him. Nothing frustrating, just intricate and fun.
So after not too much drama, the pierce de...la... peace de..... p ...er....thing we've been waiting for, Soundwave's robot mode: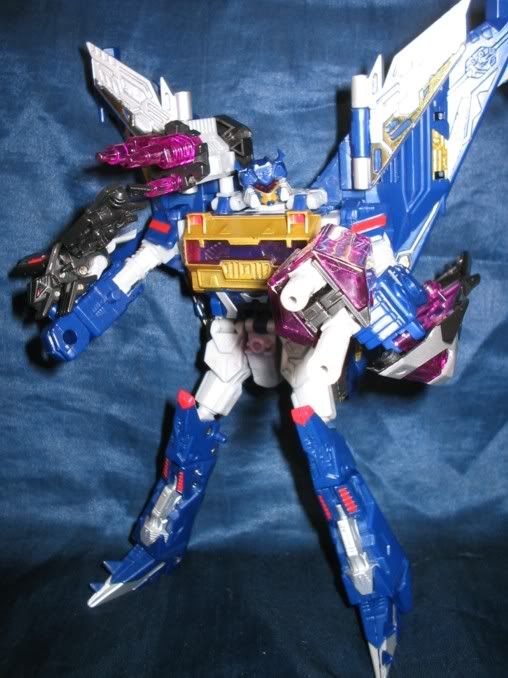 Well just look at it. He's too cool man!
Awesome homage, and there's somewhere for everything to go. I was especially impressed with the fact that there's actually a hole on his forearm especially for Condor to slot into, so he sits real nicely on the arm there. No tricky balancing like the G1 version. He's got plenty of kick arse arsenal and he's ready to waste a few Autob.... er... Decepi... uhh...well he's ready to waste someone anyway. Sure his legs are a little girly, but not as bad as they looked in the preview pics.
I have heard a few bad things about GF Soundwave, in terms of quality control. I have heard about missaligned pins, unfinished paint jobs, and something or other else. I admit, he does feel a little fragile comapred to the likes of GF Strascream, and I certainly wouldn't trust anybody under 10 years old with that Condor. He feels like he'd be pretty easy to break. Overall the plastic does seem maybe a little thinner.
But overall, I'm extremely inpressed. He's a very cool design, and a worthy homage to one of my favourite G1 characters. I'm sure the Cybertron version will be just as good, but I'm glad I forked out for the import, so I could have all this fun a little bit sooner. I'm not big on gimmicks, but these ones are great, and really add to the fun of the toy.
He's gone someway to restoring my faith in Takara. Great stuff.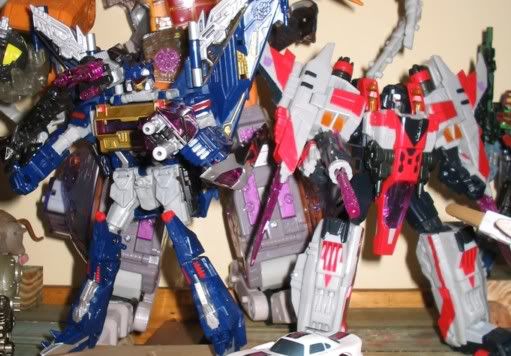 | | |
| --- | --- |
| Reviewer | Cameron Sutton |
| Date | December 17th 2005 |
| Score | (9 out of 10) |
| Reads | 10103 |
Back to Reviews Index