Well I don't usually review repiants, because hey, it's the same toy in a different colour. But given that there has been some quality control questions surrounding Takara lately, and given that this is the first of a 'new line', and given that my wife is away on business and I'm bored out of my brain, I thought I'd give this guy a little review. Just a quickie though.
So, a new line begins. Well, that's a bit far fetched isn't it. It's Binaltech with a tiny little figurine and new, robot mode packaging. But this is Alert, or Red Alert as us westerners know him. Firstly the packaging is absolutely stunning. Some have suggested it looks a little cheap, but I can assure you that up close, it's beautiful...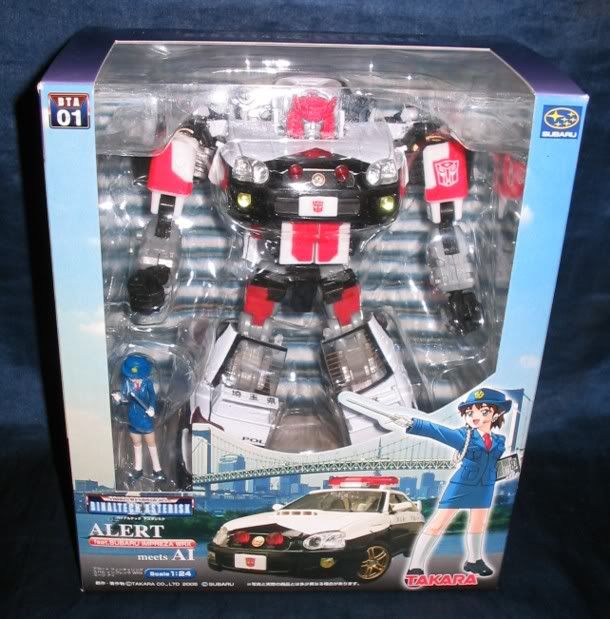 I have never been a MISB collector, I get my TF's to play and display. But I had this for two days before I could bring myself to open it. I seriously considered leaving it sealed, it just looks so good. Plus there's the fact that I have three Subaru's already, and this wasn't going to hold too many surpries. But in the end the boredom got the better of me and I ripped into it.
Red Alert comes with everything you see here...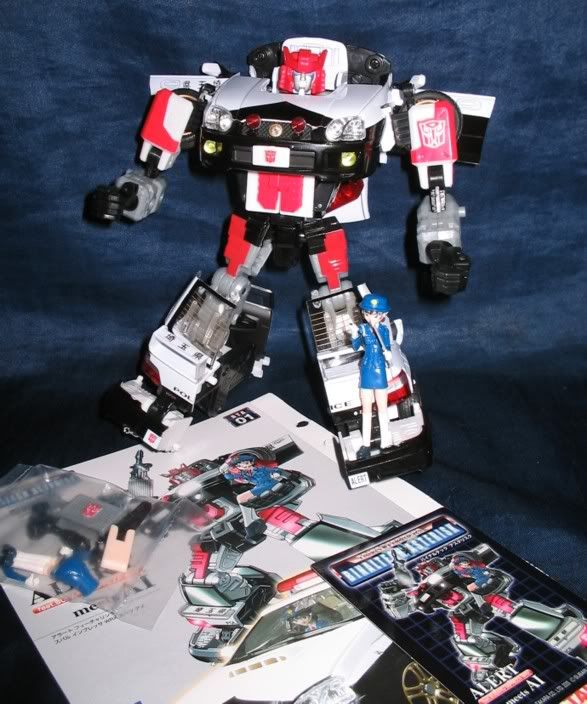 Nice stuff man, this is right up there with the Takara reissues. In fact the instructions are very reminicent of the Takara bookpack catalogue thing. They're the same sort of card (as opposed to paper) and also have the ring binder friendly holes. I love extra bits and peices like this. They're sort of a reassuring reminder that you paid more because this is a classy, quality product. I always feel ripped off when I pay heaps for something and I get nothing extra with it.
You'll also note the little bag which includes his gun, and some morbid looking extra limbs for AI.
Which brings me onto AI. She's cool. Tiny, but cool. Many people won't give two hoots about these little figures, and they are really, really small. But I think they're kinda cool. One ongoing issue in TF fiction has always been scale. These figures give a really good indication as to how big your average TF robot should be compared to a human. And no, the BTA's have no size changing, mass shifting features.
So, AI...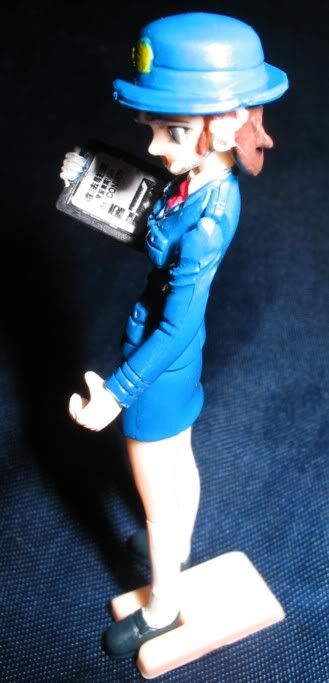 I've tried my best to show you in this shot that she has a picture of Prime in truck mode on her clipboard. Judging by here hand actions, she doesn't seem to think much of him. Basically AI is a tiny little figure with the smallest ball joint you ever saw connecting her head. She has interchangable arms, and interchangable legs. Her comes come empty handed, or with the clipboard and batton. Her legs are sitting or standing. And she comes with the little stand thing you can see her left foot slotted into. All good fun, but kinda fiddly, because she's smaller than she looks. Amazingly well painted really, given her size.
So back to the bot. Alert looks great in bot mode. Bummer they didn;t remold his head at all, cos there's really no similarity between his head and G1 Red Alert's. My Red Alert reissue even has a black head, which I think was pretty standard in the US versions. But black wouldn't have worked, he was always red in the cartoon. BTA Alert is really as much a saltue to G1 Prowl as it is to Red Alert. It's an attempt to appease the purists who were unhappy that Prowl wasn't another Subaru, to go with Streak and Smokescreen.
Transforming him is, well, a nightmare really. But it's no worse than the other WRX's. It's just that when it's metal, it's even trickier, cos you don't want to scratch anything. But really, those legs in this mold are so awkward. But eventually I get him sorted...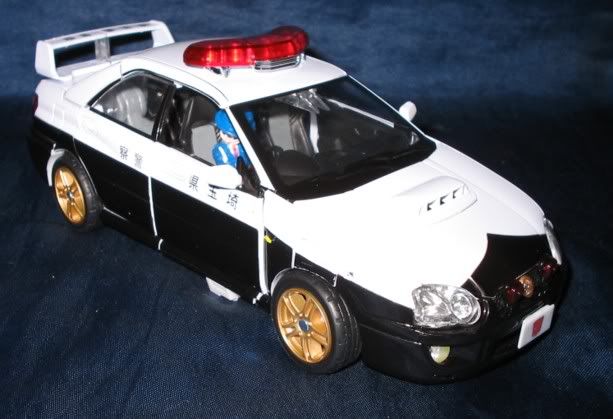 There have been some questions about Red Alerts ability to, you know, line up properly in this mode. Well all the Subaru's are tough to get right. You really have to have every hinge in those legs transformed just right, or it puts everything out. In reality, Alert is exactly the same. He's incredibly tricky to get right, but no worse than the others. Part of the problem is that his black paint work ends at the surface of the doors, and doesn't carry around the edges. This means that every line and prodtruding section is glaringly obvious, as you can see in the pic.
Here's another one with Smokescreen GT (the classiest example of the WRX in my opinion) as a comparrison...
You can see how obvious Alerts door lines are in comparisson. It's really more a paint thing.
So, quality control. That's the big question. Is Alert an improvement on BT Prowl, is he back to the old BT standard? Well that's two questions really, and the answers are yes, and no.
Alert didn't fall apart the second I got him out of the box, so he's already an improvement on Prowl. He feels far less fragile. His paint work is much better and his plastic is firmer. But he's not back to the old standard. There are still some paint issues. The lines are better than Prowl, far better, but there's still plenty of wayward brush strokes and out of place blotches on my example.
Here's a pic comparing the two...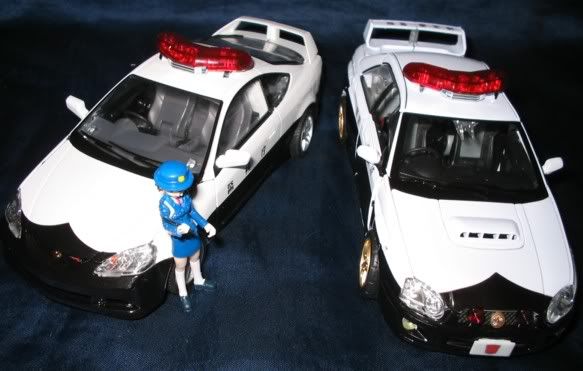 That doesn't really show you anything, but I thought it would be cool to have both the police cars in one shot.
So where was I?
Oh yeah, Alert is by no means a dissapointment, or a disgrace. He's pretty good really. But he does still show signs, especially in the paint work, of not quite being up to the old BT standard. He's good, but not great. I mean, look at that Smokescreen GT (again)...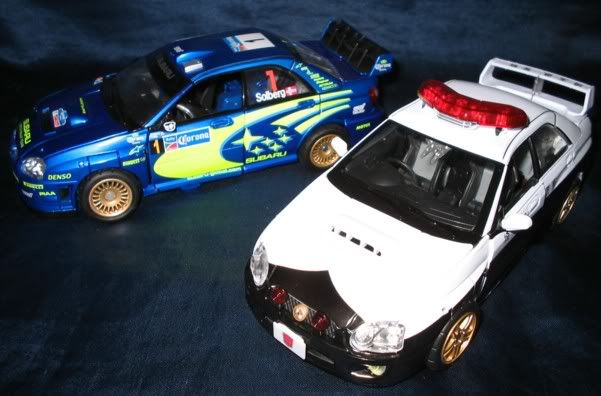 Overall, I like Alert. He's a worthwhile purchase, and a cool homage to a couple of old favourites. The car mode has some nice detail, and I like the little figurine. The packaging is phenomemal too. But there are still questions as to whether Binaltech is back to it's best. Hopefully they can sort out this Tomy merger soon and get back on track properly.
Of course, the other good thing about the Subaru mold is that there's plenty of room in the boot for the extra limbs...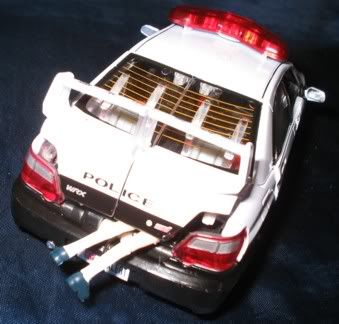 | | |
| --- | --- |
| Reviewer | Cameron Sutton |
| Date | December 17th 2005 |
| Score | (7 out of 10) |
| Reads | 13753 |
Back to Reviews Index