Well, for the second series in a row, I passed up Megatron, but fell for Galvatron. I'm such a sucker for a G1 homage. I loved the G1 Galvatron likeness of the Energon version, and I equally love the G1 Megatron feel to this latest incarnation.
So two years in a row, two Boxing Day sales, two Galvatrons. But is he any good? Remember, this is from the point of view of someone who didn't buy Megatron, so it's basically a review of that mold too, for anyone who doesn't have one yet.
Okay, packaging.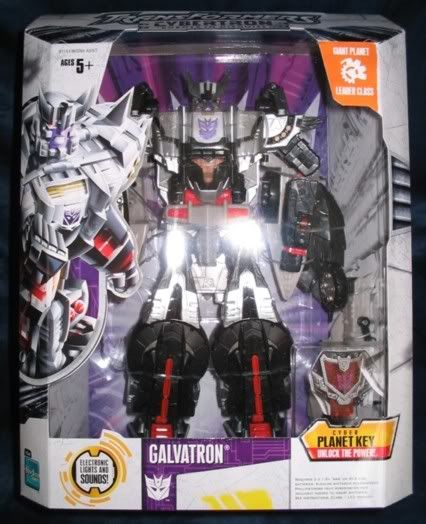 All good here. I really like the Cybertron packing. It's very nice, and he looks very cool displayed in his robot mode. The paint scheme is there for all to see, and he looks stunning. I love the silver and black alot more than his original colours. There's also a picture on the back of Megatron (original colours) combined with 'Nemesis Breaker', a darker, Leobreaker repaint (claw mode).
Galvatron comes with everything you see here (batteries not included)...
Plenty of extras which is always good. An Earth planet map featuring an Evac bio, and a few changes to the 'catalogue' on the other side. Plus his spinning gun, spikey claw thingee, Cyber Key and missiles.
Robot mode...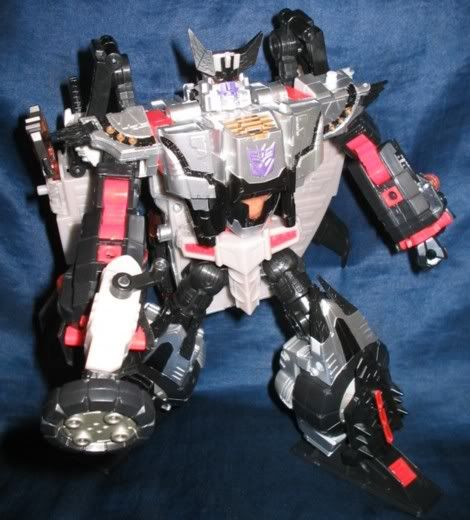 Very cool bot, even if he is a bit heavey on the 'kibble'. Ultra poseable, only his head is slightly lacking in the articulation department, everything else is as good as it gets. Ankles, shoulders, waist, knees, elbows, wrists, thighs, it's all there. His head only turns a little though, there's not much movement there at all.
He also has a bit of a 'Jetfire' type gap in his torso, great for avoiding side-on missile fire, but a little less pleasing to the eye.
His gun is rather lame. Basically a wheel with a little handle that you wind around to spin the wheel. Leaves a bit to the imagination.
In this mode, Galv/Megs features two Cyberkey functions. One opens up a little panel in one of his 'back bit's to house his gun. Fits quite well, although mine comes open pretty easily by itself. No need for the Cyber Key. It pops open quite alot actually. The othere Cyber key releases his spikey claw piece from his other 'back bit'. Have I lost you yet? Okay, I'm talking about this thing...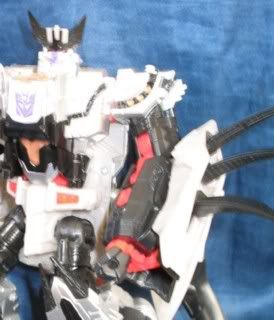 That big thing on his arm. Looks pretty cool, a bit lacking in paint though.
Transormation is very cool. Fun and complex, but not too fiddly or difficult. Everything snaps snuggly where it should and all that. My only concern here is this...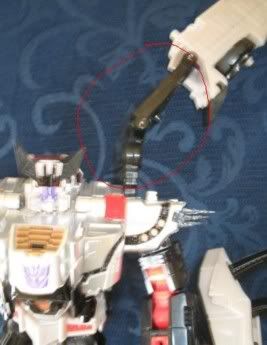 Those big long black bits circled in red. They're essential for his transformation, and hold his 'back bits' on (yeah, that's the ones I was meaning before). But while they seem solid enough, I'm sure they could be easily broken off, especially by a kid, and the toy would be totally ruined.
You do however notice while Transforming him that there's quite alot of rubber used on this guy instead of plastic. I haven't come across this much before. It's good actually, the rubber won't break and it makes transformation alot easier, cos you can squeeze parts past each other when necessary.
Anyway, transformation finished, time for CAR MODE!!!!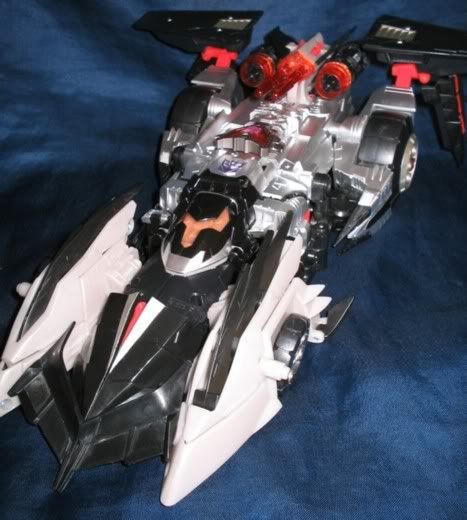 Wow, I don't remember Megs or Galv ever being a car before, but how cool does he look? I just love this, it's awesome. Looks sooooo cool, and Batman would be proud to own one. The only let down is the lack of paint apps on those front bits. A bit dull there.
There is a third Cyber key feature here. It raises the rockets up (they're raised in the last pic and down in the next pic) although only a small amount. It also activates a rocket noise. It kinda sounds like a cat being chooped in half by an electric saw. Another noise is activated when you fire the rockets out. The noises are probably great for kids but I won't be wasting any more battery power on them.
And finally, Spaceship mode...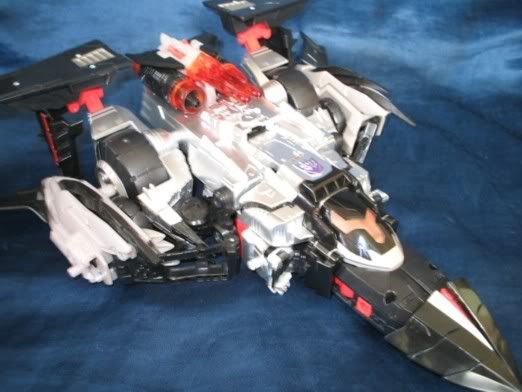 It's cool that he's a triple-changer, and I do like this mode alot, but I was a bit dissapointed at how little there was to transforming him from the car to this. Basically the two front pointy bits of the car fold back on those long black things (circled in red earlier) and lock into the side to be kinda wings. That's it. Takes two moves, one on each side. Oh well, if it works, it works. As promised, the rockets are down in this pic, sans Cyber Key. You probably can't tell the difference.
Overall, a visually stunning, and fun toy. Could have done with a few more paint apps, as there's quite alot of unpainted grey plastic, but I'm glad I got him, especially at the price!
| | |
| --- | --- |
| Reviewer | Cameron Sutton |
| Date | December 28th 2005 |
| Score | (9 out of 10) |
| Reads | 9613 |
Back to Reviews Index