Poor old Skids. He doesn't get much love in the vehicle mode department. Clearly he did a few too many bad deeds on Cybertron, and it came back to bite him at reincarnation time on earth. I mean a Honda City? That's a real bummer when all your mates are getting Lambroghinis and Porches. Fast forward to 2006, and Skids has been jipped again. The Toyota Scion is one ugly car. But hey, like the box says, he's got killer rims, so who cares?
Speaking of the box, that's new too. The new fishbowl style packaging is not to everyones taste, but in terms of presentation, I think its a step up on those wave red ones. Not as good as the original blue ones, but good.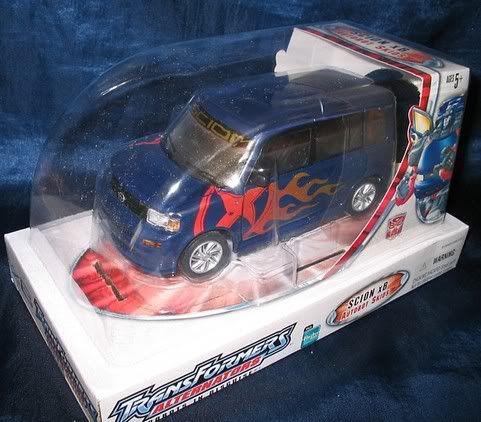 You get a great view of the vehicle mode from all sides, so you really get a good idea what your getting yourself into. I got the impression they had character bios on them, but they don't really, just the one quote, about the rims.
The big issue with these boxes however, is opening them. Make no mistake, you wont be repacking these ones to sell MIB. They only way to get the figure out is to rip off that bubble. Even done carefully with a scalpel, it's messy. No minty second-hand boxes anymore, unless they're sealed. I guess this may have been to put a dent in the MIB market, which is possibly cutting into sales. It's a shame really, I like keeping the boxes.
No need for a 'comes with everything you see here' pic, because it's just the gun and the instructions. That's the lot. As for Skids himself...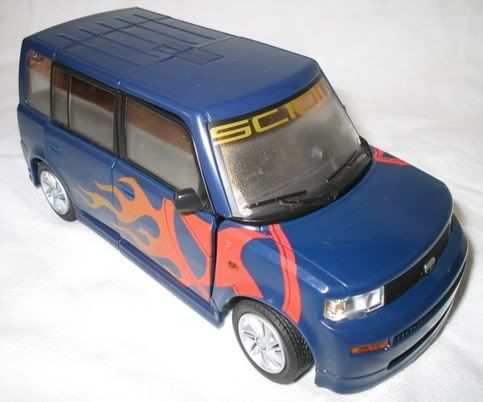 Like I said, ugly car. Just my opinion, and most other peoples, but this fella aint winning any beauty contests. Hasbro have done their best to jazz it up a bit, and they've succeeded to some extent. Those flames actually look kinda cool in real life. Better than I expected. The sparkly windows on the other hand, just look like they're dirty.
From a toy point of view however, Skids's vehicle mode is all good. All the doors open including the boot, and there's just enough room in there to store a couple of large robot feet. I'm afraid your guitar amplifier will have to go on the back seat. The bonnet opens, and all the seats fold down, not just the front, but the back too. The front seats even have two points of articulation!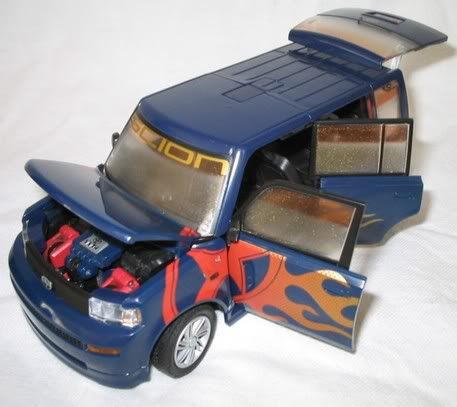 Also, the steering mechanism is by far the best yet, as there is no split. It stays in tact in robot mode, so it is solid and functional.
Transformation is great. Real interesting and satisfying, without being too tricky. I reckon it's the best alt transformation apart from the Honda S2000, which is my favourite mold to transform. Skids is a little bit fiddly to get back into vehicle mode, but nothing like the Subarus or Mustangs. However, the instructions are a little difficult to follow going backwards, and I had trouble remembering how his arms were supposed to go. Fun though.
Robot mode...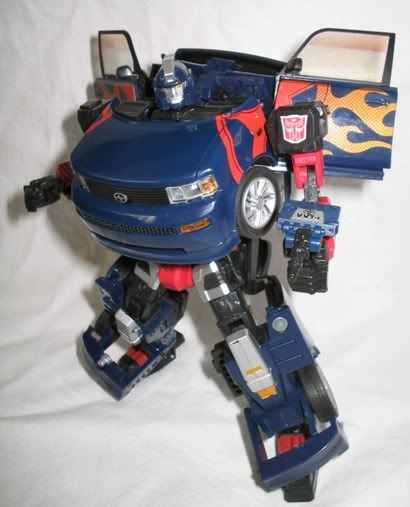 Skids's robot mode absolutely rules. He has the best artuculation of any Alternator to date. Everything that should move does, apart from his waist, but it's no major loss. He looks like G1 Skids on steroids. He looks tough, and he's well finished paint-wise.
The only real negative here is his wussy little water pistol gun. You thought Hounds was bad, this thing is pathetic. How he's supposed to score fembots with that, I don't know.
You gotta feel sorry for Skids. He means well, he's a nice bot. But he just keeps getting jipped with ugly cars, and tiny guns. Never mind dude. You all good in my books!
| | |
| --- | --- |
| Reviewer | Cameron Sutton |
| Date | March 15th 2006 |
| Score | (8 out of 10) |
| Reads | 10473 |
Back to Reviews Index