Toy Review by:
Max Convoy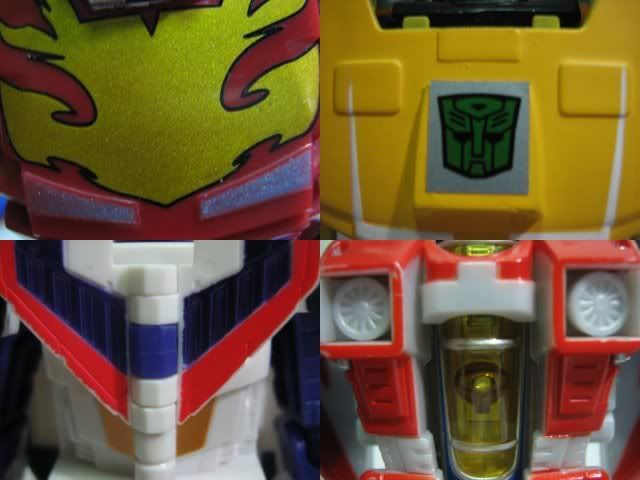 Series: Transformers Classics
Size: Deluxe Class
Packaging: Blister bubble package
Release: October 2006
Variations: US release only
Name/s: Bumblebee & Rodimus Faction: Autobot
Name/s: Astrotrain & Starscream Faction: Decepticon
About Transformers Classics and Introductions:
Generation One characters gets a modern introduction on how they would look like for the 21st century. Thus TF Classics is born in reviving the Generation One series for the year 2006. We represent an overall review of the four first wave that was reviewed by countless fans who has already acquired them. This is just my personal insight on how I rate them.
Vehicle mode: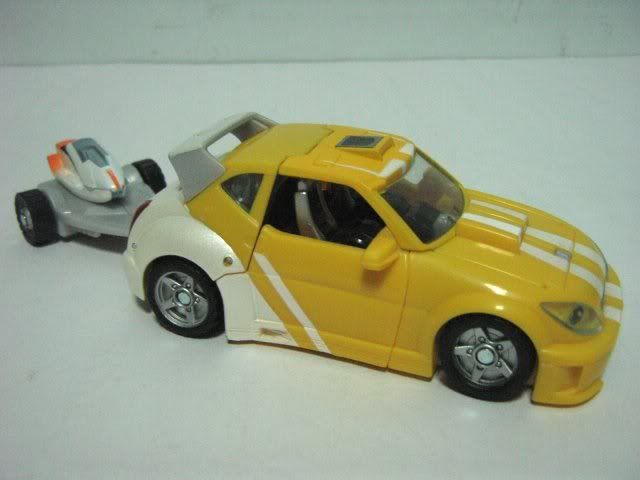 Bumblebee
transforms into a yellow hatchback that has a look of a Honda Jazz, Peugot 206, and the curves of a Volkswagen Beetle. Colored in yellow with white stripes the famous mini-bot returns in toy form pulling the tiny jet ski/trailer.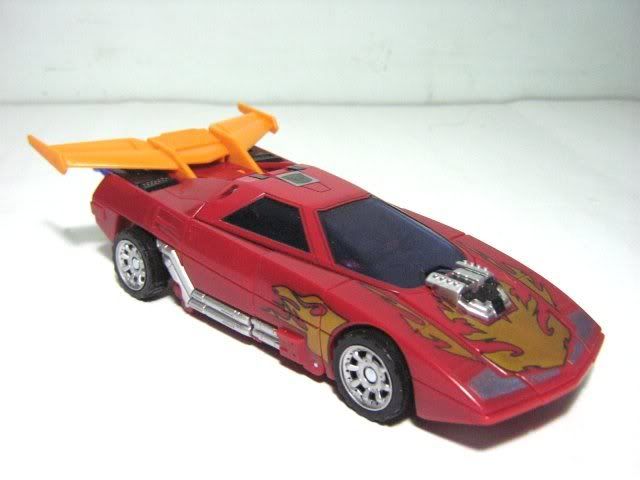 Rodimus
a sleek red sports car with huge wing/spoiler at the rear. The modern take on
Hot Rod
's vehicle mode is more of a cross between a muscle car and a
Ferrari
. With blue flamed booster colored in red with flame patterns on both side and the hood is simply nostalgia.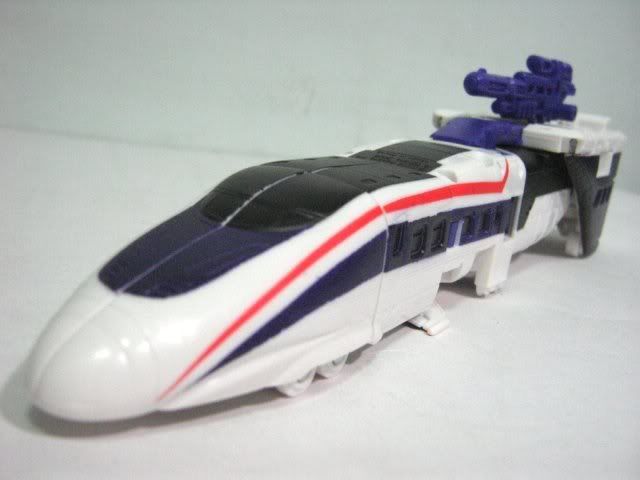 Astrotrain
among the four deluxe s the only
Transformer
with two vehicle modes, because he's a triple changer. A modern space shuttle and replacing his former
locomotive
form with the
Shinkansen
or known as the bullet train. Both vehicle forms has distinct appeal colored in white, with black & red stripes, and lines defining the bullet train form. Whats cool is the train mode looks like its moving because of the curves and aerodynamic look to it.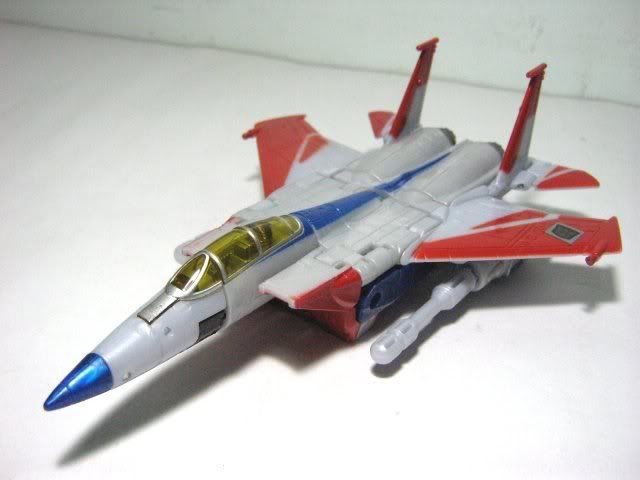 Starscream
the famous Decepticon Air Commander still retains his original F-15 fighter jet form, but this time around his stripes on the wings are define in red. Bigger guns on both wings and the landing gear was quite absurd to my amazement, where we'll discuss the description more of that in robot mode. The pilots compartment is well detailed just like
Rodimus
's driver seats.
Overall among the for wave 1 deluxe
Bumblebee
's has nice looking vehicle mode followed by
Rodimus
, and then
Starscream
last on the list is
Astrotrain
.
Transformation:
Bumblebee
's transformation has a bit of
alternator-ish
way of folding the wheels and sliding the doors, but a bit of like his original G1 predecessor where both of feet is still the front part of the car. None the less its not that difficult for a five year old to be challenged. The Jet-ski/trailer transforms in his glider pack.
Rodimus
has the same concept transformation similar to his elder G1 version, but a bit of more unfolding parts similar to the
Cybertron Hotshot
. His booster changes to his spring loaded blaster.
Astrotrain
transforms into robot mode after changing into his bullet train mode. The easiest of the four Astrotrain is no difficulty compared to
Rodimus
with regard to transformation.
Starscream
has improved with thetransformation compared to the original G1 version. You need to remove the hands/fist and weapons. After that you need to re-attach everything, but the modern edition has minimized all that. The only you remove and re-attached again are his null-rays.
Among the four the most fun in
playability
transformation with Astrotrain being the only triple changer in the first wave deluxe set.
To robot to shuttle then to bullet train and then back again!
Robot mode: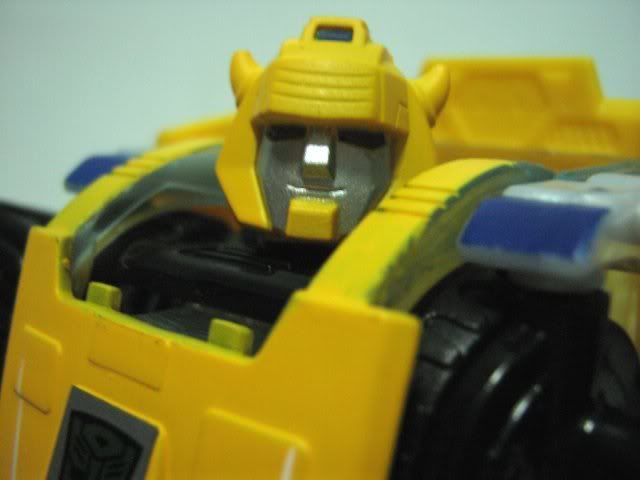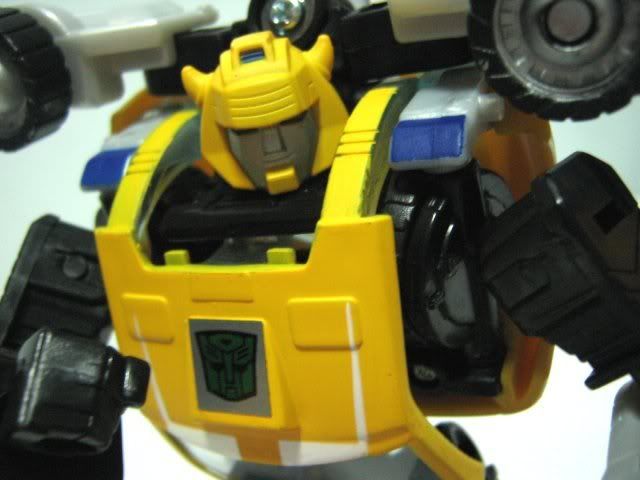 Bumblebee
's robot mode has a TV accurate head. Good articulation on his arms, shoulder, knees, and feet. He doesn't have a waste joint its all fixed. The glider pack which used to be a jet ski/trailer can be attached to his back wings spread open. He's got no weapons in robot or in vehicle modes he's an
Autobot Spy
indeed. Mostly colored yellow and a bit of black. The seats in his vehicle form is now his
knee pads
. He's got flat feet with no difficulty standing up. The only thing that looses his balance is his glider pack an added weight to his back.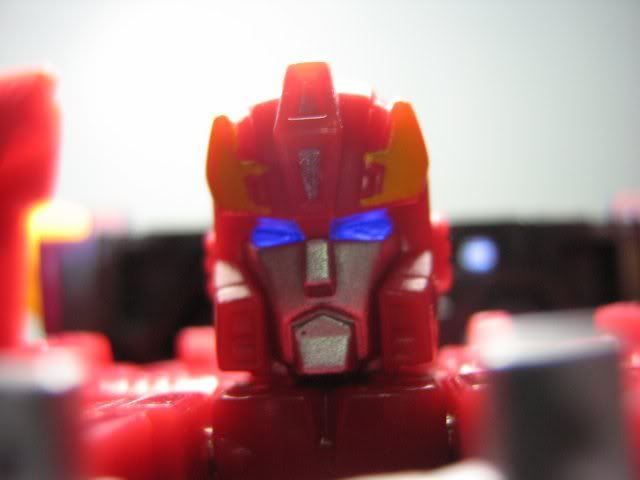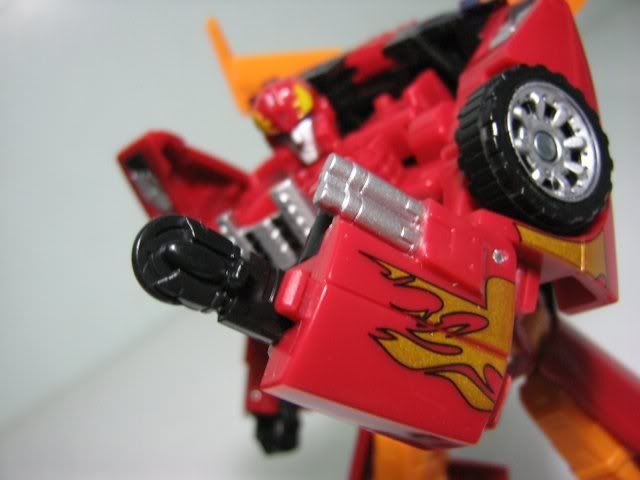 Rodimus
I didn't expect something cool seeing in his robot form. Among the four deluxe he's got light piping effect on his eyes, but it doesn't give too much effect unlike previous figures with the same concept due to that his head is a little bit small. Mostly he looks more of a matured
Hot Rod
, that made him a bit
slim
looking. The gimmick on his robot form is he has the
pizza cutter
that he has used
in the movie
to cut his way against the giant squid. My only comment is its quite small for a weapon to be used to cut an 18-foot arm of a giant squid more like cutting lasagnas. The wings on his back are now defined because its wider. Plus the booster that attaches to his rear in vehicle form is actually his weapon. The only gripe was the minimal articulation of his legs are limited.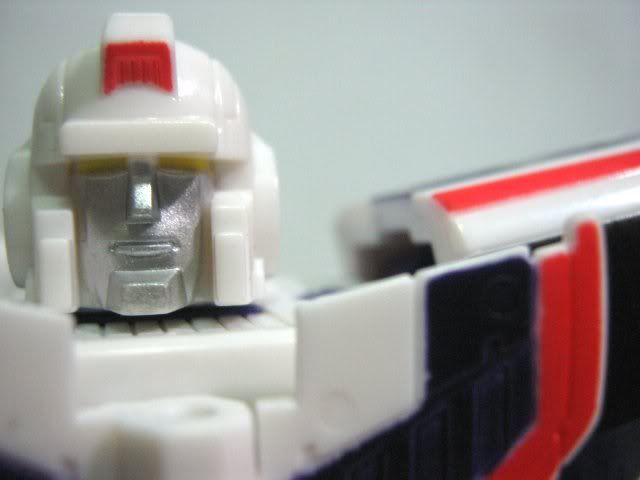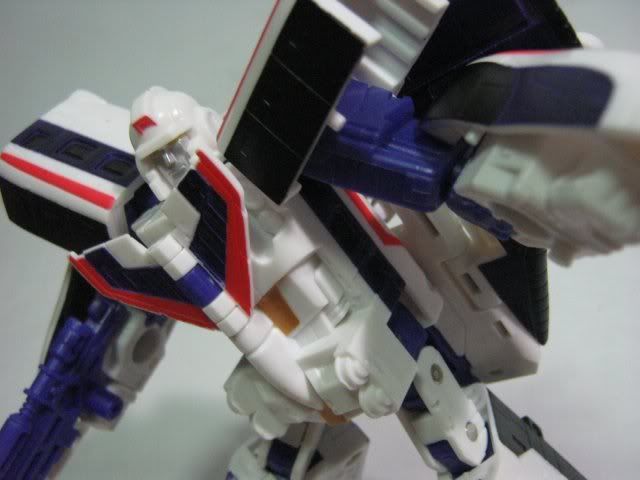 Astrotrain
a different take on his head sculpt, and has limited arm movement. Due to that both of his arms are hidden behind the front end part of the bullet train. No waste joint like
Rodimus
and limited poseability. Carries a purple blaster that can be attached in the belly of his space shuttle mode or as the weapon mounted at the back end of the bullet train. Compared to his G1 predecessor he added bulk to his robot form unlike the old version being skinny and all.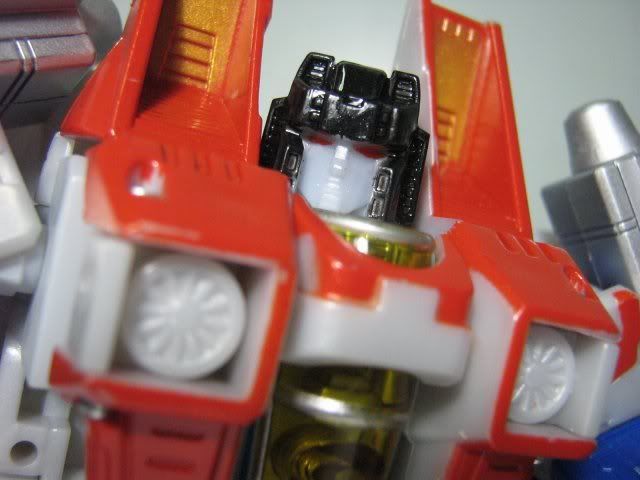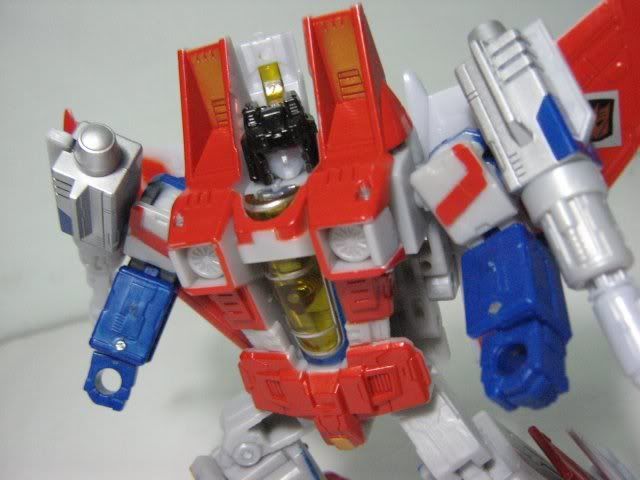 Starscream
's face is not much defined up far, but compared to his
Robot master
counterpart he's got joints for cool poses. Mostly red his chest reveals two exhaust fans which was actually the landing gear in his vehicle form. The he looked now compared to his G1 version he's no longer stiff. He has joints in the knees, arms, and shoulder. Although there still limitations that Starcream can do, and that's his head where he has limited rotation.
In the four deluxe appearance in robot mode
Bumblebee
and
Starscream
can do cool poses and action scenes. I liked
Starscream
in this form better compared to the previous
Robot master
release. It really appealed to me his cartoon accurate characteristics.
Toy Gimmick:
Each of the four deluxe wave 1 has distinct gimmick that made TF Classics such a hit with the fans and collectors was the original gimmick. It was never about the spring loaded weapons or the
minicon
revealing each special abilities present in the previous toy line. But getting two in one, which you got the vehicle then changes to a cool robot. That's how Transformers was originally presented the toy itself was a gimmick.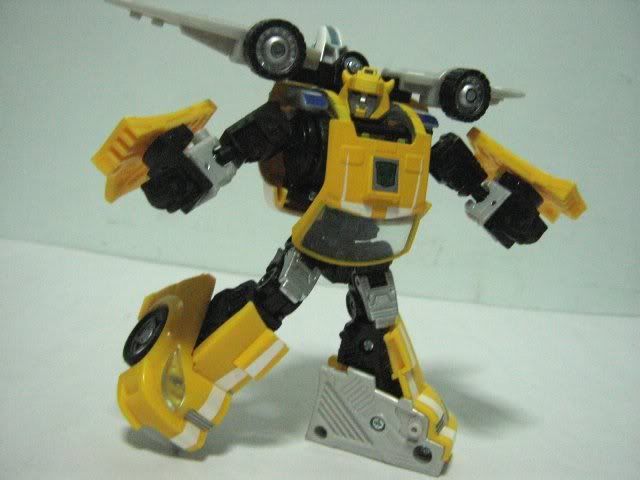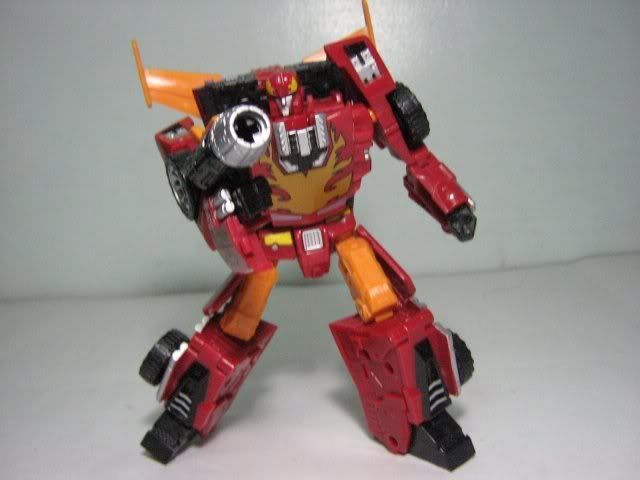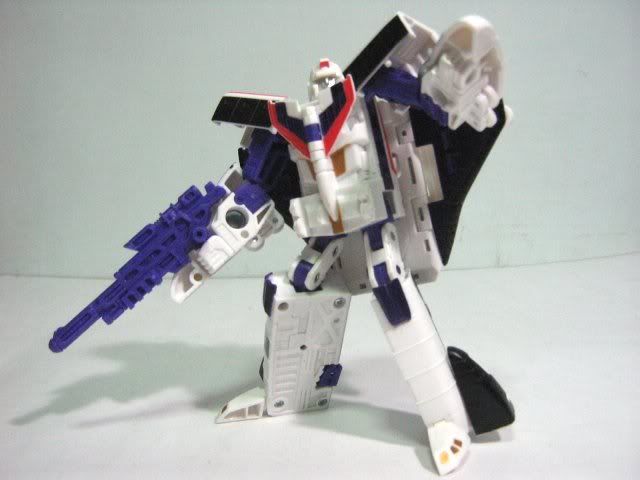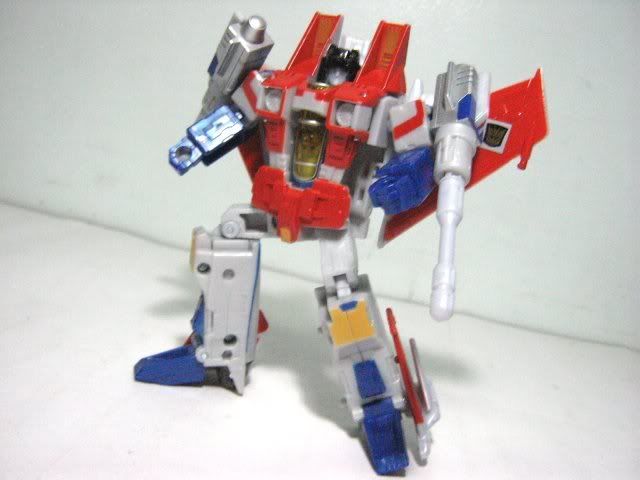 Packaging:
Blister bubble packaging with a
flip mode
seeing the vehicle and robot mode. Colored in red with the photos of the toy itself than what would be a box art. If its a Decepticon there are purple lines or an Autobot in red, that has a distinct color pattern which faction your getting.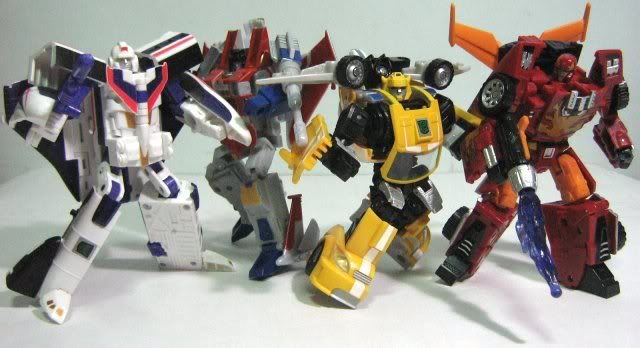 Overall Rating:
The TF Classics deluxe first wave was a hit with everyone in the Philippines. It has not yet appeared in the local malls or big toy stores such as Toys R' Us or Toy Kingdom, but probably once you read this we might have them all over the place. It was a definite sold out at specialty stores, and the way I see the second wave has been much accepted in the US and other countries. It will definitely will go out of stock. When you say
G1 revival
the TF Classics is a huge hit. It now depends on you if your going to get them all or get your favorite character, which I say is a definite must have for those who love anything Generation One.

| | |
| --- | --- |
| Reviewer | Max Convoy |
| Date | December 12th 2006 |
| Score | (10 out of 10) |
| Reads | 10141 |
Back to Reviews Index