Early this morning, a product sheet similar to what we've seen in the past offering first signs of upcoming toys was leaked through a Weibo account. Right now we don't have any clear indications of its origin or veracity, but we think there may be enough credibility to present it as a potential rumor, as it included the mysterious MPM-8 which was later listed for preorder by BigBadToyStore.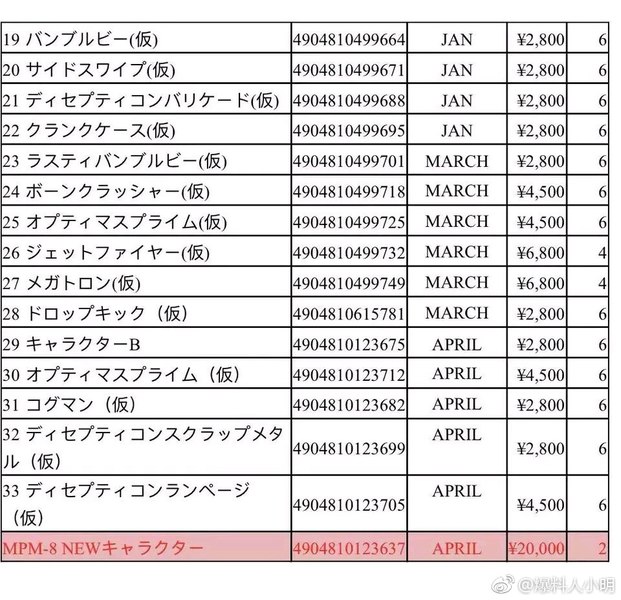 MPM-8 is only listed as "new character," so there's not any clues to be had for that, unfortunately. That aside, let's work down the Studio Series lineup.
19 - Bumblebee is probably the World War II body we saw at Fan Expo in Canada some weeks ago. This is supported by the next couple of entries...
20 - Sideswipe
21 - Decepticon Barricade
22 - Crankcase
23 - Rusty Bumblebee
If we take the entire batch of the newest revealed Deluxes as being sequential releases for TakaraTomy, that would make 19 reason out as the World War II alt mode which is otherwise unaccounted for here.
24 - Bonecrusher. This carries forward information presented a fair while back that Bonecrusher was expected to be part of one of the near-future Voyager assortments in Studio Series. And joining it is...
25 - Optimus Prime
Then we have two new Leader Class entries:
26 - Jetfire
27 - Megatron
My personal guess would be Megatron is the Dark of The Moon body; it seems too early to see Studio Series revisit the body style from The Last Knight, though it's hard to really rule that out either. Jetfire would perhaps suggest that the number 25 Optimus could be retooled/redesigned to support a Jetwing combination with Jetfire. It seems odd otherwise to have another Optimus come out and be just one number removed from Jetfire.
Two more Deluxes bring us:
28 - Dropkick
29 - "Character B" which is obviously another individual from the Bumblebee movie being spoiler protected for the time being.
30 - ...Optimus Prime. Again. Perhaps this will be our first Studio Series stab at the "knight" form from the last two movies?
31 - Cogman, going along with the surprising Amazon product listing that was uncovered recently.
32 - Decepticon Scrapmetal
33 - Decepticon Rampage
And there's our Constructicons. You may recall back prior to the official debut of Siege we had a run of various Amazon listings that told us a lot about upcoming products. Among them was a mystery listing for "Hightower". Hightower was another of the Constructicons from Revenge of The Fallen, and if these listings and that are all to exist side by side, it seems like we might, gradually, see a full set of movie Constructicons happens as part of Studio Series. Could they possibly combine, when all is said and done? Hopefully Toy Fair will tell the tale on that - provided Hasbro's team don't pull another Power of The Primes and play coy about obvious combination gimmickry.
Please bear in mind that until we have further sources supporting more of the new items seen here that this should all be taken as rumor. A decent portion of this listing reflects information we've come across already over the last weeks and months, but ultimately that just makes it easier to have something like this seem credible even if it's not. For now let's just call it fun to speculate about!