IDW Publishing Announces San Diego Comic-Con 2018 Exclusives

Six Highly-Anticipated Items Available for Pre-Order, Plus Dozens More to Purchase Only at Booth #2743!
SAN DIEGO, CA (July 5, 2018) – San Diego Comic-Con International is fast approaching, and IDW is rolling out their hottest exclusives and debuts for the biggest convention of the year. See below for a full list of your convention must-haves, starting with a select few exclusives that can be pre-ordered from IDW's web store. Subsequent items can only be purchased on-site, with no reservations available.
Enjoy this look at IDW's complete selection of SDCC 2018 convention exclusives. These red-hot, limited items are only available to purchase at the show — no pre-order reservations are available. Stop by Booth #2743 for the best pop culture exclusives that San Diego has to offer!

Transformers: Unicron #1
Cover by Alex Milne
$10, limited to 500 copies
The end is nigh as Transformers Unicron #1 descends onto the San Diego Comic Con! Get this convention artist of Unicron's true form as drawn by series artist Alex Milne!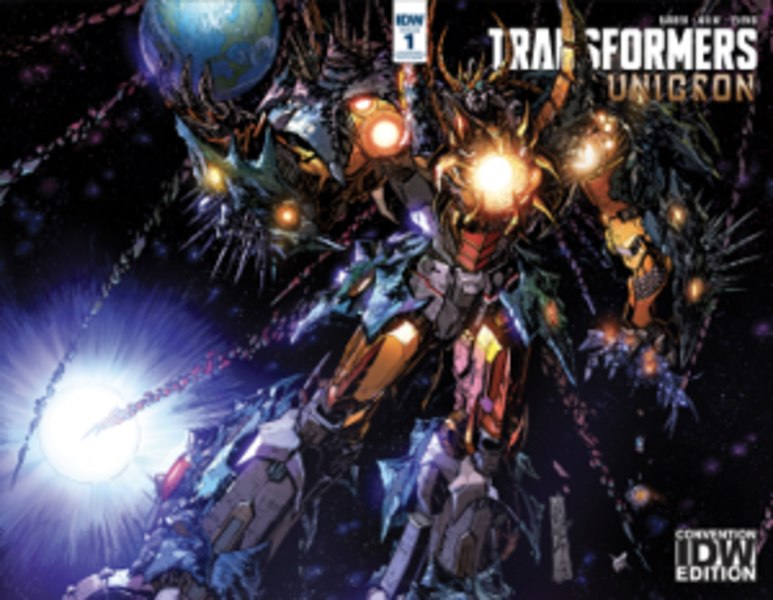 Danger Girl 20th Anniversary Book
Cover by J. Scott Campbell
$20, Limited to 250 copies
This comic re-presents the introductory preview and first oversized issue, in crisp black and white pencils, as well as full color with captions. Get this variant cover by J. Scott Campbell and get it signed by Campbell during the convention!


Danger Girl Gallery Edition Prestige Format
Cover by J. Scott Campbell
$20, limited to 250 copies
This collection features 64 pages crammed full of Campbell's Danger Girl covers and pin-ups, with a bonus section of guest star artists like Adam Hughes, Travis Charest, Arthur Adams, Joe Quesada and more. Pick up this variant cover from series creator J. Scott Campbell featuring artwork from the Ultimate Collection softcover, and get this signed by Campbell during the convention!


DuckTales #10
Cover by Marco Ghiglione
$10, limited to 500 copies
When Donald, Scrooge, and the boys search for a treasure of the two-headed horse, they get a few more heads than they were bargaining for! Pick up this B&W sketch variant by series artist Marco Ghiglione at the convention!


GI Joe Real American Hero #252
Cover by Adam Hughes
$10, limited to 500 copies
Larry Hama and David Messina join forces to present Cobra's ruthless and deadly femme fatale: Baroness! Pick up this convention variant, limited to only 500 copies, by fan-favorite artist Adam Hughes!


Judge Dredd Under Siege #1
Blank Sketch Cover
$10, limited to 250 copies
Writer Mark Russell (The Flintstones, Apocrypha Now) brings cutting edge humor and tense, gritty action to a new Judge Dredd series. When all contact with the Patrick Sqayze Block is lost, Dredd and Judge Beeny investigate only to find it's become a beachhead for an all-out mutant assault on Mega-City One.


My Little Pony: Ponyville Mysteries #1
Cover by Jay Fosgitt
$5, limited to 500 copies
The Cutie Mark Crusaders head to their favorite comic con to find clues and solve mysteries on this special new variant cover by Jay Fosgitt! Inside you'll find the first issue of this crime-solving mini-series where the Crusaders help solve crimes in Ponyville!


Sonic #7
Cover by Adam Bryce Thomas
$10, limited to 500 copies
Secrets revealed! This issue features an INSANE reveal of one of the major villains in this storyline, and it's not who you think! Get a unique foil-stamped cover by artist Adam Bryce Thomas during the convention!


Star Trek Discovery Annual
Blank Sketch Cover
$10, limited to 500 copies
The hit CBS All Access show, Star Trek Discovery, comes to comics, and the Annual is packed with backstory on Science Officer Lt. Stamets and his interactions with the Discovery crew! Pick up this blank cover and get it signed and sketched by your favorite Star Trek creators!


Star Wars Adventures #10
Cover by Derek Charm
$10, limited to 500 copies
Han and Chewie are on the run from bounty hunters and take refuge on a planet that mysteriously shuts down all electronics. Also featuring a Lando Calrissian story by Elsa Charretier and Pierrick Colinet! Get this spot color variant cover by artist Derek Charm and get it autographed at the con!


Sword of Ages #1 Deluxe Edition
Cover by Gabriel Rodriguez
$10, limited to 250 copies
Locke & Key artist Gabriel Rodriguez brings us his first creator-owned comic, a tale of fantasy and adventure and lush environments, as conceived by Gabe. Pick up this convention exclusive variant featuring a NEW cover by Rodriguez, limited to only 250 copies!


Rise of the Teenage Mutant Ninja Turtles #0
Animation Art Cover
$10, limited to 500 copies
The Turtles are returning to the small screen in this newest iteration of the Nickelodeon cartoon series, and this #0 issue puts you into the action. Pick up this cool convention variant featuring animation art from the show that premieres this Fall!


TMNT #1 reprint
Cover by Jim Mahfood
$10, limited to 500 copies
Artist extraordinare Jim Mahfood shares his take on the TMNT franchise with this wicked variant cover to the IDW-based TMNT #1 story from 2011. Get this variant at the IDW booth!


TMNT Urban Legends #1
Cover by Kevin Eastman
$10, limited to 500 copies
This series reprints the Image TMNT series from the 1990's in all its' glory! The Turtles are in fine form, as drawn in B&W glory by TMNT co-creator Kevin Eastman!

Wynonna Earp Greatest Hits #1
Cast Photo Cover
$10, limited to 200 copies
The stars of the hit SyFy TV show will be on hand at the convention to sign a special photo variant cover only available at the show!


Gabriel Rodriguez Bundle
Pack of 4 variants + 2 bonuses
$40, limited to 25 sets
Pick up Gabriel Rodriguez variants to Clue #1, Locke & Key #1 reprint, Locke & Key Small World, and TMNT #50, plus two free BONUS gifts, all for only $40!


Kevin Eastman Bundle
Pack of 4 variants + bonus
$40, limited to 50 sets
Here's your chance to get 4 Kevin Eastman variants from the IDW vault, including the Mirage #1 reissue, Batman/TMNT Adventures #5 Con Variant, TMNT #60 Con variant, and TMNT/Usagi Yojimbo SD Comic Art Gallery variant, PLUS AS A FREE GIFT, the TMNT: Dimension X #1 100 copy incentive cover!


Sonic Bundle
$25 each, 300 sets at show
If you missed out on Sonic or want a pristine set, here's your chance to get virgin art cover versions of Sonic #1-4 by artist Tyson Hesse, plus a RARE Sonic #1 Blank cover that's ONLY available in these sets. Once they're gone, they're GONE!


Star Trek TNG Through the Mirror Bundle
Set of 5 B&W variants
$25, limited to 250 sets
You can collect all 5 issues of the Star Trek Through the Mirror 5-week event, by the Tiptons and artist J.K. Woodward by getting this bundle containing unique B&W versions of the Woodward regular covers. This bundle is limited to only 250 sets at $25 per bundle.

Star Wars Forces of Destiny Bundle
Set of 5 virgin variants
$25, limited to 150 sets
Get this bundle of 5 Star Wars Force of Destiny weekly books that show how choices big and small ultimately shape the destiny of beloved female characters like Princess Leia, Rey, Padme, Ahsoka, Hera, and Rose and Paige Tico from the Last Jedi! Get this bundle of 5 virgin cover comics SIGNED by artist Elsa Charretier at the convention!


Wynonna Earp Deluxe Pack
Cast Photo Cover
$20, limited to 100 packs
For the ultimate collectors, pick up this deluxe pack containing this year's convention variant and past photo variants from the series! You may even get a Wynonna Earp Legends variant already signed by Doc Holliday himself, Tim Rozon!


Bloom County: Best Read on the Throne
Cover by Berkeley Breathed
$40, Limited to 100 units
Get a special hardcover version of the latest collection of Berkeley Breathed's recently revived Bloom County comic strip! This book, containing a bound in plate SIGNED by Breathed, collects year three of the Bloom County relaunch begun in 2015!


TMNT Bodycount
Cover by Kevin Eastman and Simon Bisley
$40, limited to 400 units
Inspired by the magazine Heavy Metal and the films of John Woo, creators Kevin Eastman and Simon Bisley present a much darker take on the Teenage Mutant Ninja Turtles, spinning a pulse-pounding yarn of over-the-top action and more than a bit of the old ultraviolence. This variant has a cover with pencils by Kevin Eastman and inks by Simon Bisley.


Wynonna Earp Season Two Yearbook
Photo cover
$10, limited to 250 units
This Wynonna Earp Season 2 yearbook, with a special convention photo variant cover, is filled with on-set photos, including action shots from the show and all-new behind-the-scenes goodies. This is a book all Earpers need in their motorcycle saddle bag!


Ghostbusters Trading Card Set
Artwork by Dan Schoening
$10 each, limited to 250 sets
IDW is proud to present this unique trading card set, in partnership with Ghost Corps, by writer Erik Burnham and artist Dan Schoening, of twenty five different Ghostbusters members across all known universes! This is the 1st half of a larger set of Ghostbusters members, who can be seen monthly in the HUGE Maxi-Series Ghostbusters: Crossing Over from IDW!

Secret Project Lithograph
Artwork by TBA
$20 each, limited to 250 copies
IDW will be unveiling a new mini-series during one of their Thursday morning panels, and we will release this lithograph commemorating the new series on Thursday, July 19th, at 12pm, at the IDW booth. Be the FIRST to own artwork from this exciting new project, and you will be able to get it signed by the artist at the convention!
share on Twitter Send IDW Announces San Diego Comic-Con 2018 Exclusives to friends on Facebook Digg Reddit

About IDW
IDW Media Holdings, Inc. (OCTQX: IDWM) is a fully integrated media company, which includes publishing, games, entertainment, and the San Diego Comic Art Gallery.
IDW Publishing's comic book and graphic novel catalog includes some of the world's most popular entertainment brands, including Transformers, My Little Pony, Star Trek, Teenage Mutant Ninja Turtles, Ghostbusters, and Disney's classic characters. At IDW's core is its commitment to creator-owned comics including 30 Days of Night, Locke & Key, Wormwood, Ragnarök, V-Wars, and Archangel by bestselling sci-fi author William Gibson.
IDW Publishing is also home to the acclaimed and award-winning imprints; Top Shelf, The Library of American Comics, Yoe! Books, and Artist Editions, showcasing the greatest original art ever published in American comic books.
IDW Games' diverse line-up includes the international phenomenon Machi Koro, as well as hit licensed games such as X-Files, Back to the Future, The Godfather, and TMNT.
IDW Entertainment serves as the worldwide distributor of Wynonna Earp airing on the Syfy Channel in the U.S. and is producing BBC America's Dirk Gently, based on the bestseller by Douglas Adams starring Elijah Wood and Samuel Barnett.