"State of IDW" Livestream Event Hosted by the Sensational Sam Maggs Reveals Red-Hot Exclusives for New York Comic Con
Go Behind the Scenes with IDW Publisher Nachie Marsham and Special Guest Jim Zub on Dungeons & Dragons, TMNT: The Last Ronin, and More!
SAN DIEGO, CA (October 4, 2020) – In advance of this weekend's New York Comic Con, comic book and graphic novel publisher IDW held a "State of IDW" livestream event today hosted by writer Sam Maggs (Marvel Action: Captain Marvel, My Little Pony/Transformers) with guests Nachie Marsham, the publisher of IDW, and acclaimed Dungeons & Dragons writer Jim Zub!

The in-depth discussion not only explored the latest developments in IDW's thrilling line of comic books, but also unveiled the company's impressive collection of exclusive variants for New York Comic Con 2021!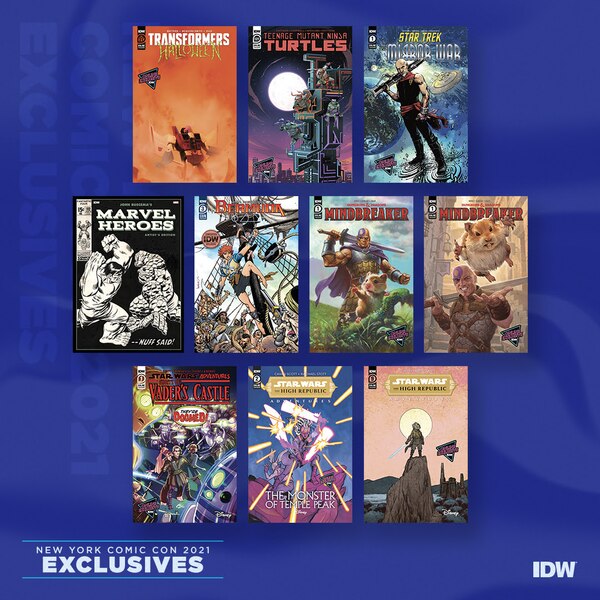 The lively "State of IDW" video, featuring colorful conversation and never-before-seen artwork, can be watched right now at IDW's YouTube Channel.
"New York Comic Con holds a special place in our hearts and is a great way to connect with IDW fans worldwide; we're thrilled to be able to bring that experience to viewers virtually again this year," says Nachie Marsham, IDW Publisher. "I hope readers everywhere enjoy our 'State of IDW' feature, and special thanks to Sam and Jim for helping to break IDW's latest news!"
Highlights from the "State of IDW" livestream included: the announcement of Rick & Morty vs. Dungeons & Dragons: The Meeseeks Adventure; the expansion of Star Trek: The Mirror War to now include special one-shots focusing on Data, Geordi La Forge, Benjamin Sisko, and Deanna Troi; a first look at the Teenage Mutant Punk Frogs; and more! Be sure to visit us on YouTube for the full details on what's to come from IDW as we head into 2022!

IDW's dedicated NYCC web store (nycc.idw publishing.com) launched today, the home for all of IDW's convention exclusives, signed bookplate editions, special bundles, and bargains aplenty! Here's our plan for rollout:

Beginning Today, October 4th: As a special "thank you" to our devoted fans, the web store debuts with hard-to-find con exclusives from conventions past and special merchandise (including lots of enamel pins and a huge selection of Wynonna Earp items), many available at special discounts! We've opened our vaults, so come see what incredible rarities you've missed from previous shows!

Beginning Thursday, October 7th: IDW's new convention exclusives for Fall 2021's hottest comic books become available to order! Star Wars: Ghosts of Vader's Castle, Teenage Mutant Ninja Turtles, Bermuda, Transformers Halloween Special, and more... featuring rare cover artwork by some of IDW's most beloved comic artists!

Full details for all of IDW's exclusive products for New York Comic Con are available below!

Throughout the event, IDW will also run a special contest for fans to win one of each of IDW's NYCC 2021 convention exclusive comic book variants -- to enter, simply enter your email address at our NYCC web store.

IDW'S CONVENTION EXCLUSIVES

IDW's new exclusives will be made available to order beginning Thursday, October 7th. IDW is offering free domestic shipment on all orders of $70 or more. Visit IDW's convention webstore here to place orders -- but hurry, these hot comics are only available while supplies last, and the web store closes at midnight on October 11th!

Transformers Halloween 2021 Special IDW Online Exclusive
Written by Dan Watters • Illustrated by Beth McGuire-Smith
Convention Exclusive Cover by Bryan Lee
$10.00
John Buscema's Marvel Heroes Artist's Edition Variant
Illustrated by John Buscema
Exclusive Variant Cover by John Buscema
$200.00 (Available for Preorder; Shipping in December)

Bermuda #3 Convention Exclusive
Written by John Layman • Illustrated by Nick Bradshaw
Convention Exclusive Cover by José Luis García López
$10.00

Star Wars: High Republic Adventures #9 IDW Online Exclusive
Written by Daniel José Older • Illustrated by Toni Bruno
Convention Exclusive Cover by Jesse Lonergan
$10.00

Dungeons & Dragons: Mindbreaker #1 IDW Online Exclusive (Boros)
Written by Jim Zub • Illustrated by Eduardo Mello
Convention Exclusive Cover by Zoltan Boros
$10.00

Dungeons & Dragons: Mindbreaker #1 IDW Online Exclusive (Horley)
Written by Jim Zub • Illustrated by Eduardo Mello
Convention Exclusive Cover by Alex Horley
$15.00

Star Wars Adventures: Ghosts Of Vader's Castle #1 IDW Online Exclusive
Written by Cavan Scott • Illustrated by Francesco Francavilla & Megan Levens
Convention Exclusive Cover by Megan Huang
$10.00

Teenage Mutant Ninja Turtles #121 IDW Online Exclusive
Written by Sophie Campbell • Illustrated by Jodi Nishijima
Convention Exclusive Cover by Francine Delgado
$10.00

Star Wars: The High Republic Adventures: The Monster Of Temple Peak #2 IDW Online Exclusive
Written by Cavan Scott • Illustrated by Rachael Stott
Convention Exclusive Cover by Ilias Kyriazis
$10.00

Star Trek: The Mirror War #1 IDW Online Exclusive
Written by David & Scott Tipton • Illustrated by Gavin Smith
Convention Exclusive Cover by Zach Howard & Nelson Dániel
$15.00