Before the great revival of Transformers following the Hollywood movies. New products were few and far between. With only a handful of new properties like Beast Wars, Beast Machines and the new Car Robots cartoon. Fans were still holding tight to their Generation 1 characters and toys that were highly prized and rare as the flood of G1 mold reissues had not really happened yet apart from some eHobby exclusives offered only in Japan.
Thus, when Takara began their Super Collection Figures (SCF) series offering renditions of G1 characters. Fans were ecstatic to connect again with their favorite characters. While these toys didn't transform, they offered something the toys didn't - highly detailed robot modes that captured their cartoon incarnations with great accuracy.
The Transformers SCF figures, roughly three inch tall figures, were sold in case boxes of twelve each, or separately. Each one blind-packed, some with different special incentives included such as chase figure and or add-on builder packs.
The were ten waves, known as "ACTS", released exclusively in Japan starting in December 2000. ACTs 1 through 8 featured a wide array of characters from the Transformers Generation 1 Japanese cartoons. This offered access to some extremely rare characters figures that never made their way to the USA such as fan favorites Victory Deathsaurus (Deszaras), and Star Saber.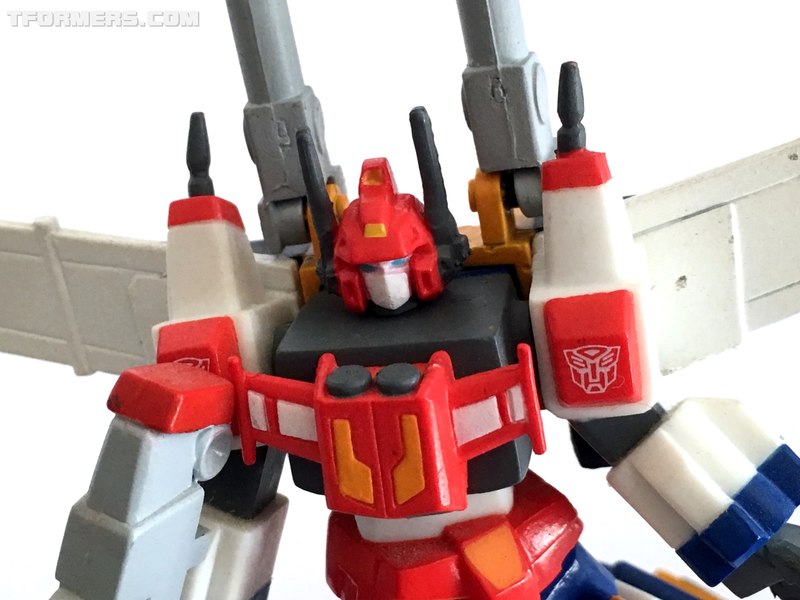 The most coveted of the SCF figures were the chase figures and add-ons. Some so highly prized, they were fetching ridiculous prices often 10 times the original value, or more.
While the unique chases characters were most desirable, the Star Saber add-on parts that upgraded the core SCF toy to his super battle mode complete with wings, shoulder cannons, leg extensions and that huge gun were some of the most elaborate and harder to build as you had to find each part separately packed within another blind package. This was further complicated by the fact that Star Saber was offered in three different colors: Silver Pewter, Gold and Cartoon colors.
It is hard to imagine people being so interested in these toys today, but these figures were designed for collecting. Takara did a great job of offering regular updates with highly desirable characters, that were both cost effective, and literally the best robot versions of these characters made. It was a lot of fun collecting these toys as the anticipation of each new ACT grew. The game was always on to catch 'em all with many fans buying cases as a time to complete the series and hopefully find those much regarded chase pieces.
In time, I was able to collect all the Star Saber figure chases in their different colors. So here we are, 17 years on and these toys are still amazing and beautiful to me. I hope you'll enjoy looking at them as much I did collecting them.
Interested in purchasing these figures, as a set? I am open to serious best offers above $300 for the actual figures you see displayed here. You can contact me at via the
Contact ENI
form linked in the footer. Be sure to include your email and a note about this post if you want a response.