We noticed something interesting about the
Legends Series comic we posted earlier:
in the panel where the Autobot Targetmasters also become Headmasters - itself an image rife with speculation! - there are others on the assembly line. One of them is Grimlock! We have a few thoughts on the possibilities of this, so click through to see the image.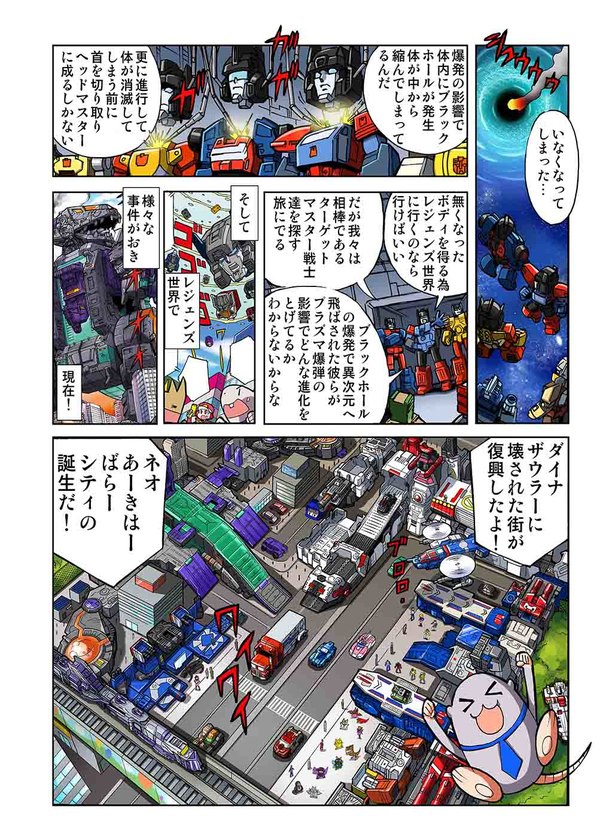 As RAC sees it, there are two possibilities.
One is that
Power of the Primes
Grimlock has Titan Master compatibility. With Titan Master Clobber out there to replace his stock head, it wouldn't be impossible to think that perhaps they chose to give him a body to be attached to. That'd be awesome, in fact, and on several levels!
Power of the Primes
is doing its best to ensure maximum compatibility with all of your
Prime Wars
Trilogy toys... but unless something changes it doesn't seem like Titan Masters are going to be usable
as
heads. Which is kind of a pity. It'd be nice to see that at least some of the figures accommodated that.
But there's another more mundane and, we're sorry to say,
likely
possibility given one more piece of this panel: the person seen on the far right is pretty clearly
Brawn
. Brawn has a Titan Master figure, which was released in Japan as part of a Wonder Festival exclusive Headmaster boxset alongside... yes, Grimlock. So sadly, it seems as though the most likely answer is that this is just continuity work to justify the existence of the WonderFest Headmasters.
The good news, on some level, is that there hasn't been any release of Headmaster heads for the three Autobot Targetmasters. So we may see them in some form yet!