This Far Out Friday is going to be a bit shorter than the others, as its all about these odd Generation 1 mid-Formers sold exclusively in Japan. Starting in 1986 as the "Gokin" series, then revived as the Takara "TF Jr" (Transformers Junior) series in 1987. You may have seen the Optimus Prime figure without realizing it because they looks pretty good at first sight. While smaller, they are actually very clever simplified re-designs of the full the sized toys.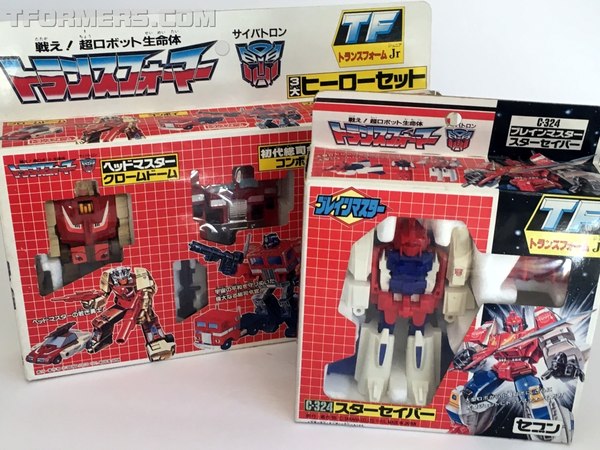 These are the predecessors of other small G1 toys that we have seen from Kabaya and even Takara in the years since with the Robotmasters and smaller, like the World's Smallest Transformers. Still, they are pretty scarce and highly collectible for the Transformers completest.
Measuring roughly 5 inches, give or take an inch. The figures in the Transformers Jr line are scaled down to this range regardless of their original size. Which opens up the series to a wide range of characters, with some of the largest toys including Star Saber, Metroplex, and the none-bigger Fortress Maximus. It was a small sub-line with a few popular characters re-issued in the series. They were offered singly and some in combo-packs that included the following characters:
• Chormedome
• Fortess Maximus
• Galvatron
• Grand Maximus
• Metroplex
• God Ginrai w/ God Bomber
• Optimus Prime
• Rodimus Convoy
• Soundblaster
• Soundwave
• Star Saber
• Trainbot (Raiden)
• Trypticon
• Ultra Magnus
Considering their size, these toys maintain quite a bit of Geewun goodness. While the transformations have been simplified, more for some than others. They do as good a job as they can with preserving toys' features. The Optimus Prime and Chromedome toys actually have some die-cast parts as well chrome vac-metal.

Likewise, you'll find Takara even preserved the Headmasters by molding the back of the heads, and including tiny snap on legs to form a micro-bot. There are no plastic trailers, but they did include some cardboard ones for Optimus and Ultra Magnus, I believe. They also included some small sticker sets that add modest decorations, at best.
What's most important is they all transform like their bigger counterparts. Obviously, they are missing a lot of the steps of their full sized models. Takara did a great job with preserving features like rolling wheels, while sometimes skipping a feature completely. Like the head of Optimus Prime (and Magnus) that is simply removed, leaving head post-kibble remaining in Truck mode.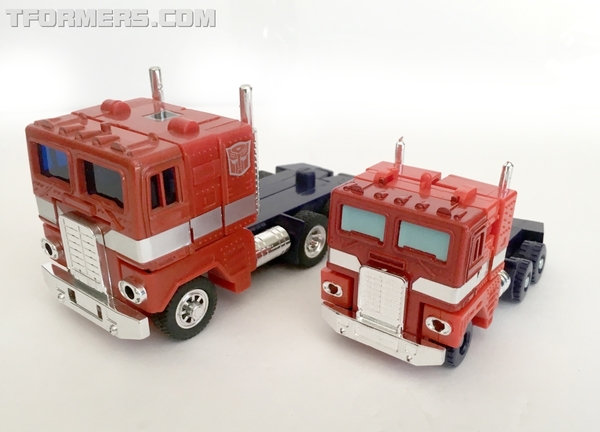 Regardless, all is forgiven as they have managed squeeze in the base and alternate modes on some of the bigger replicas. Metroplex, Trypticon and Fort Max have bases! More impressive, if they managed to include the Brainmaster and the Jet mode in the Star Saber Jr. Sorry, mine's missing a few parts so no jet shot. In any event, enjoy the Transformers Jr toys in the gallery below!