So, SDCC exclusive Primitive Skateboarding Optimus Prime came and went really quickly on HasbroToyShop yesterday, and we at TFormers hope that most everyone who wanted one was able to get it. But with
Titans Return
Siege on Cybertron shipping the same day with Magnus Prime, we got to thinking about the amazing variety of uses and retoolings that mold family has seen over the two short years it's existed. So keep reading for a handy infographic laying out the history of the Ultra Magnus mold family!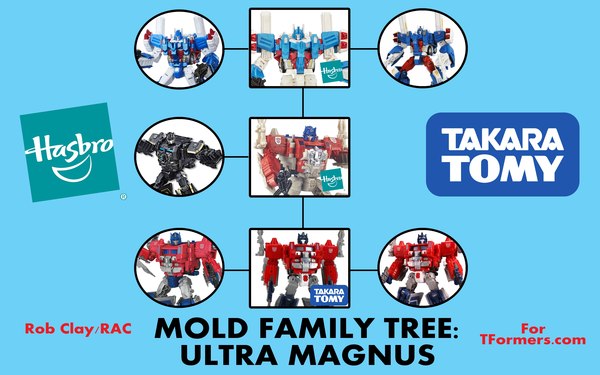 The progenitor of this mold family is
Combiner Wars Leader class Ultra Magnus
(Top, center). A figure long-awaited by fans, this Magnus represents the character as seen in
Transformers: More Than Meets The Eye
. If you're not familiar with the comic, the identity of Ultra Magnus is one handed down through the years to different "loadbearers" - special Transformers able to handle exoskeletal suits of armor. As such, the version of Magnus seen in the comics is a character named
Minimus Ambus
. A fan favorite, Ambus was included in the
Combiner Wars
Leader figure as a tiny, tiny robot who controlled Magnus from inside the cab of the truck.
TakaraTomy recolored this figure for their Legends release,
LG-14 Ultra Magnus
(Top, right) and changed the Minimus Ambus figure into
Alpha Trion
for reasons of obscure Japanese G1 cartoon continuity. Last year, Hasbro reissued Magnus with Ambus as part of an
Autobot Heroes Platinum Edition Boxset
(Top, left) to celebrate the anniversary of 1986's
The Transformers: The Movie.
And here's where things get a little crazy in the way that only modern remolding can. As the first Leader-class figure for
Titans Return
, Hasbro remolded Ultra Magnus
extensively
into
Leader Class Powermaster Optimus Prime
(Center). There's some residue of Magnus there - feet, thighs, the framework for the torso, the hands of questionable utility and the guns they fail to hold securely - but most of Prime is new. For being divided between his legs and arms, his trailer is surprisingly solid! His Titan Master partner
Apex
is based on G1 Powermaster partner Hi-Q, and turns into a face - hidden under the helmet - that seems to be intended to be Optimus in his Orion Pax days.
This is the mold that was repainted into
SDCC Primitive Skateboarding Optimus Prime
(Center, left). Who, for maybe $5 over Powermaster Prime's SRP, comes with a big gun that becomes a skate ramp (with board) for Prime's Titan Master. Who, we feel it is only fair to mention, is now named
Shreddicus Maximus.
Between this and names like Skullitron and Infernocus, has been the best, most metal year for Transformers names in the brand's history.
But we're not done! See, back in the `80s TakaraTomy wasn't entirely satisfied with the Powermaster Optimus Prime mold, and turned it into a character named Super Ginrai, who was not Optimus Prime. (Unless you watched the dubbed version of
Transformers: Super God Masterforce
, where Ginrai's name was changed.
"My name's Optimus Prime! I'm Japanese."
)
Ginrai was differentiated from PMOP by some added features, the most notable of which were retractable blue hands added to facilitate combination with a new robot named Godbomber. With
Titans Return
Prime,
Masterforce
history repeated itself with
Legends Series LG-35 Super Ginrai
(Bottom, center). Ginrai takes nearly every part that Hasbro remolded and remolds them
again,
again to add compatibility with a new mold: Legends LG-42 Godbomber (not shown). The hands have been replaced with 5mm peg-hands (Finally!) and the Ultra Magnus guns were replaced with
Titans Return
combinable baby seat guns unique to Ginrai. Also,
Ginrai
himself gained a new faceplate to resemble the cab robot's head from the G1 Powermaster Optimus Prime mold.
This is the mold that we're receiving in the
Siege on Cybertron
boxset with a slightly different deco as
Magnus Prime
(Bottom, left)... who for some reason is identified in his bio as being a new form of
Ultra Magnus
! To further confuse things, his Titan Master is now named
Ginrai.
. But TakaraTomy weren't yet done with the mold either, and a slightly-tweaked deco is coming in the
LG-EX God Ginrai
(Bottom, right) boxset to give Ginrai back his G1 clear windows.
So that's three distinct mold variations and eight decos in just
two years.
The good news? It's basically a fun toy! It has an interesting but not difficult transformation in every incarnation and looks good in pretty much every release. The bad news? Next year, Hasbro's doing a new
Power of the Primes
Leader class Optimus Prime figure which more directly emulates the G1 Powermaster Optimus Prime gimmick, with the cab becoming a smaller robot (presumably of Orion Pax) which then has a "Mortal to Prime" gimmick where it combines with its trailer to become Optimus Prime. This doesn't render the Primes and Ginrais from this family completely obsolete, though, as the (since removed) leaked images of PotP Optimus skewed
very
much towards a 1984 look. So your Powermaster Prime/Ginrai/Magnus Prime will always fill a special niche in your collection. An
extra
-special niche if you get Primitive Prime!