The first brand we think of with Transformers is very likely Hasbro. But Hasbro contains multitudes: the combined work, knowledge, & ideas of the most prominent toy companies of the 20th century. And in one way or another over the years, a great many of those brands have touched Transformers and added to it in some way or another. In the first of a series of spotlights on these subdivisions within Hasbro that cover various areas of the toy market, RAC looks at perhaps the most successful and influential brand to contribute to Transformers: Playskool! Keep reading for a brief history of the imprint.
Before Hasbro...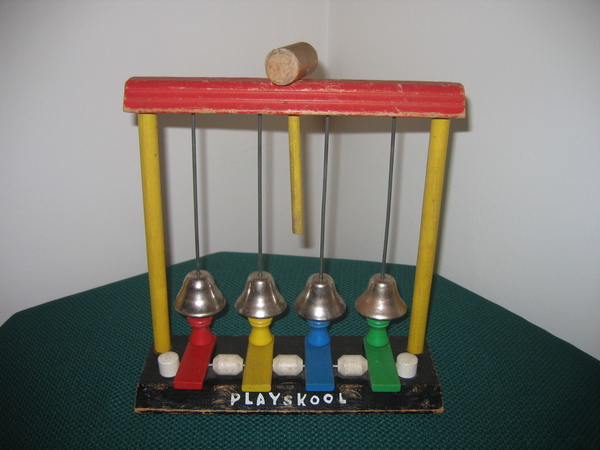 Photo: Antiques.com
...Playskool was a brand known for educational and developmental toys for very young children, much as they are today. Founded by a former teacher named Lucille King in the 1920s, Playskool was originally a subsidiary of the John Schroeder Lumber Company of Wisconsin - logical for a company whose output was defined by wooden blocks and the like. They were purchased by a Chicago company known as Thorncraft in 1935, who then sold them to
another
lumber company in 1938. There, a salesman named Manuel Fink and an accountant named Robert J. Meythaler worked together to purchase the business from the Joseph Lumber Company to finally be its own entity, the Playskool Manufacturing Company.


Source: Advertising Gallery
It wasn't long before Playskool was buying instead of being bought. In 1943 they purchased the J.L.Wright company, maker of Lincoln Logs, a simple building toy that many of us had as kids and which are still made today. Interestingly, a lot of Playskool's acquisitions had connections to great artists: J.L.Wright was the son of architect Frank Lloyd Wright, and a later purchase, Holgate, employed designer Jerry Rockwell, brother of painter Norman Rockwell. Many of Rockwell's toy designs for Holgate are still in use by Playskool today.
Under Meythaler, Playskool continued to grow and absorb similar companies until the cost of expansion caused a decline in the company's income. In 1969, they were acquired by the Milton Bradley company, who were in turn absorbed by Hasbro in 1984.

What Toys Are They Known For?
Playskool made, and still makes, a variety of simple toys for small children - in many cases, very small children. Hasbro has also put them to work selling the younger versions of their top brands as
Playskool Heroes
, a variety of action figures based on Hasbro's Star Wars and Marvel licenses, as well as Transformers. (Figures based on less action-based properties are marketed under the name
Playskool Friends.
) The Playskool division is the current maker of Mr. Potato Head, one of Hasbro's oldest toy brands, as well as handlers of the
Sesame Street
license.
What Transformers Products Have They Made?
Playskool was first associated with the Transformers brand in 1986 with the
My First Transformer
line, a set of three large, friendly-looking robots that turn into small, cute vehicles. The figures were reissued several times, and the Tonka division of Hasbro took a stab at the concept in the early 2000s with
1-2-3 Transformers.
Shortly after that, Playskool came back to the concept while reusing a formerly Tonka-owned name: Go-Bots.
Building on the success of the Go-Bots line, Playskool's next Transformers line was Transformers: Rescue Bots, part of the Playskool Heroes family of toylines. Begun in 2011, Rescue Bots is the second longest-running Transformers toyline, right behind the European version of Transformers G1 which ran continuously between 1984 and 1993. Depending on the success of sequel/rebranding line Rescue Bots Academy, the Rescue Bots could win this one in the long run - even if you count Euro G1 and G2 as the same line. The animated Rescue Bots TV series is already the longest-running Transformers cartoon of all time at 104 episodes. The animated tie-in to Rescue Bots Academy is due to premiere in 2019.
Despite not being the first - or second, or probably even third - brand name that you might associate with Transformers, Playskool has been home to one of the greatest successes in the history of the line. Just not one that might come to mind immediately for the adult collector. And while the adult fandom likes to talk about what changes will be brought to our communities by the generations of fans for which the Unicron Trilogy, or the live action series, are the "default" expression of Transformers, we can't help but wonder if the Rescue Bots franchise - verging on a decade of continuous existence and still going! - will be the bigger influence on the future shape of the series.