Following up on ExVee's list from yesterday, it's my turn to talk about what I liked most about Transformers in 2019! There's a lot of fun stuff I probably should've put here but a lot of it - like BotBots! - are already on ExVee's list, so why repeat ourselves when we can do something new? And so...
My Favorite Transformers Comic of 2019
-Transformers Ghostbusters: Ghosts Of Cybertron
Of all of IDW's Transformers comics this year, this one was easily my favorite. Besides including (okay, existing to spotlight) the utterly delightful Ectotron, the Ecto-1 Transformer, Ghosts of Cybertron was a 35th anniversary celebration of both franchises done entirely by the regular IDW Ghostbusters creative team of Erik Burnham and Dan Schoening. Burnham goes back a long way with Ghostbusters (especially in modern comics industry years!) and his writing shows it with a knack for their individual character voices and comedy. Couple that mastery of Ghostbusters with a Transformers alternate universe where the Autobots who fled on the Ark are the last survivors of Cybertron because the Decepticons challenged Gozer the Gozerian and failed, and you've got a neat premise for a comic. Burnham and Schoening both rise to the challenge of bringing Transformers into their Ghostbusters world, with Schoening in particular doing a fantastic job of drawing Sunbow-inspired Transformers with a precision you might not expect from seeing his more organic, exaggerated Ghostbusters caricatures. (I should've expected, though: good, clean caricatures are hard.)
My Favorite Transformers Comic of 2019 That I Haven't Read Yet
-Mazinger Z Vs. Transformers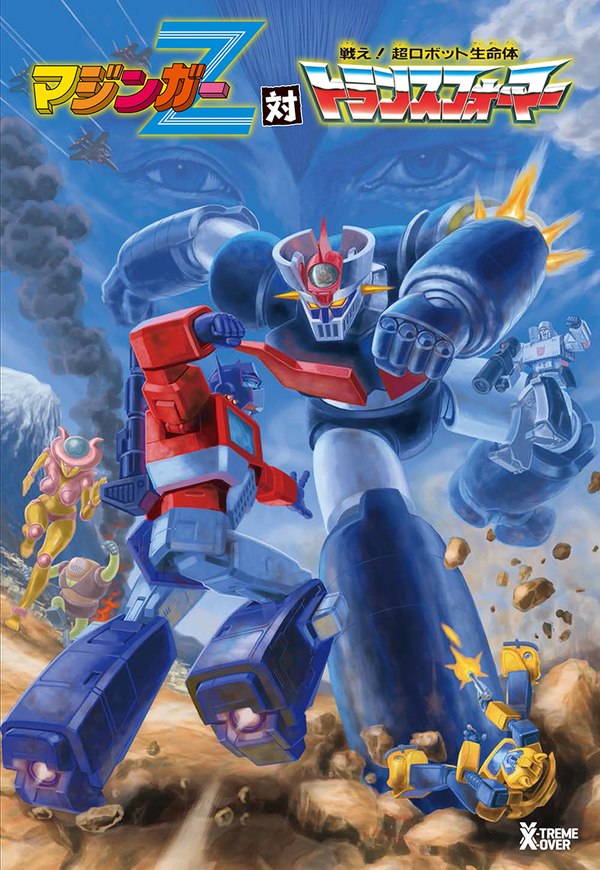 I'm just so happy this even exists! The first of the piloted Super Robots, Mazinger Z remains a favorite of mine due to its extremely cheesy US adaptation as Tranzor Z, which hit the US TV market slightly before Transformers. (Not that the original didn't have its own cheese, mind.) Go Nagai's Mazinger Z itself dates back to 1971 and it's safe to say that without its making robots the go-to boy's toy category in Japan for at least the next decade, Transformers would probably not exist. With a goofy cast of heroes and villains to interact with our favorite robots, this looks like it should be a lot of fun. So somebody translate this into English (officially) already!
My Favorite Toy With Bonus Mystery Of 2019
-Refraktor Reconaissance Team And The Case Of The Missing Convention
The Refraktor Reconaissance Team set is my sentimental favorite toy of 2019. This was going to be one of my two high-price toy purchases for the year, Ectotron being the other, but while I was struggling with the hospitalization of both my parents at different points this year (and then my own hospitalization later on; 2019 sucked) I had to drop my preorder for this figure. So, my friends at Radio Free Cybertron stepped in and got it for me. I have very good, very kind friends and I'm grateful to have them.
And on top of the emotional value to me, Refraktor is just a neat set. A G1 toy deco of the Siege Deluxes plus extra parts to further camera-fy their combined mode plus a Siege-compatible Kremzeek figure, all in a box designed to look like a high-end digital camera package (complete with instruction manual!) It's a beautiful set, and kind of an odd thing to just... release. It wasn't tied to any specific event or any such thing, it just... came out at Hasbro Pulse and other online retailers around September.
Know what was originally going to happen in September? HasCon 2019. And just like that, the extravagance of this set makes sense. Full credit to Hasbro for not throwing the baby out with the bathwater, because losing this set along with HasCon would've been an absolute tragedy.
My Favorite New Toyline Of 2019
-Generations Selects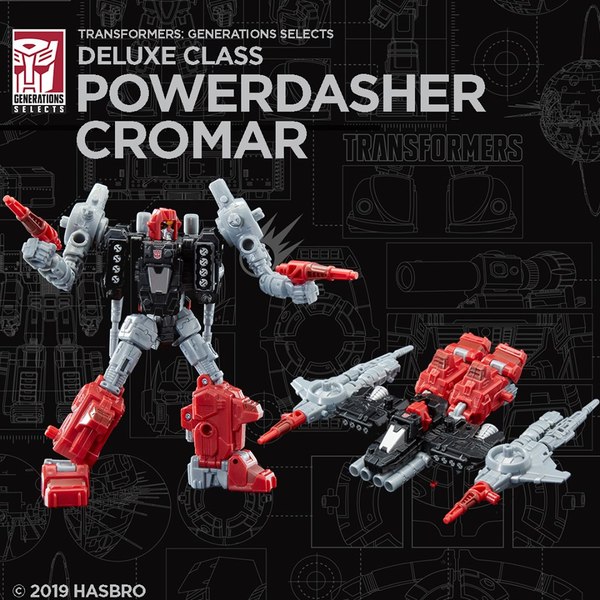 Hasbro has had a tough couple years too. With the loss of ToysRUs, the outlets for exclusive Transformers recolors dwindled a bit. But naturally there were still products that were in the pipeline and ready to roll out, same as Refraktor. Enter Generations Selects, the new subline where anything can happen as long as it's a remold or recolor of an existing figure! That's not a knock against it at all as we've gotten some fantastic things out of that line this year. Two out of three Powerdashers! (The third was in the Siege Fan Vote 3-pack.) Lancer, the last of the Female Autobot combiner limbs! An unreleased G2 Megatron deco on the excellent Siege Voyager mold! Galactic Man Shockwave! Creative recolors and remolds have long been a staple of the Transformers toyline, and a dedicated outlet for them is a welcome thing indeed. Later in the year, TakaraTomy got into the act by brining their extremely creative remolds under the Selects banner, including Star Convoy and the Seacons. Selects is wonderful; long may it run.
My Favorite Toy Development of 2019
-Siege: More, Much More, Than `84
So one of our fears when Siege and the War For Cybertron trilogy were first announced was that hitting the Reset button on Generations would mean that the Transformers design team would go all-in on their love for `84 and Generations would abandon its all-encompassing aspect. Granted, Beast Wars characters in particular didn't always go well with older Generations engineering, but the presence of all parts and aspects of Transformers in the Generations line kept things interesting and meant we never quite knew what to expect.
I will admit that my lack of faith in this team was unfounded and fully apologize, because we've gotten some great non-`84 stuff in Siege. Characters from later G1 like Spinister and Crosshairs, to Unicron Trilogy references like Leader class Optimus Prime (and Cybertron Cybertron Defense Hot Shot, who surfaced over in the aforementioned Selects), to the inclusion of IDW Volume 1 standout character Rung as a Battle Master. (Which is kind of funny given that mastery of battle is more or less the last characteristic I'd ascribe to Rung...) The Generations relaunch has proven to be largely positive, giving us great toys of frequently unexpected characters, and I'm happy to see that the best parts of the old line have been retained.
My Most Petty Toy Gripe of 2019
-Siege: Not The Part Of `84 I Wanted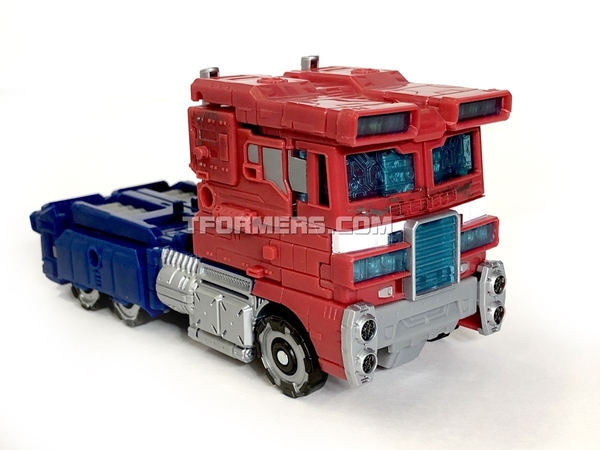 Yeah, the battle damage deco is a Thing. But it's a much talked-about Thing, and so I thought for my sole negative entry on this list I'd go for something a little less obvious.
When Siege was announced and it was said that we were going back to Cybertron, the Sunbow-style "Tetrajet" design was invoked as inspiration for the Seeker mold that we would come to see used seven times (all with the same battle damage deco; so okay I'll bring it up just this once). That gave rise to the hope that we would see more Sunbow G1-style alt modes for the Cybertronian vehicles Siege was going to drop on us. Sadly it didn't work out that way. To be fair, there were things that led us to believe they might go that route, but it was purely inference on our part. Given the Sunbow invocation for the Seekers and the very animation-accurate robot modes, both of which came on the heels of an incredibly Sunbow Orion Pax mode for Power of the Primes Leader-class Optimus Prime, it was a somewhat logical inference. We also had the inclusion of Wheeljack on the Fan's Choice vote for that year, leading many to voice their hopes for a More Than Meets The Eye, Part 1-inspired Cybertronian panel van Wheeljack figure. Fandom goes off on tangents.
What we got was mixed in my opinion, but it was not that. The Seekers were ballpark, but not quite the flying 1D4 I envisioned. Soundwave is a flying slab with additional lamppost mode, and shout-out to the team for realizing that particular dream at least! Sideswipe on the other hand has little to no connection to the Sunbow designs but has design cues that go back years and years within Generations. There's something of a unified Cybertronian automotive aesthetic that can be seen on Combiner Wars Minimus Ambus, Titans Return Hot Rod, and other figures with car alt-modes that are Cybertronian in origin, and Sideswipe fits in well with those.
...and then there's Optimus Prime, pictured above, who turns into what I can only describe as a Cybertronian 1976 White Freightliner WFT-8664T cabover semi truck. With eyebrows.
This is at worst a tiny, insignificant nitpick against an excellent toyline. But just imagine an Optimus Prime toy as good as the Siege Voyager with an all new, minimalist `80s cartoon-style Cybertronian vehicle mode. Imagine going as wild as Sunbow did with the few Cybertronian vehicles we saw, which have no hint whatsoever of their eventual Earth alt-modes. But also - and this is of course why that probably didn't happen - almost no connection to the robot mode of any of the characters involved. There are good reasons why you wouldn't want to do that, and why doing it could be detrimental to the quality of the figures. But I can always dream. And really, if the worse I can say about a given year for Transformers is "they didn't completely replicate the dream toyline in my head," that's a pretty good year!