It's time to borrow the Toy Detective hat from RAC and do some work on the just-revealed Titan Class Trypticon! The major question everyone has had, of course, is how big the final product will be. A design render in isolation isn't very good for determining that, it's true. But in October we were handed a wonderful clue during an otherwise not very productive livestream presentation event: Trypticon's leg. In hand, on the floor, next to other toys. Yes, Trypticon's leg is the metric that will answer our questions. Keep reading!
Our basic tool for this is superimposing the Trypticon reveal image on to screencaps that I took back in October from that livestream. I fully admit this is not the most precise method since it largely involves eyeballing relative sizes of common reference points. The two best for this are the big dome over the hip joint, and the shin. The latter doesn't go through much change from perspective, so it's a fairly stable thing to try to size around. The dome is a little less so, but makes for a good secondary element to check against. So first, let's get a rough idea of its overall scale. Thankfully John Warden plopped Trypticon's leg prototype on the floor of the stage, allowing us to have our reference point in an open space.

Hey, that's not bad, it comes right up to about knee height, give or take. But I guess this isn't the best comparison, since we can't know exactly how tall a John Warden knee might be, nor the height of the couch he's sitting on. We could look at a simulation of John Warden holding an entire Trypticon, again using the prototype leg as sort of an anchor for overlaying the render, but that's largely the same problem as Trypticon on the floor there. But we're in luck, as the leg was also sat on a table next to Sixshot. That's something that we do know the height of!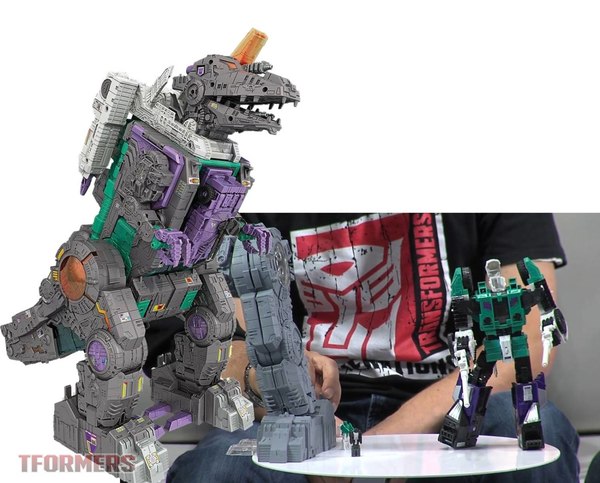 Okay, so Sixshot's head height is approximately 8.5 inches, just to bring up to speed anyone who might not have a Sixshot just yet. Having a side by side here of Trypticon at approximate scale to a Leader Class toy really starts to give a clearer impression of not only how tall Trypticon is, but the general mass of the thing, too. But we're still not exactly answering the original question: How tall is it? Okay, so being able to use Sixshot as a new point of reference, it became possible to determine some approximate heights. I calibrated a scale using Sixshot in the table photo as a means to verify accuracy within an acceptable margin. From that, I could conclude the top of Trypticon's hip is probably about 10.5 inches. But a fixed scale also meant I could take this a step beyond. After working out a likely rough height for Trypticon in the posture displayed, I was able to extend the scale and overlay Fortress Maximus at more or less correct scale to give a final, solid comparative look at just how big Trypticon is.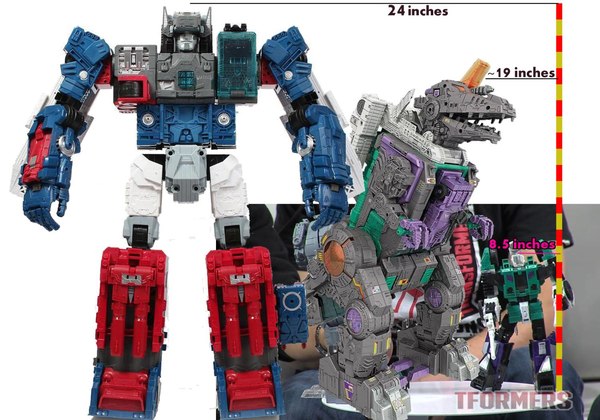 So Trypticon is certainly not as tall as Fortress Maximus (and thus Metroplex), but it's still quite a large robot form, especially when it's more substantial volume is taken in to account. And from the livestream whose screencaps I've referenced here, it was said that the base mode spreads out considerably, indicating that there is a lot of toy packed inside the body lines of this dinosaur.
Of course we're bound to learn quite a bit more about this toy this weekend when Hasbro has their presentation at Toy Fair, so be sure to keep watching here for full coverage of that in order to learn everything you can about this year's Titan Class toy!