A little while before Toy Fair, we got word of the possible layout of Titans Return Deluxe Wave 5, including Misfire as a retool of Triggerhappy. At that time I speculated about how the proposed mold reuse might work out, including a brief acknowledgement of how it might go on to impact the already-been-rumored Slugslinger. With Ozformers granted the first reveal of both those figures, we had the chance to see how reality matched up to theory. Keep reading!
In my
previous article
, I suggested conservatively that only one sprue and perhaps elements of a second might be exchanged to make Misfire happen from Triggerhappy, expecting that the fundamentals of construction and transformation would be basically unchanged. In truth, a great deal more was done. The nylon parts tree appears to have remained mostly in place. This covers part of the shoulders, the upper half of the elbows, the fists, and the hip joints. There may be some other such structural parts still in common, but these are the ones clearly, visibly identifiable with the images we have right now. Also kept the same are the legs, in their entirety. These things are true for both Misfire, and for Slugslinger. Everything else appears to have been changed for new parts. But it's not just a one-to-one replacement.
The transformations no longer follow the engineering used by Triggerhappy. That much is immediately evident just from seeing the cockpit canopy does not sit on the front of the torso. The biggest result of that change is Misfire and Slugslinger no longer having the torso spin mechanic in their transformation process. Not only is that pointless now, it probably wouldn't be possible while accomplishing what these toys need to do. But a lot of the process still ends up the same: the arms are along the sides in a relative position different than robot mode, and the legs behave nearly or completely the same as on Triggerhappy. So how are we getting from point A to point B if a major portion of the route is no longer there?
The arms themselves are no longer important. They don't do anything to contribute to the vehicle modes, particularly given that the wings are moved off of them on both new toys. The hinges that shift them up and down the body during the change between modes are redesigned, but that's not really important now. That leaves the torso, and reveals that we're now on a much more direct path from end to end. The way this retool is set up, not even a waist swivel is necessary. The legs need only to unfold, and the shoulders hinged upward, and you're pretty much at the robot mode. About half of the actions Triggerhappy went through are now gone with these two toys. The final accommodation for that is both Misfire and Slugslinger having double hinged struts that let their vehicle nose sections pull out and down to rest on the backs of the robot modes. A waist joint is present, but is not required for the transformation now.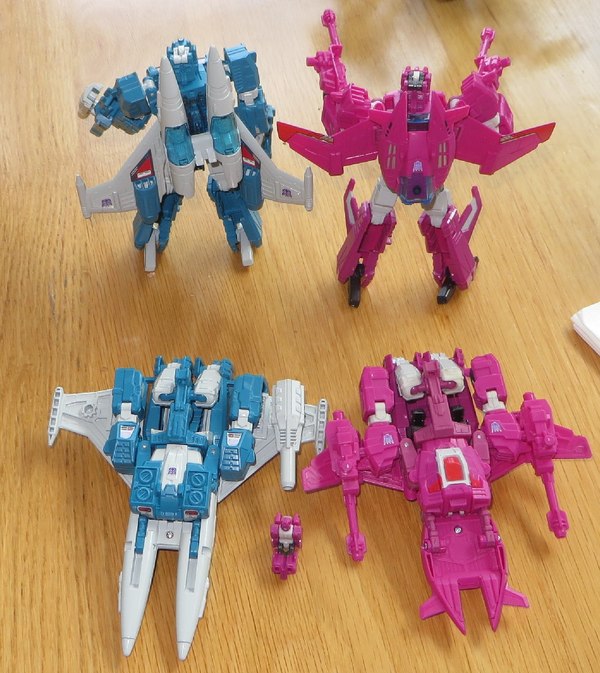 It's a very interesting thing the way this actually happened, as a substantial part of Triggerhappy has been replaced. In theory it seems like it would have been just as easy to make an entirely new base mold that does the same thing that this one has been retooled to achieve. The only extra tooling it would entail is a pair of legs. Traditional ideas of how things work tell us that Slugslinger and Misfire are mold reuses to offset design and tooling costs. But that notion becomes quite fuzzy when you examine how little of the original tooling is involved. With cases like Rook and Swindle in Combiner Wars, we got to see where substantial parts swaps might happen, but are viable as "retools" by maintaining the elements of the transformation. Little or no engineering work is required because all the important parts still move and behave in the same way. But here, not only is a huge portion of the original toy done away with in favor of new parts, but the transformation is significantly different.
In the last few years, the design process for Transformers has changed and evolved, partly in response to increased options in the manufacturing side. What we understood as a retool - or more commonly, a
pretool
- even just a decade ago barely scratches the surface of what's possible now. And though I had felt during Combiner Wars that concepts of retool versus new mold and how we judge what is actually a new toy or not needed to start to change to meet the times, Misfire and Slugslinger remind us that this new level is not just here, but it's still advancing. These two toys ended up nothing like I expected them to, and I don't think they'll be the last such surprise. With Transformers in 2017, it seems anything is possible.
Our gratitude to Ozformers for their coverage of the Australian Toy Fair and their photos of Misfire and Slugslinger.