We're hard at work bringing you a full gallery of the brand new Titans Return Seaspray, of which we brought a full video review to you lte last night. But in the process of photographing the figure, we discovered a neat little extra in some of the tiny detail sculpting that we didn't catch on first glance. Inside both of Seaspray's forearms is a short string of (extremely tiny) Cybertronic characters. We knew that had to mean something, so we went to our font references, and sure enough there was a message of sorts. Click through for a photo of the text and what it says!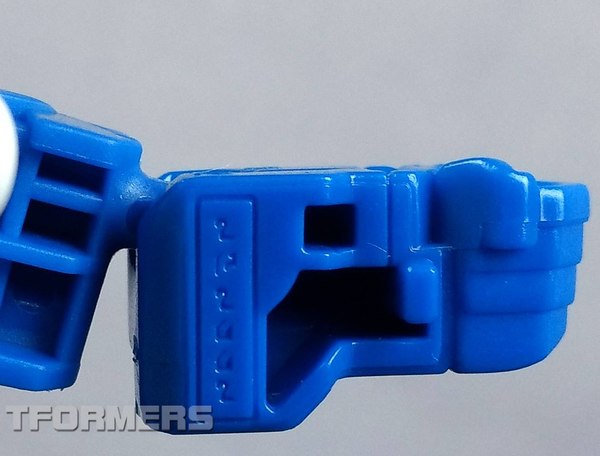 This printing inside each of the forearms says "Alanna", and is in the "Cosmic Rust"-derived Ancient Autobot font originally created by Jim Sorenson. Alanna was Seaspray's alien girlfriend in the episode "Sea Change", who he was ready to give up being a robot and be changed in to a member of her species so they could be together, although that didn't last long. It seems like the relationship either survived, or Seaspray just can't quite forget about her. Either way we thought this was a fun little easter egg on the toy and wanted to go ahead and share it with you. Look for a full gallery coming very soon!

Update: We originally misidentified the font used on Seaspray. The article has since been edited to reflect the correct information.