Simon Furman has gotten in touch with us to talk about
To The Death
, a new collaboration between Furman and fellow Transformers comics veteran Geoff Senior. While not directly Transformers-related, the digital comic is set to feature
"a digital comic book saga set in Earth's future that echoes the hard-edged sci-fi of Dragon's Claws and Death's Head (both of which we co-created) and some of the heavy mech of Transformers"
according to Furman. Keep reading for more info, art, and some preview pages! From the press release:
Simon Furman
and
Geoff Senior
present
To The Death,
an epic sci-fi comic book saga available to view digitally in widescreen format.
Earth, 2674:
off-world combat legend and absent father
Aleksy Dryagin
is returning home to a hero's welcome... and a death sentence. Caught between
The Triumvirate
, a trio of omnipotent Corporate Heads who want Dryagin publically and permanently axed, and the subversive
White Noise,
who want a symbol, Dryagin is forced into one last, no-win campaign to save the lives of billions of oblivious citizens. With nothing left to lose, Dryagin is prepared to fight...
To The Death!
Showcasing the amazingly kinetic art of Geoff Senior and the hard-hitting storytelling of Simon Furman as never before,
To The Death
will be released over 18 action-packed downloadable webisodes and a limited-edition Original Graphic Novel(see below).
To The Death
launches at ICE, Birmingham's premier International Comic Expo, on September 10th with the first webisode free-to-view on the
To The Death
website:
to-the-death.com
The series proper will launch after a
Kickstarter
campaign that will offer the
To The Death
print graphic novel,
featuring an all-new
To The Death
story
not offered digitally,
and
only
available via Kickstarter.
We asked Simon Furman for more details on the "heavy mech" aspect of the story, and he said that
"art of the story revolves around the use in off world combat of cyber-warriors or 'cybers', which allow participants in a global game (that follows the war 'live') to interact directly with the action via cranial interface."
He was kind enough as to provide us with an image of one of the Cybers.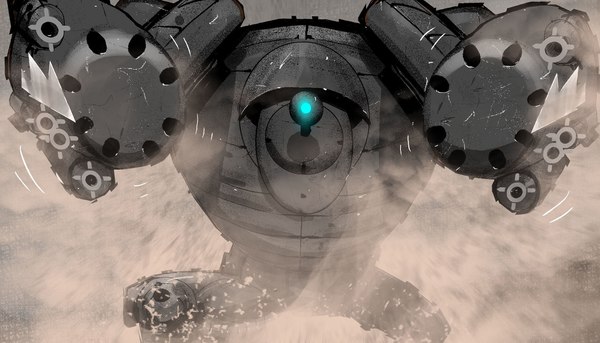 Nice! Check out the gallery for more promotional images, as well as some preview panels of
To The Death
showcasing the "widescreen" format. We here at TFormers wish Simon and Geoff much luck and success with the new project!