Despite that the formal presentation and of course showroom time with Hasbro doesn't begin until early afternoon on Saturday, we already have managed to see no small amount of new reveals from Toy Fair! Of course we'll be seeing everything much more clearly tomorrow, from many angles and, heck, maybe even some video clips if we're lucky! We do hope that the day might carry yet more things not so far shown off in some capacity, but what exactly have we seen at this point? We're gonna recap it for you, so keep reading!

•  First up, obviously, the big guy - Trypticon. Monday brought us an accidental reveal of the robot dinosaur mode via Instagram, which was quickly pulled. Though obviously not quickly enough! As it turns out, that was probably a bigger mistake than we thought, since we found out Friday morning that IGN had apparently won the exclusive debut of 2017's Titan. Thanks to that, we've seen the dinosaur, base, and spaceship modes as both design model renders, and in the form of grey prototypes. Full Tilt and his Titan Master Necro were revealed along the way too. And as one more bonus, the Transformers Instagram posted a photo of the robot mode as a testshot painted to the toy's correct colors. We know for a fact that there are multiple full color samples of Trypticon in the Toy Fair show room, so we'll soon get to see a lot more of all three modes and find out everything they have to offer.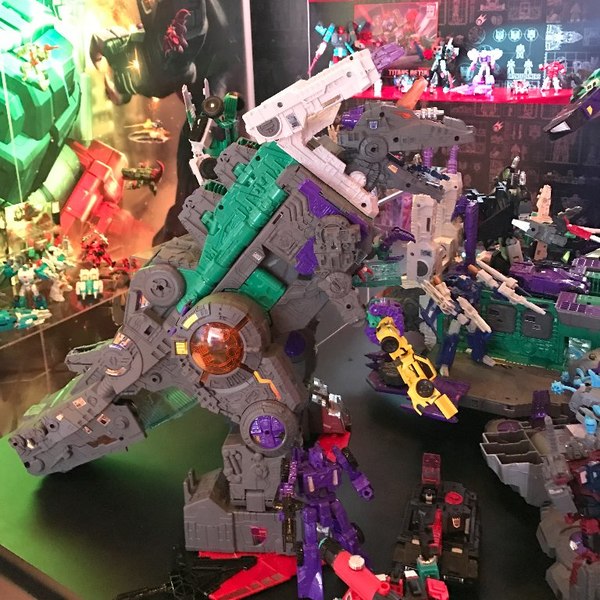 •  The movie front is a little sketchier. So far our main glimpse of its representation at Toy Fair comes from a
long-range photo
which shows a larger Optimus toy, the multi-headed dragon from that Times Square billboard, Grimlock, and some smaller fast-conversion toys.
An investor conference call
presented some slides that represent some of these things a bit better, as well as offering an insight to things such as the Allspark Tech play pattern, which had only been vaguely hinted at from store computer data previously.
Robots in Disguise has had one slide's worth of toy reveals as well, though the only new thing is a look at a representative team combiner - UltraBee. Seen only in its combined state, there's no definite indication how the components will work, though it seems clear they will be exceedingly simple in order to facilitate a combining gimmick.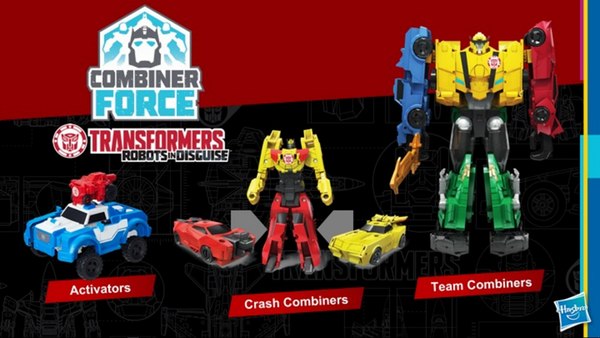 •  Generations - Titans return, obviously - is a bigger overall well to draw from right now.
Hasbro themselves tweeted out a photo of their showroom space
, focused of course on Trypticon. But there was much more to see in the edges and background.
The boxset we talked about a few days ago
, referred to as "Speed" is represented. Most clearly standing out are a Quickswitch recolor (probable minor retool too) of Sixshot, and a Nautica using Blurr as a base, though it does look like new hoverfan wings are part of the package too. A figure that corresponds to the listing's mention of an Autobot Clone (Fastlane in this case) is also visible. The angle at which we're seeing it along with the distance makes it nigh-impossible to make a call about its mold. And in the middle is Optimus. ...maybe? The Voyager triplechanger Optimus is definitely there, but one of two deco possibilities seem to be in effect. Either it is recolored to represent G2 Laser Optimus more correctly, or it's been decoed in Nemesis-style colors. Unfortunately both of these would be likely to result in the grey chest and black legs we can make out here.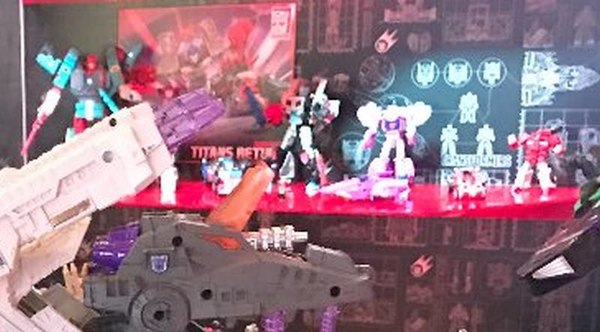 •  Off to the leftmost edge is a little bit more to pick through. Readily visible is Twin Twist alongside Topspin, which confirms the strongly rumored wave 5 assortment, as right next to that is a somewhat indistinct red and dark figure. At the moment it's not really possible to determine if that might be Windblade, or Misfire. Based on the black looking parts, Windblade seems much more likely. But the similarly colored vehicle partially visible next to it kind of seems to have shapes that would match what one would expect of Misfire.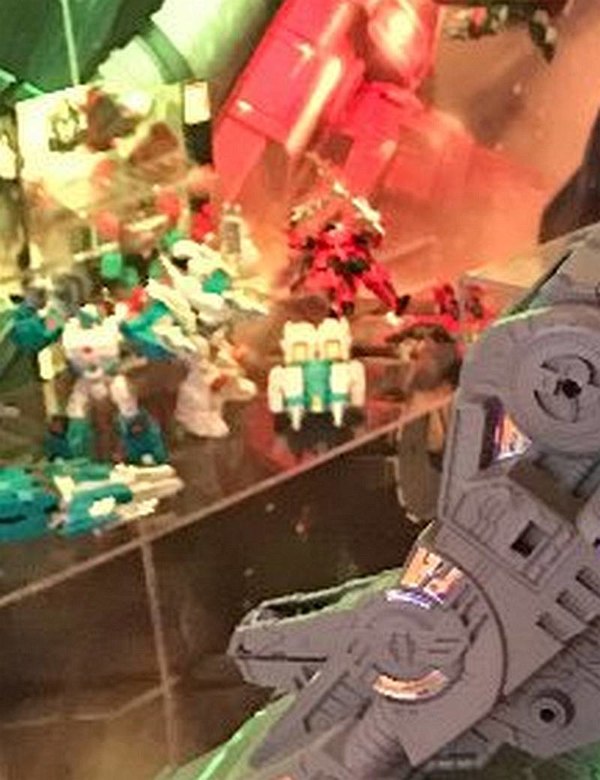 We've seen quite a bit here already without Toy Fair having even actually started. We really hope that there's even more! A second Titans Return boxset is expected to exist, and if one is present, maybe the other one is as well. Not to mention that with part of Deluxe wave 5 definitely on hand, it's not unreasonable to hope for more, such as Overlord, or the obvious retools of Optimus and Megatron as Octane and Blitzwing. Plus there's a good chance at getting to see the high pricepoint toys for The Last Knight that have us confused from the store data entries, and hopefully a whack of new RID toys - not the least of which we're curious about being the team combiners. We can't wait! To make sure you see all of these, be sure to stay with us and follow all of our Toy Fair coverage.