The folks at Venomously Addicted Photography have served up a red hot gallery of fiery images for the Perfect Effect Perfect Beast PX-DX09 Mega Doragon third party action figure. Fans of the Beast Wars season 3 will recognize this is an unofficial MP style TransMetal 2 Megatron. Its hard to believe the original could be improved upon, but they have done it!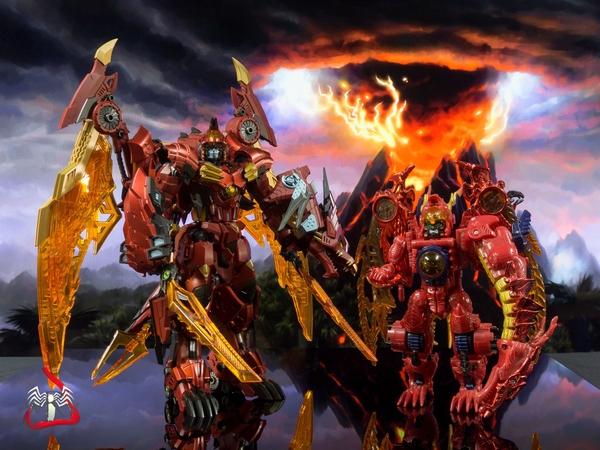 Venomously Addicted Photography have staged this shoot quite nicely with lots of volcanic activity going on behind this guy. At 10 inches high and 23 inches long, he's just massive and so beautifully detailed with with a stunning mix of opaque and transparent parts, and intricate dragon styling laden with fangs and claws, and the breath of fire really make it.
Be sure to check out the images below and then head over to
Venomously Addicted Photography
for even more eye popping toy galleries.
If you are looking to get one of these bad boys, the Perfect Effect PX-DX09 Mega Doragon is avialable for pre-order now at
bigbadtoystore.com
The Perfect Effect Mega Dragon is a triple changer transforming from robot to either a dragon or a ground attack vehicle. Mega Dragon features an impressive wing span and can be armed with a pair of swords and also includes a hidden blade weapon and a secret cannon in the mouth of the dragon.

Product Features
• 10 inches (24.50cm) robot mode
• 23 inches (58.40cm) from dragon head to tail
• Made of plastic
• Third party figure
• Triple changer
• Large wing span
• Hidden cannon in dragon mouth

Box Contents
• Mega Dragon figure
• 2 Wing swords
• Alternate face plate