No Free Comic Day this Spring? On May 6th you can still get a FREE Transformers story. Here's how!
There may not be any new Transformers comics on store shelves right now, but that doesn't mean there won't be some Transformers comics on sale next Wednesday that may be 'new' to you! Night Shining will be running a sale starting next Wednesday featuring dozens of back issues from the Transformers Collectors Club Magazine and Transformers Timelines. These issues will be sold in bundles and will feature stories from The Classicverse, Shattered Glass, Beast Wars and Transformers: Animated. The bundles will be priced from $19.95-$39.95 and will contain between nine and thirty two issues in EACH bundle! That is some crazy savings over retail and eBay prices!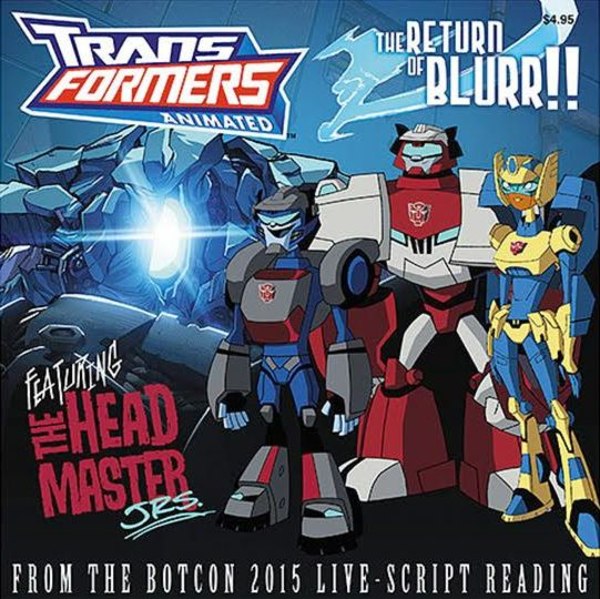 Here's the FREE part! On May 6th, every Transformers related order placed at https://nightshiningllc.com/ will receive a FREE copy of the never released at retail storybook 'The Return of Blurr.' Written by Marty Isenberg, Cover by Derrick J. Wyatt, Art by Naoto Tsushima and Josh Perez, this story is part of the official Animated continuity and features the introduction of the Headmaster Juniors along with some other surprise appearances.
There will also be some additional FREE promotions with each bundle, so stay tuned for more info as we get closer to the sale!
To get your all PUMPED-UP for these great comics, we are asking fans as part of the #TransformAThome events to share your favorite Transformers Animated anything, from the animation to the characters to the toys, we and BotCon what hear what you love most about the cartoon by posting and sharing with the #TransformAThome. For which you will be entered to win one of our many random giveaways. Please read the full details on that here at the page for the #TransformAtHome