NOTICE - The #TransformAtHome Event is over. We want to thank EVERYONE of yoU who made this a success with 100s of people sharing their love for transformers around the world in a 5-day online party. We had so much fun thanks to our great participants and sponsors including BigBadToyStore, Rejecticons, Stan, Bush, Mr Optimus Prime, Hasbro, BotCon, and others (all linked below)!
FWIW, the event lives on, so please feel welcomed to keep using and sharing the #TransformAtHome hashtag as a way to connect with other Transformers fans in these challenging times. Be safe, well and keep on Transforming!
Greetings Transformers Fans! We hope you are safe and well during the pandemic. By now we have all been at home for weeks and are finding all kinds of ways to pass the time. Unfortunately, for a lot of Transformers fans one of their favorite things, collecting, has been impacted the most.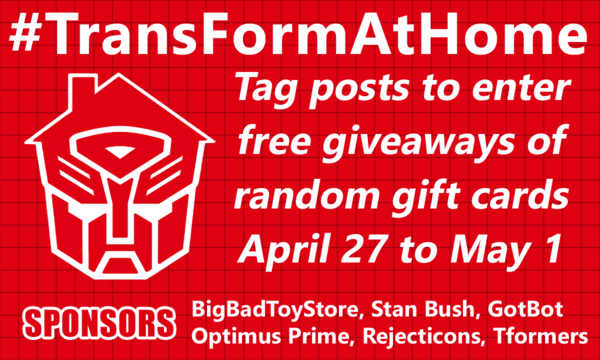 To help light our darkest hour, Tformers, The Rejecticons, BigBadToyStore, Stan Bush, BotCon, and others are hosting a 5 Day special event running April 27th through May 1st to entertain and engage Transformers fans who for various reasons have been isolated and cannot afford to collect Transformers. This whole event is focused on giving something back to the fans! Each day we will be giving away four $25 PayPal gift cards, and a $50 BigBadToyStore credit. So that is 25 chances to win during our 5-day #TransformAtHome virtual party!
It is super easy to join the #TransformAtHome Party, simply comment or share on any of the Web, Twitter, Facebook, and YouTube channels (listed below) with the inclusion of the #TransformAtHome tag. Simply engaging in any of the channels by commenting and or sharing WITH that tag enters you into the drawing for a random PayPal or BBTS giveaway. That's all there is to it. #TransformAtHome hosts will be following this tag every day to select winners at random.
To make this easy and FUN! We will be hosting special events each day Transformers fans can participate in that will make playing along with #TransformAtHome a great way to reconnect with our love of the Transformers as a way to lift our spirits in these challenging times.
Everyone is invited to partake in the #TransformAtHome event, however, we ask that those of you who are financially stable in these times, pass the chance of winning to those less fortunate. This can easily be done by commenting and sharing without the use of the tag, and or declaring "No-Prize" in your posts or comments.
#TransformAtHome Day 1 Winners
Rick Le
Kevin Peoples
Sloan Smart
Ajay Rutledge
Guillermo Martinez
#TransformAtHome Day 2 Winners
Brian Blake Paris
CrimsonRaptors
Catherine Tran
Rudy Zissou
Angel Rivera
#TransformAtHome Day 3 Winners
Matt Wetzel
Conor Burnett
Firebyte27
Brandon Jackson
#TransformAtHome Day 4 Winners
Ehibin Rodriguez
Jim Nguyen
Aaron Daniel Wardwell
CJ Lehman
Micheal Desrosiers
Ninjabill1000
#TransformAtHome Day 5 Winners
J. Lee
Frankie Viturello
CrimsonRaptors
Lena Meyer
dragonflye18
#TransformAtHome Participating Channels
https://Tformers.com
https://www.facebook.com/TFormerscom
https://twitter.com/TFormers
https://twitter.com/Stan_Bush
https://www.facebook.com/GotBotProductions/
http://www.youtube.com/c/DennisMoultonAKAGotbot
https://Youtube.com/katoskollection
https://Youtube.com/Enewtabie
https://Youtube.com/larkinslair
https://YouTube.com/Sardo-Numspa82
https://Youtube.com/deluxebaldwin
https://YouTube.com/patriotprimereviews
https://nightshiningllc.com/
https://twitter.com/BotCon
https://www.botcon.com/
#TransformAtHome Guidelines and Rules:
1. You must be an active member of the participating sites and or networks (see list above) to be eligible for the prize drawing. If you are not, please register with each service on its own.
2. No purchase is necessary to enter.
3. Participants must have a valid PayPal account to receive the $25 PayPal gift card.
4. BBTS Gift Cards are open to anyone in any location served by the BigBadToyStore.
5. Potential winners may be notified by private messaging on the respective channel.
6. Completed prize aways will be delivered to contestants by email.
7. You must supply your real name, email, age and mailing address to claim your prize.
8. Proof of Identification may be required to claim the prize.
9. You must be 18 years of age or older to participate.
10. Drawing is open to individuals only.
11. No companies, third parties, or groups will be allowed as an entrant.
12. Randomly drawn contestants must respond within 12 hours of the prize notification or forfeit their prize.
13. In the event the winner does not reply in time, another contestant will be picked at random.
14. Sponsors reserve the right to limit each household to one prize per drawing.
15. Partners reserve the right to amend any rules at any time.
16. The drawing is open to entrants all over the world. However, service to your geographic location will be at the sole discretion of the prize sponsor.
17. Employees, current and previous staff, and event partners are not eligible.
18. The prize drawing will consist of a gift credit from the selected sponsor.
19. Prizes have no cash value and cannot be redeemed for such.
20. Partners and sponsors are not responsible or liable for entries that are lost, misdirected, delayed, or destroyed in delivery.
21. There is no responsibility or liability for any potential entrant's inability to access the participating channels.
22. Entries that are late, incomplete, illegible, damaged, irregular, have been submitted through illicit means, or do not conform to or satisfy any condition of the rules may be disqualified.
23. This drawing is subject to the laws of California and the federal laws of the United States as may be applicable.
24. Chances of winning are made at random solely at the discretion of partners and sponsors.
25. Partners and sponsors reserve the right to deny participation to any entrants as it sees fit without justification.
26. Decisions of the awards sponsors are final in all cases.
27. All winners' information will be used by the sponsors only. No personal information will be shared with or reported to a third party under any circumstances.
28. By participating in this event, you acknowledge that you accept and will abide by these rules and regulations.