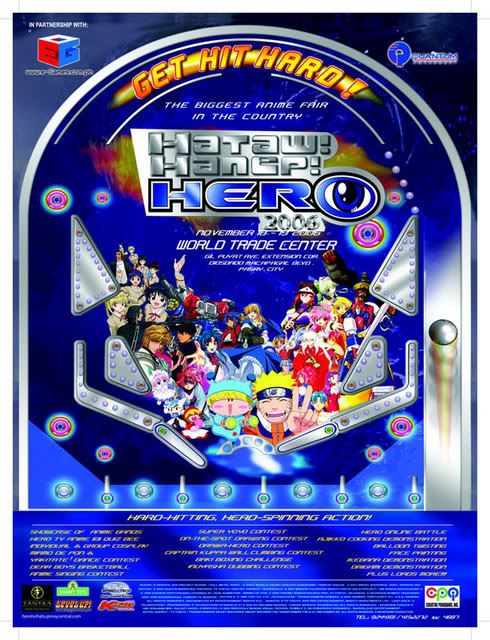 HeroTV has done it again. Surpassing the previous year's H3, the 2006 Hataw Hanep Hero was the unstoppable juggernaut!
The event was held November 18 to 19 in two halls of the World Trade Center in Pasay City. People couldn't wait for the event to start. Lines were formed outside the WTC early Saturday morning. As you can see in these pictures, two halls of the WTC aren't enough for the huge turnout of HeroTV fans.
As partners of HeroTV, Cybertron Philippines came in full force to support the H3. For its main feature, Cybertron Philippines relaunched the Don Figueroa interview. Don Figueroa is a Filipino based in the US who is one of the most popular comic book artists and pencillers for many different Transformer titles for IDW Publishing. Cybertron Philippines was given the rare opportunity to conduct the interview with Figueroa.
The poster session was held right at the entrance of the H3 Convention. Fans would see the HeroTV logo along with the interview proper and samples of Figueroa's work prominently displayed in the exhibit area. The poster session was such a hit, that one of Don's work was stolen during the first day of the H3!
Don is a valued member of Cybertron Philippines. Rest assured that the group will feature more of his work and that of other Transformers artists in the near future.
Cybertron Philippines was the exclusive exhibitor for the H3. The group separated the exhibit into 2 sections. One is the HeroTV show display, while the other section showcases Cybertron Members' toy collections.
Cosplay.ph, Filcosplay, and other cosplay organizations held group and individual cosplays during the H3. Nearly 250 participants joined this year's competition. Congratulations to the guy who went as Morgul Witchking for bagging the grand prize.
For more pictures, kindly visit our gallery at https://cybph.yourweb.dk/gallery. For discussions, do visit our forum at https://cybertronphils.proboards18.com.