The band Cybertronic Spree needs fans help to raise money for their "Transformers 1986 A cover album by robots for humans" project that is hoping to record a new version of the "The Transformers: The Movie" soundtrack. Read on for some of the details on their project.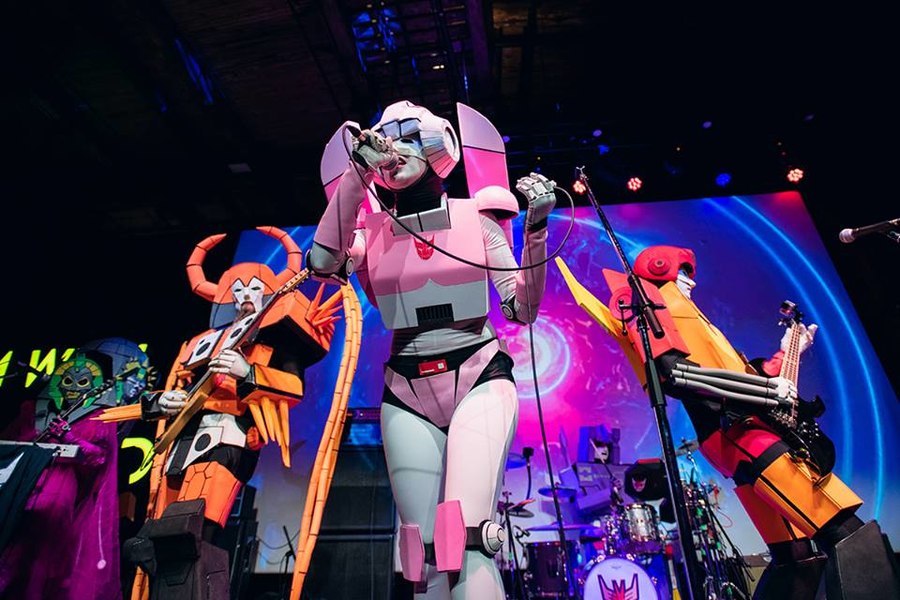 We're the Cybertronic Spree: a band of rockstars in disguise! Yes, we're Transformers, but more importantly, we're musicians and friends (and enemies) who play music from The Transformers: The Movie soundtrack. But we're way more than meets the eye: we play music from films, anime, video games, classic rock -- you name it. Anything that gets us pumped! We blend our love for the '80s and '80s metal into an energon-fueled, kick-ass live show!

Meet our lineup of rogue robots:
With the power to light your darkest hour, front-bot Hotrod sings and plays a mean bass. Arcee is our instrument of destruction on keys and vocals. Quintesson is on triple duty, providing backing vocals, keys and wailing guitar. Devourer of worlds, Unicron, just destroys on an 8-string guitar, while Rumble and Shockwave keep it heavy on the drums with both thunder and lightning. Our resident hype-bots, Soundwave and Bumblebee play keys, dance, and keep the party going strong.

We admit, we're an unlikely alliance and our individual motives remain hidden but we're brought together by the power of rock and nothin's gonna stand in our way!

None of our logic circuits could imagine that six years after our first performance in 2013, we'd be bringing the power of Transformers: The Movie soundtrack to more audiences than ever. We've travelled all over North America, made some fun videos, and even started writing our own songs, like Cybertronic Warrior, for an upcoming original album that we continue to work on...when we're not rocking out, fighting each other, or both.

The truth is, we've been able to do this thing we love so much because of the awesome support of our fans. They are the sparks in our matrix keeping us fully functional!


We're making a polished studio album of all 10 songs from the original Transformers: The Movie soundtrack. We're calling it Transformers 1986. We're going to capture all the energy of our live shows and put it onto recorded physical media: Compact Disc. We hear it's the latest in Earth technology! These 'CDs' will be available to humans all over the world as a Kickstarter exclusive pre-order, so once they're gone, they're gone.

WHY ARE WE DOING THIS? Well...

Transformers: The Movie is arguably the best soundtrack on Earth. Period. The emotional connection humans had with the film in the 80s is legendary. These are songs that excite us. These are songs that unite us. These are songs that have the power to turn our days from bad to good. They give us the encouragement we need to do good in this world. It's a power so strong, we stopped fighting each other and started a freaking band!

We thought it would be rad to celebrate the 33rd anniversary of The Transformers: The Movie by putting out our own rocking versions of these hits!

This will be our first studio album, and it just feels right to start with what inspired us to join forces in the first place, while we continue to write our own original material together.

Also, it's something fans have been asking us for since we started!

Above all, we're here to help keep the legacy of TF:TM alive and we think there's enough humans out there that feel the same way we do.

This Kickstarter is your chance to take a piece of The Cybertronic Spree home with you. It's something you can enjoy any time, anywhere. And there's some great swag that we'd like to make to help mark the occasion!
Check out the Kickstarter for details on the project and how you can contribute at:
https://www.kickstarter.com/projects/thecybertronicspree/transformers-1986