As is always the case, a new batch of blind packed collectibles means a mad dash to learn the code scheme in order to avoid duplicates and only end up with the particular toys you want. We've been over this a couple times for Tiny Turbo Changers, and now BotBots is on the scene ready to launch with an assortment of 24 individual blind packed toys.
Hasbro sent us over samples from Series 1, which gave us a chance to study the problem directly. Each one of our samples did present a unique number in the bottom corner of the cardback, much as you might expect of such packaging. Though these look distinctly like they're written by hand, rather than machine-stamped. No other identifying marks were evident. That is until we started opening the packages.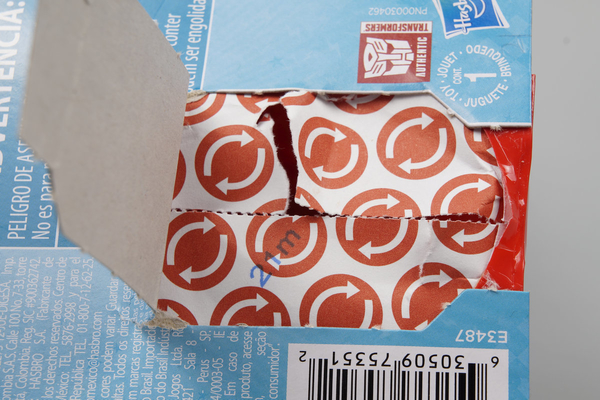 On the inner paper layer standing between you and toy, it's possible to see a factory-printed code, which in our case matched the numbers written on the cards. Identifying marks do exist, but there is a problem of potentially not being able to see them without starting to open the packaging. We do not endorse or condone damaging product packaging at any retailer before purchasing items in question.
However, even though our specific copies did not have machine-imprinted code numbers on the outside, we can't be certain this will be the case for the actual retail product that goes to stores, so we're offering a code key based on our findings just in case. A text list follows, plus we have a visual guide beneath that so you can associate numbers and names with images of the toy to make it even easier.
We wish everyone the best of luck in the hunt that is to come. And we want to go on record saying that they're all pretty cool, so it's hard to consider it a loss no matter what BotBot you end up coming home with!

1 - Stinkasaurus Rex
2 - Scrub-A-Dub
3 - Nobeeoh
4 - Cocoa Crazy
5 - Sippy Slurps
6 - Remorsel
7 - Skillz Punk
8 - Fomo
9 - S.A. Cheez
10 - S'up Dawg
11 - Twerple Bubble
12 - Spud Muffin
13 - Rootwing
14 - Venus Frogtrap
15 - Fun Gus
16 - Slobber Rock
17 - Frostferatu
18 - Dimlit
19 - Professor Wellread
20 - Snippy Snappy
21 - Totes Magotes
22 - Cranks
23 - Batsby
24 - Kidd Klobber