For Combaticon Awareness Week, we're looking at the many faces of Bruticus and his component parts throughout the years! The Combaticons, in whole or in part, have seen reissue, reuse, and reappearance more than any other combiner team - and arguably any character not named Optimus Prime, Megatron, or Starscream. But in the beginning, there was a set of unused designs Takara had sitting around, originally planned for the Diaclone toyline... read on to learn about G1 Bruticus!
G1: The Toys
The five Combaticons are a quintet comprised of four military vehicles plus a space shuttle, because space shuttles are cool and kids love them. They consist of:

Source: TFWiki
Swindle, munitions expert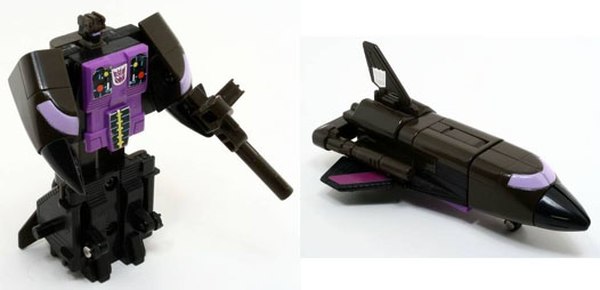 Source: TFWiki
Blast Off, the Space Warrior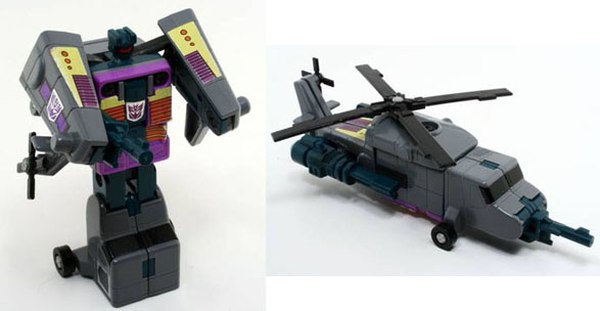 Source: TFWiki
Vortex, the interrogations expert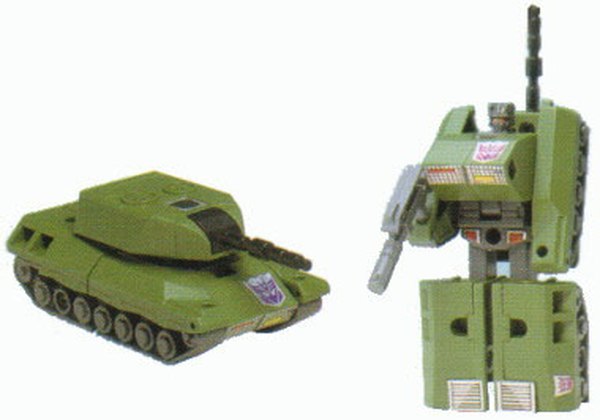 Source: TFWiki
Brawl, the Tank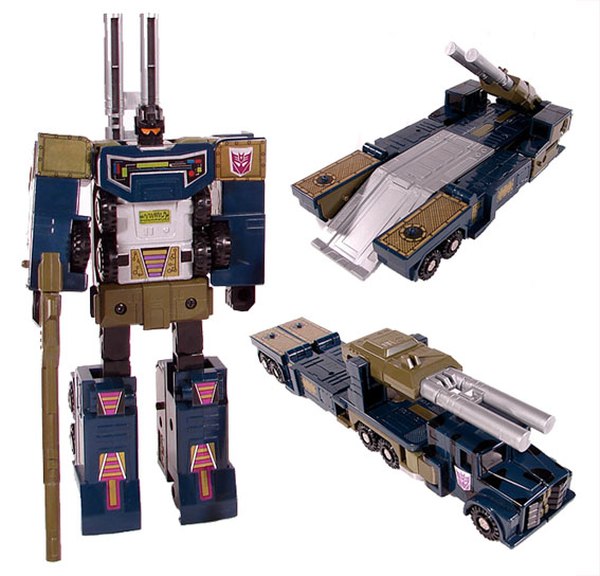 Source: TFWiki
And Onslaught, the team leader.

Source: TFWiki
And together, they form the mighty Bruticus!
Bruticus is, in my opinion, the best-looking of the first four combiners made using the interchangeable parts system. Sporting the best combination of dynamic torso shape and good proportions, to say nothing of a good color scheme and height- and menace-adding, back cannons, it's easy to see why Bruticus is the one that kept getting reissued and reused.
The Combaticons are part of what Japan dubbed the "Scramble City" toy ecosystem, a series of unused Diaclone designs...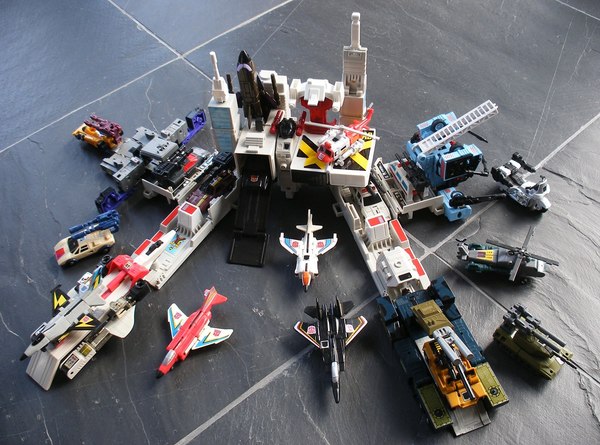 Source: Nordic TransFans Association
...which is why Onslaught's base mode is designed to connect to Metroplex. See, in Diaclone almost all the Autobots and Decepticons were lifeless mecha piloted by the heroic Diaclone taskforce. (The Insecticons are the only exceptions, having been members of the evil space aliens known as the Waruder.) The first round of Scramble City designs - the Aerialbots, Combaticons, Stunticons, and Protectobots - were all planned as Diaclone toys along with Metroplex, which is why all four leaders' base modes can attach to the Autobot City.

Source: TFWiki
Later, when Trypticon was designed, he was given adapter pieces to attach the Decepticon bases.
G1: The Cartoon
The Combaticons debuted in the episode "Starscream's Brigade," where they were revealed to be five Decepticon criminals whose personality components were housed in a Decepticon Detention Center. Starscream put these personality components into a set of dilapidated World War II vehicles, which then became a series of modern war machines (and a space shuttle) as if by magic.
(It's also worth noting that, upon leaving the Detention Center, Starscream blew up the rest of the contents of the vault for no reason. Assuming five personality components per drawer in a 6x8 grid of drawers and subtracting the Combaticons, Starscream killed 235 people upon leaving that room - all Decepticons.)
After Starscream's cunning plan to defeat Megatron and claim leadership of the Decepticons somehow failed to succeed, he and the Combaticons were banished to an asteroid in the middle of nowhere. That didn't last long.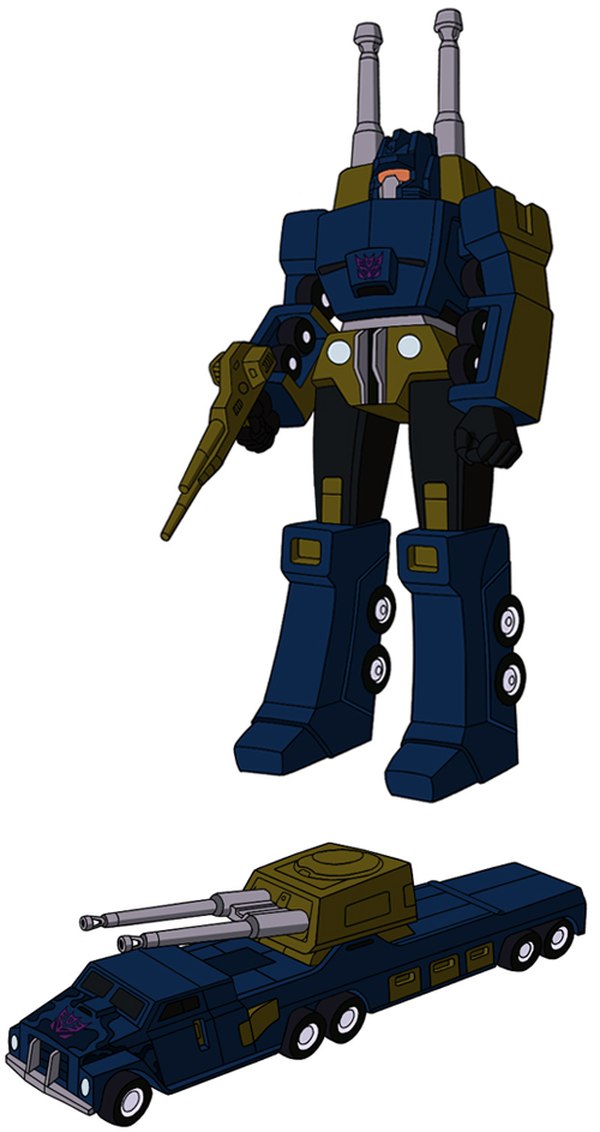 Source: Transformers Kiev
Starscream then naturally left them alone on the asteroid, and Onslaught (voiced by the late S. Marc Jordan) took command, planning revenge on the Decepticons. Operation: Revenge nearly succeeded in incinerating the Earth, but a temporary alliance of Autobots and Decepticons thwarted the attempt. After agreeing with Optimus Prime that the Combaticons were too dangerous to be left operational, Megatron silently added "without a good brainwashing."
In Season 3 and 4 appearances, Onslaught was voiced by Terry McGovern and Steve Bulin, respectively.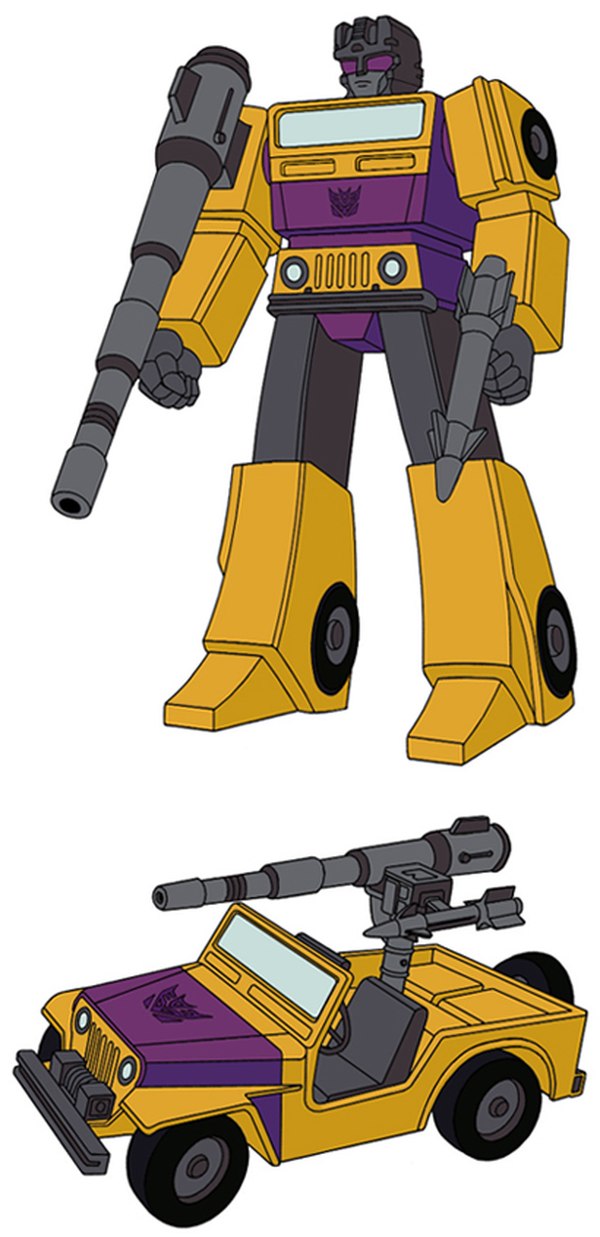 Source: Transformers Kiev
Later, after Bruticus was one-shotted by Defensor, sole survivor Swindle (voiced by Johnny Haymer) gathered up the pieces of his comrades... and sold them. Megatron responded by planting a bomb in Swindle's head and giving him fifteen hours to put Humpty Dumpty Bruticus back together again. He just barely succeeded...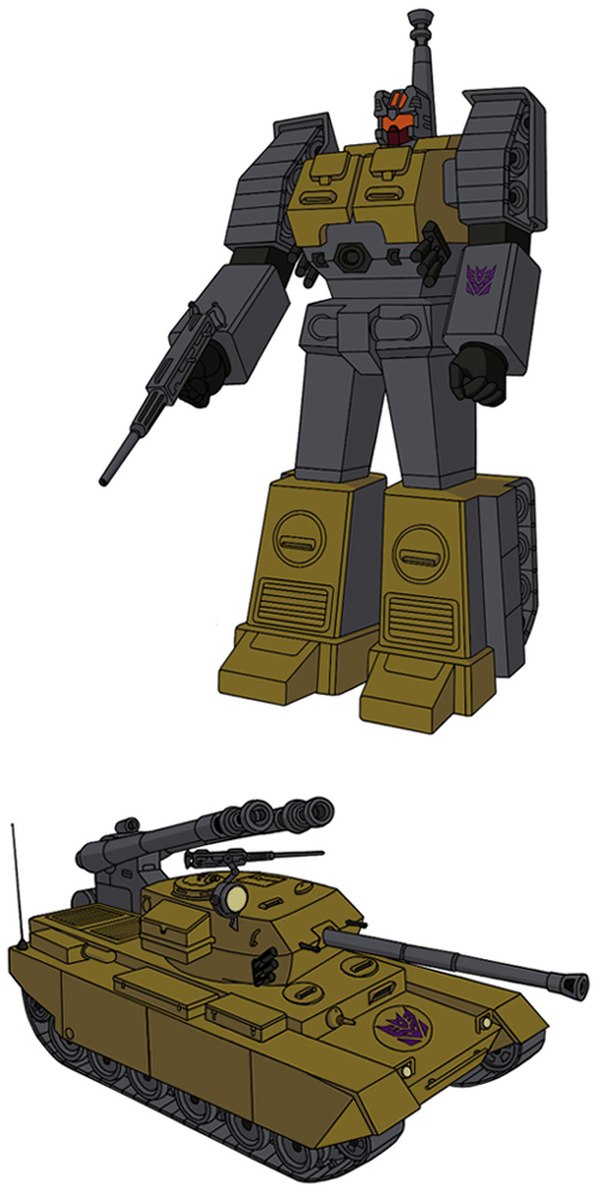 Source: Transformers Kiev
...but the personality component of Brawl (voiced by Tony St. James) was the last piece he found. It had been put into a high school science project known as B.O.T., in what the Wiki calls the worst episode of Transformers ever made.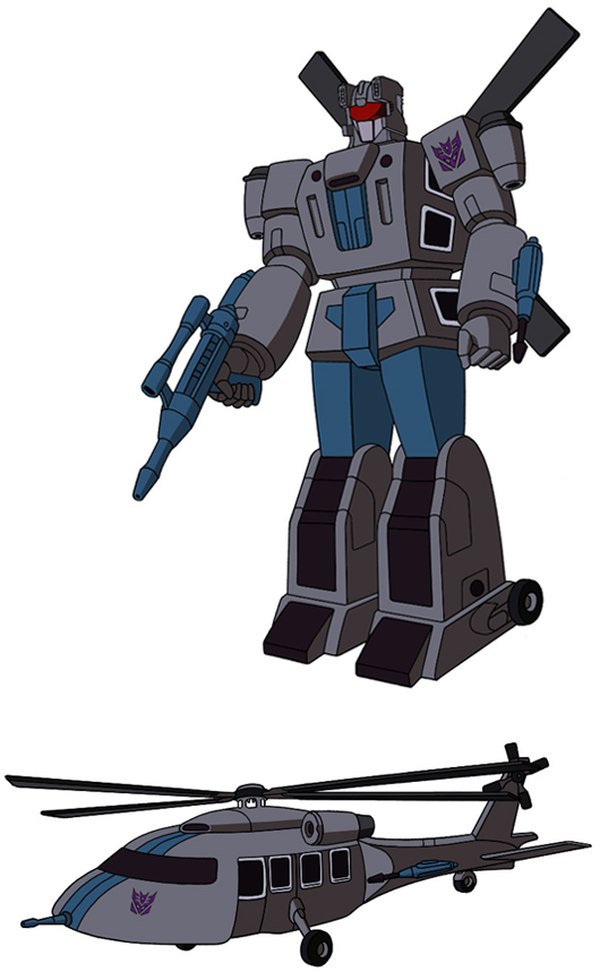 Source: Transformers Kiev
Vortex (also voiced by Johnny Haymer) was next seen in the Season Three opener The Five Faces Of Darkness, where he astutely explained to the rest of the Decepticons that their weapons require energy to work.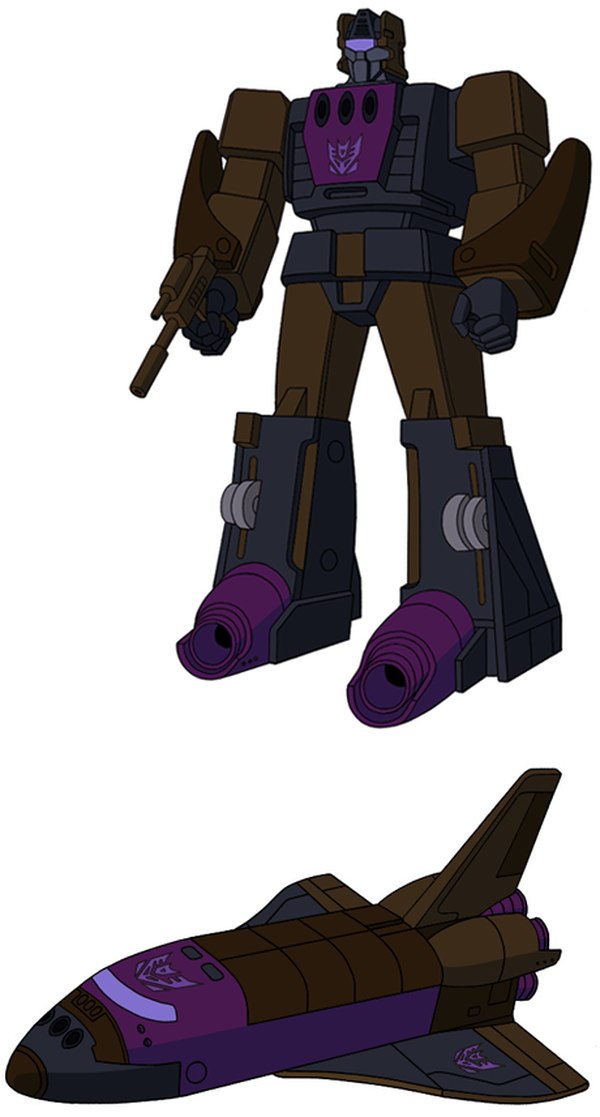 Source: Transformers Kiev
Later that season, Blast Off (voiced by Milt Jamin) made a rare solo appearance in the episode "Chaos" in which he teamed up with Decepticon Battlecharger Runamuck and discoved a rare and deadly weapon known as Death Crystals. After destroying an Earth Defense Command base, Blast Off and Runamuck very nearly destroy Sky Lynx if not for an (un)lucky shot by Runamuck.

Source: Transformers Kiev
Bruticus (voiced by the late Roger C. Carmel, better known as Harcourt F. "Harry" Mudd in the original Star Trek) was seen a few more times in season three, last appearing as the first victim of the Hate Plague in "The Return of Optimus Prime," the last episode of the third season. As with many combiners, Bruticus was very strong (except in situations like "B.O.T." when the script required he not be), but really dumb.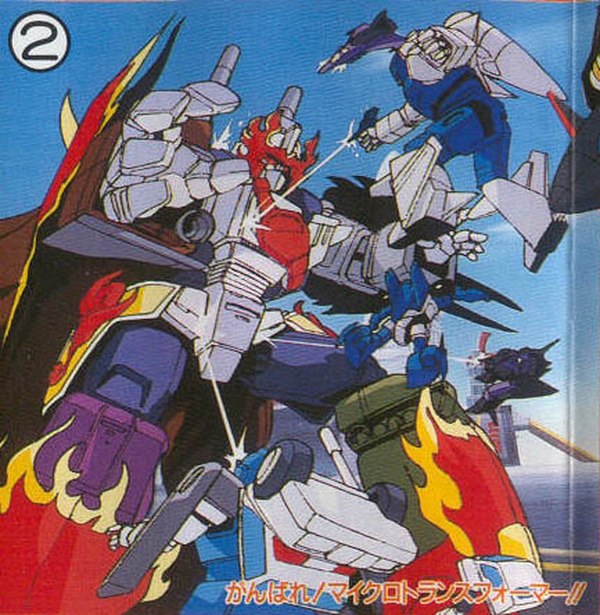 Source: TFWiki
G1 Bruticus was last seen (in Japan) as one of the revived Decepticon generals in Transformers Zone. He didn't do much, but he got some cool armor and a cape! And he fared better than Predaking, at least.
The Beginning
The Bruticus concept was a hit - and one that Hasbro and Takara would both continue to go back to extremely frequently. Next time, we'll start digging into the ways Bruticus has been reimagined over the years.