Cool off in the dark of the moon, err uh, heat of the summer with a little help from the Transformers and Hostess! Back in 2011 Hostess joined forces with Paramount on the Transform Your Treat instant win game. The game offered chances to win things such as Xbox consoles, Transformers: Dark of the Moon prizes, a year's worth of snacks, and a grand prize of $25,000.
However, the most hilarious prizes were Hostess' very own limited-edition Transformers branded snack cakes. Four different packs were released at retail including Twinkies Bumblebee, Cup Cakes Sentinel Prime, Chocowave Shockwave, and Snoballimus Optimus Prime. Frankly, the Autobot Leader cakes are the least appetizing of all, but I can see how kids would think they are Just Prime!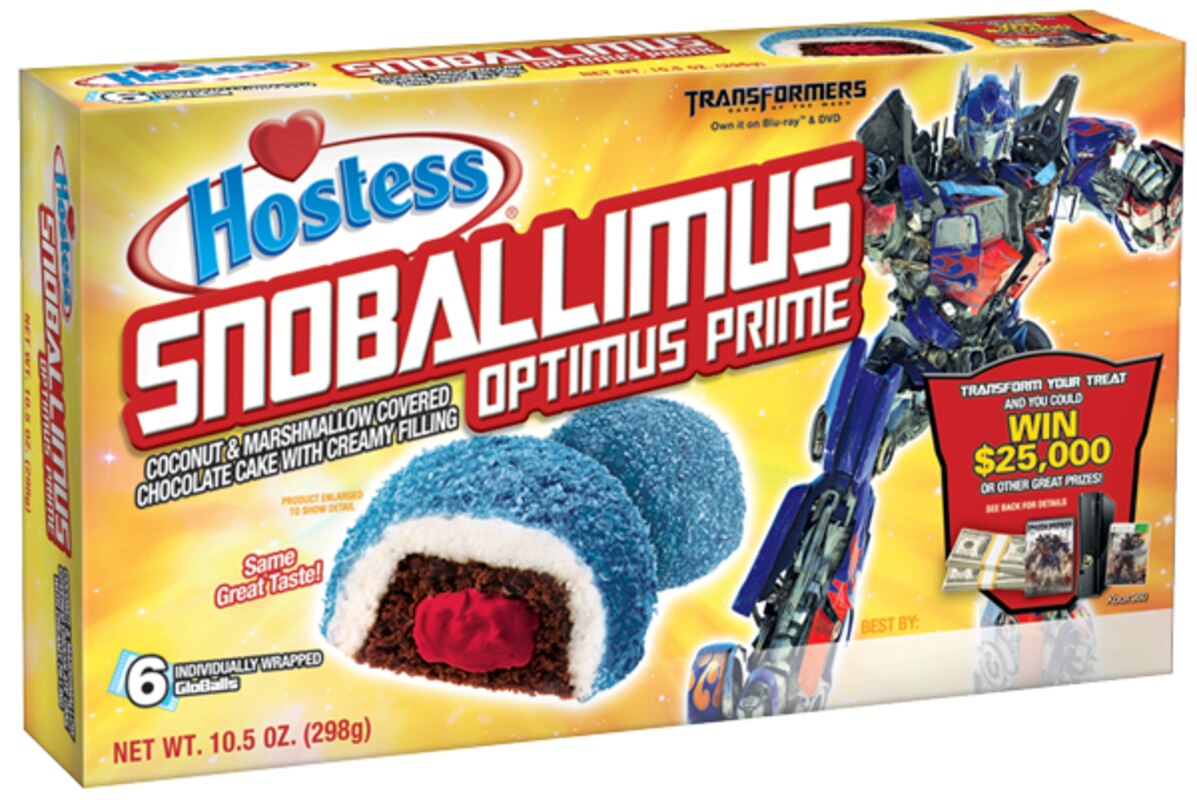 From September 12, 2011 to October 16, 2011, Hostess is inviting consumers to visit hostesscakes.com daily to play the "Transform Your Treat" instant win game online. By entering the online sweepstakes, consumers can watch their snack cake convert like a TRANSFORMERS robot for a chance to instantly win $25,000 or other prizes including Xbox 360® consoles, Transformers: Dark of the Moon videogames for Xbox 360®, Transformers: Dark of the Moon DVDs and one year supplies of Hostess snacks.
Hostess has also introduced these limited edition TRANSFORMERS-themed snack cakes which are available in grocery stores across the country:
Snoballimus OPTIMUS PRIME® - Blue Hostess SnoBalls® with red creme filling
Chocwave SHOCKWAVE™ - Hostess CupCakes featuring red icing and metallic sprinkles.
Consumers can also find special edition TRANSFORMERS-themed packaging for iconic Hostess Twinkies® and Hostess Chocolate CupCakes through the Halloween season.