ACTIVISION PUBLISHING, INC. LAUNCHES PLATINUMGAMES' EARTH-SHATTERING ACTION-BRAWLER: TRANSFORMERS: DEVASTATION
SANTA MONICA, Calif. – Oct. 6, 2015 – Activision Publishing, Inc., a wholly owned subsidiary of Activision Blizzard, Inc. (NASDAQ: ATVI), today released TRANSFORMERS: Devastation. This new third-person action-brawler rolls into battle with Hasbro's classic Generations designs and developer PlatinumGames' renowned flair for slick visuals and free-flowing, high-speed combat.
TRANSFORMERS: Devastation moves at a breakneck pace: rocket through danger in vehicle mode before bursting into robot mode to unleash a barrage of close-quarters combos and blaster fire. Tackle the game's gripping single-player campaign and 50 highly challenging bonus missions with any of five playable heroes – OPTIMUS PRIME, BUMBLEBEE, SIDESWIPE, WHEELJACK and GRIMLOCK. Each of these characters can be evolved with new abilities, unique talents and more than 150 upgradeable weapons.
Brought to life with bold, cel-shaded artwork, TRANSFORMERS: Devastation features legendary TRANSFORMERS voice actors like Dan Gilvezan as BUMBLEBEE, Frank Welker as MEGATRON and SOUNDWAVE, Michael Bell as SIDESWIPE, Gregg Berger as GRIMLOCK, and Peter Cullen as OPTIMUS PRIME. As the fates of Earth and Cybertron collide, the noble AUTOBOTS must face off against the DECEPTICONS' most ruthless champions in an original adventure from veteran TRANSFORMERS writer Andy Schmidt that expands the series' ongoing Combiner Wars story arc.
TRANSFORMERS: Devastation is now available for MSRP $49.99 on the PlayStation®4 and PlayStation®3 computer entertainment systems, Xbox One, Xbox 360, and Windows PC via Steam. It is rated T (Teen) by the ESRB. For more information, please visit www.TransformersGame.com and www.facebook.com/TransformersGame.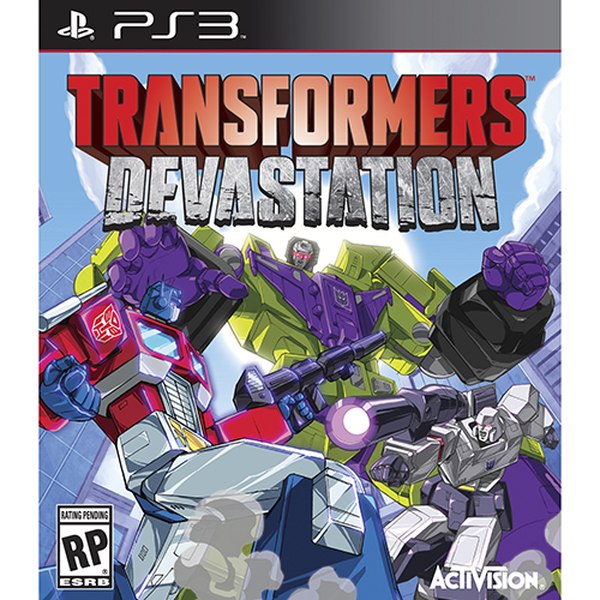 About Activision Publishing, Inc.
Headquartered in Santa Monica, California, Activision Publishing, Inc. is a leading global producer and publisher of interactive entertainment. Activision maintains operations throughout the world. More information about Activision and its products can be found on the company's website, www.activision.com, or by following @Activision.
About PlatinumGames Inc.
PlatinumGames Inc. is an independent entertainment developer based in Osaka, Japan, dedicated to making high-quality, next-generation games for a variety of hardware platforms. Under the slogan "Taking on the World as the Representative of Japan," PlatinumGames works hard to deliver fresh surprises and new experiences to gamers all over the world. Official website: www.platinumgames.com.
About Hasbro, Inc.
Hasbro (NASDAQ: HAS) is a global company committed to Creating the World's Best Play Experiences, by leveraging its beloved brands, including LITTLEST PET SHOP, MAGIC: THE GATHERING, MONOPOLY, MY LITTLE PONY, NERF, PLAY-DOH, TRANSFORMERS, and premier partner brands. From toys and games, television programming, motion pictures, digital gaming and a comprehensive lifestyle licensing program, Hasbro fulfills the fundamental need for play and connection for children and families around the world. The Company's Hasbro Studios creates entertainment brand-driven storytelling across mediums, including television, film and more. Through the company's commitment to corporate social responsibility, including philanthropy, Hasbro is helping to build a safe and sustainable world and to positively impact the lives of millions of children and families every year. Learn more at www.hasbro.com and follow us on Twitter (@Hasbro & @HasbroNews).
©2015 Activision Publishing, Inc. All rights reserved. "PlayStation" and "PS3" are registered trademarks. "PS4" is a trademark of Sony Computer Entertainment Inc. All other trademarks and trade names are the property of their respective owners.