Devastator Week continues, and the bot of the hour is Bonecrusher! Known forever as "the one whose Vehicle Mode you probably confuse with Scrapper, but is wearing bulldozer-tread footy pajamas," Bonecrusher features slightly more mixed influences than Scrapper in his modern Combiner Wars body. Read on to learn more!
G1: The Toy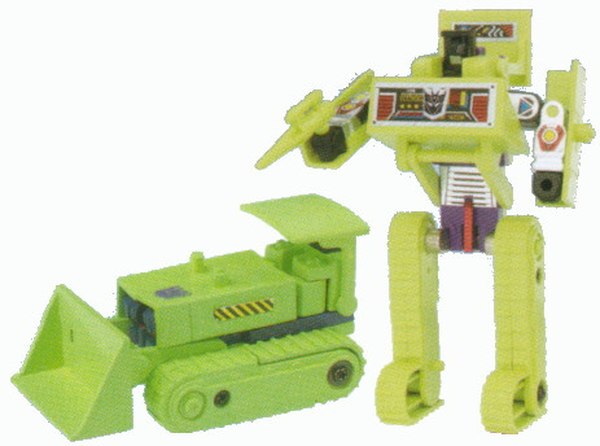 Source: TFWiki
"Hit it till it stands no taller than dust."
Rubble-strewn wasteland is his idea of beautiful landscape. His wild ways create fear and terror. As vehicle, at 30mph. Exerts 800,000psi... has short-range concussion bomb launcher. As robot, carries laser pistol. As left arm module, combines with fellow Constructicons to form giant robot "Devastator".
Bonecrusher looks similar to Scrapper at first glance in Vehicle Mode, being one of the two vehicles with a big shovel on the front. But then you transform him, and it's a whole new ballgame. With a scoop chest and big, rounded tread-toes, Bonecrusher is one of the most distinctive Constructicons in Robot Mode. As Devastator's left arm, he came with the forearm block which doubled as a drill missile launcher. As with most missile launchers of the era, it became progressively weaker in subsequent releases as safety regulations became stronger. He's also the arm you probably remember as the one that fell off a lot, as his connector is nowhere near as secure as Scavenger's.
G1: The Cartoon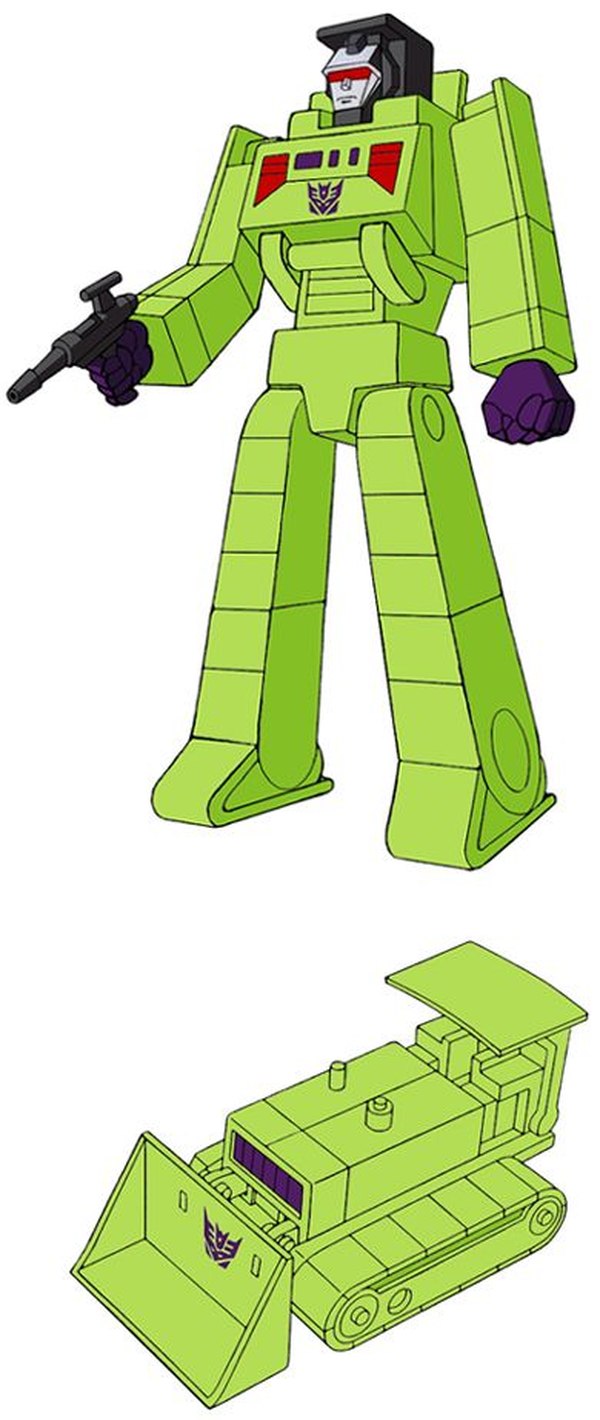 Source: Transformers Kiev
Bonecrusher's revisions as an animation model are more noticeable than Scrapper's. For one, they've normalized his proportions, shrinking his shovel torso and lengthening his arms - a welcome move since the toy version looked like it was reaching around the shovel and the shoulder was actually the elbow. They also made his feet a little less big and round.
Since there aren't any really great Bonecrusher anecdotes, this is a good place to mention...
Constructicon Origin Story #1
In the Constructicons' first appearance in "Heavy Metal War," they were explicitly stated as having been built on Earth - a factor which even becomes a plot point in a subsequent episode.
Just remember that for now.
Bonecrusher Joins The Combiner Wars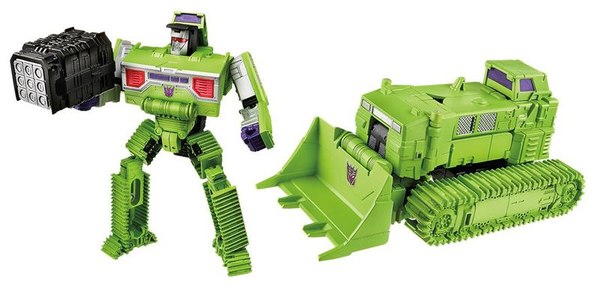 Source: TFWiki
Combiner Wars Bonecrusher splits the difference between the toy and the animation proportionally- he's got a beefier torso, but proportionally accurate arms. It's a good balance. The arms themselves draw their colors and shape from the original toy, but the torso sports a simplified deco pattern much more reminiscent of the cartoon model. And of course the head, having actual facial features, is definitely more of the animation.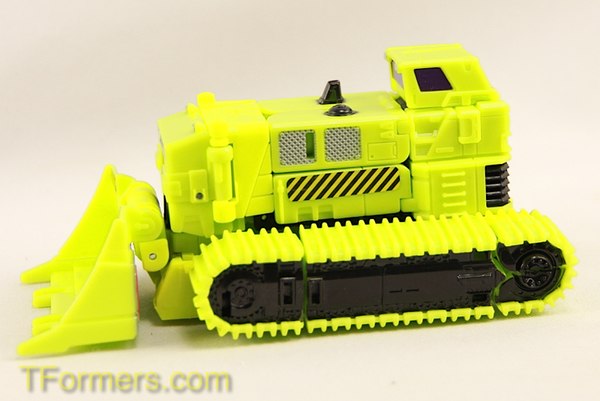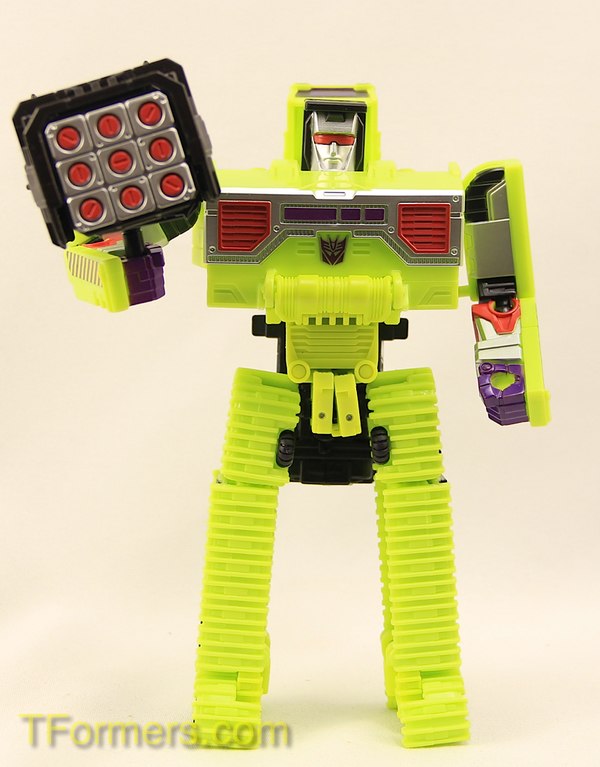 The SDCC version of Bonecrusher adds some color to the shoulders, and also to the center of the treads. While no previous Bonecrusher has had that, it both helps break up the solid wall of green and balances out Devastator's torso, which always looks kinda weird with purple treads on one side and green on the other. There's no purple chrome on this toy, but it does put paint on the missiles in the launcher pod that becomes Devastator's forearm!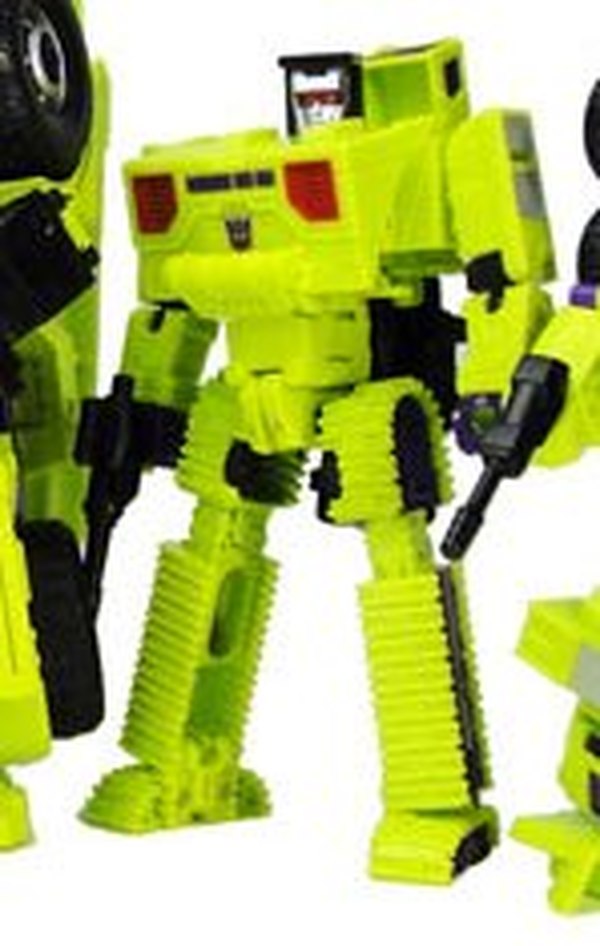 As with Scrapper, TakaraTomy's Unite Warriors version of Bonecrusher adds in his personal weapon. The deco skews more towards the animation model here... which was very green. It does mirror the tread deco on the SDCC version to break up that green, but it's the arms and torso that look the most blah compared to the other versions. Far as we can tell at the moment, Bonecrusher is one of the Constructicons with no engineering changes for release as part of UW04.
Next up: Hook!