Not very. But let's start at the beginning.
The updated batch of stock photos we got to have a look at this morning included full front and back panel package shots of the wave 1 Deluxe assortment. We already knew what the packaging design for Earthrise looked like thanks to a much earlier showing of one of the Voyager boxes, so seeing the design of the Deluxe packaging wasn't a revelation. But it was still useful. The boxes provide a fixed frame of reference, since we know that they all need to be the same size so they can be packed in a shipping carton together. And so, we could very easily see that Cliffjumper was significantly smaller than any other toy in the assortment. I had to determine just how much smaller.
We can make a reasonable assumption or two that will help in figuring out the problem. The Earthrise Deluxe boxes are most likely the same size as a Siege Deluxe box, or would at least probably only vary by a very small amount that wouldn't be any real consequence here. That means we can judge the front panel of Cliffjumper's box to be 8 inches tall, just like a Siege box.
Of course the image of the box is not 8 inches tall. I mean, unless you're working with a kind of large display. But that still leaves a problem in determining the height of the robot. So there's a couple ways to proceed. One is to try to work out a precise magnification that would result in the front panel of the box appearing 8 inches tall and use a ruler to get a measure. But that's highly fiddly to get the image to be just the right display size, especially if you want anyone to be able to repeat the process for themselves. The alternative is pixel measurement and math!
The front panel of Cliffjumper's box is 676 pixels out of the original 900x900px stock image. If we're assuming that the front panel is 8 inches, we can determine that an inch is equal to about 85 pixels (84.5 to be exact, but we'll round up). Now we have to figure out how many pixels tall Cliffjumper is. measuring from the top of the head to the lowest point of the feet would, in this case, probably lead to an incorrect result. The toy has big feet and in package the toes are pointing down a bit. That would exaggerate the height and potentially throw off the result by a significant degree. Instead, we want to measure for the center line of the robot, or at least what we can best determine as the center line. In this case I chose to try to measure along the line of the thighs. In general they would be more or less in line with the head and should give a more genuine idea of height.
A straight line from the top of Cliffjumper's head to the bottom of the feet in a spot that appears to be in line with the thighs comes out to 298 pixels. And now we have the information we need to get the answer. With an inch equaling approximately 85 pixels, Cliffjumper's 298 pixels of height comes out to almost exactly 3.5 inches. Now, keep in mind, perspective is a thing, and we're guessing that there's no size change between Siege and Earthrise packaging whatsoever, etc. There's a margin of error here, so it would be better to say that Cliffjumper is probably somewhere between 3.5 and 4 inches tall in robot mode.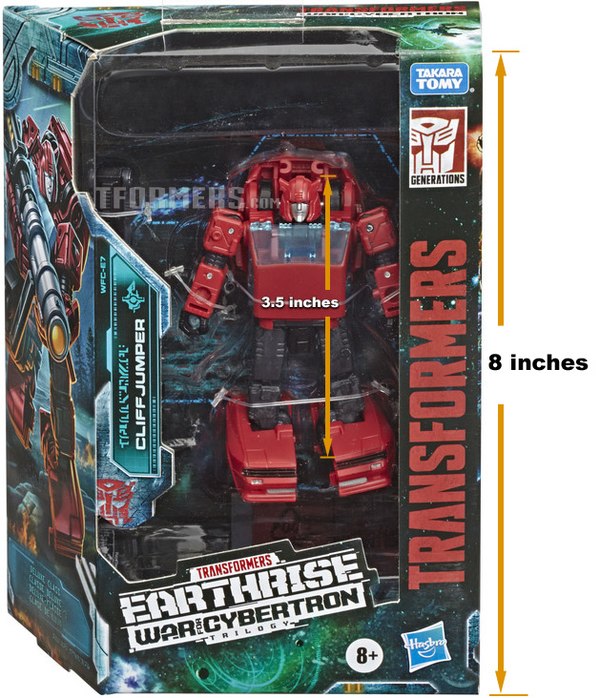 This is a very interesting height range, though. It happens to be right about the same height as the average Titans Return or Power of The Primes Legends class figure. If these estimates prove out with the real toy, then Earthrise Cliffjumper should be able to still fit in with the collection of Generations Autobot mini-vehicles you're already neck-deep in. This seems rather promising for the hopes of still ending up with a full set of these characters represented in Generations.
But, a Legends-size toy being sold as a Deluxe with a $19.99 SRP is sure to be alarming for many people. Well, Cliffjumper does look to have a greater degree of engineering complexity than a Legend figure, plus it comes with the quite large bazooka that disassembles to become the ski-and-boosters add-on for the car mode, so there's a little more plastic mass rattling around in the package than is apparent at first.
Another thing we have to keep in mind, toy budgets are plotted out per wave rather than per toy. The other thing that these stock photos showed was that Ironworks and especially Hoist are pretty big-looking Deluxes, probably very similar to Impactor or Ironhide. Having two such figures in one assortment meant something else absolutely had to give. Creating something small like Cliffjumper served to balance the books for the two bigger characters, while allowing for filling at least one hole in the collections of people who've been with Generations for at least a few years already.
This also points to the future a bit. If Trailbreaker ends up in a regular assortment later on, there's a good chance we'd have to see Cliffjumper's mold come back in use to budget the wave out. While a straight reship of Cliffjumper would certainly be a possibility for that, it would also be a good chance to get the pretooled alternate character in use. While it's easy to point straight to Bumblebee as being the outcome of that, there might be a different future in store here. With Cliffjumper apparently having been designed such that it still fits well enough with the existing Autobot mini-vehicle toys, the retool may similarly be meant to add to that lineup, rather than replace something earlier. In which case this mold's second go could very likely be Hubcap. In G1, Hubcap was a minor retool of Cliffjumper, and recreating that relationship with Generations updates would be a very This Design Team move.
That doesn't necessarily have to preclude a Bumblebee retool as well. We've seen in Siege a similar situation with the trio of Ironhide, Crosshairs, and Ratchet where one mold gets two reuses, once with just a headswap, and then with an extensive array of alternate parts.
But whatever reuse awaits in the future, our original question seems to have a pretty good answer. Earthrise Cliffjumper in robot mode is probably somewhere between 3.5 and 4 inches tall. Will you be willing to spend $20 on a Deluxe that size to make your Gnerations mini-vehicles that much more complete? Comment on our forums in the thread linked below and let us know!