Following Hasbro Pulse Con 2021, the Hasbro brand team was kind enough to answer our post Pulse Con 2021 Transformers questions. The following are the questions and answers that were presented in today's event.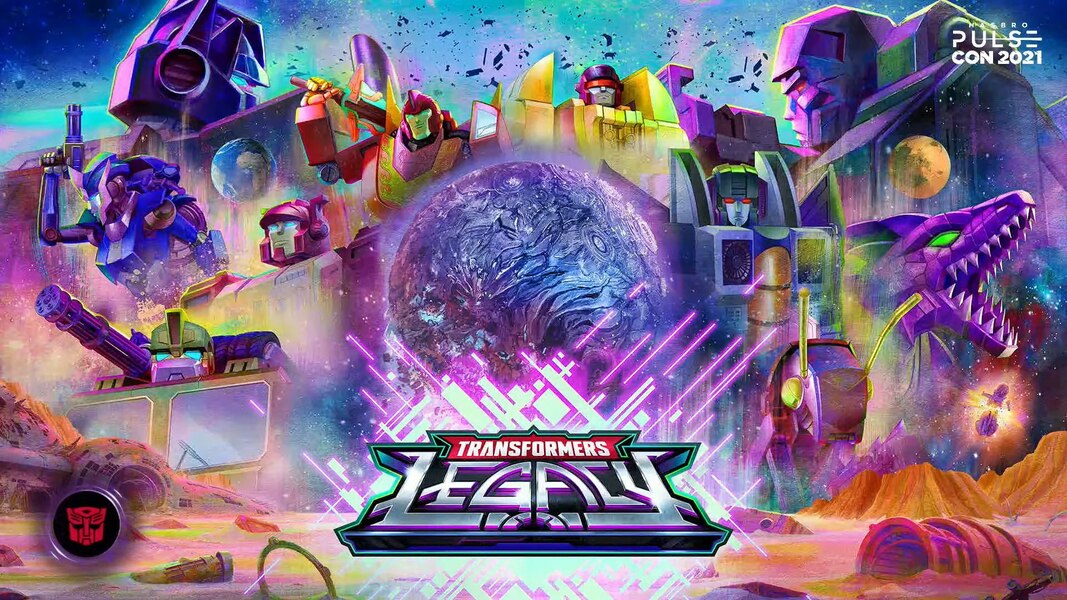 Hasbro brand team attendees
• Ben Mantano
• Rachel
• Mark
• Ben
• Sam
• Evan

Will there be more combiners to come?
The Stunticons will not be the end of combiners. They are looking to expand on this in newer ways than before. There won't be interchangeable figures like in Scramble City.

What was the decision to include the Unicron figure accessories with Galvatron?
Lenny took the lead on the Unicron pack. They felt this could include a figure with accessories to complete the 1986 scene. HasLab is a love letter to the fan community so they wanted to add more relevant characters into the line.

Is Legacy connected to WFC in terms of the story, will there be another series to support?
They wanted to continue the Universe from a narrative perspective and the Multiverse. They want to keep telling stories through the toys. They want to create a common continuity with other series from the past. WFC set a standard in articulation that they want to improve on.

Will there be boxed sets for the combiner teams?
They are hoping to include boxes but the main focus right now is to roll out the Stunticons at the current time.

Will we see the rest of the Dinobots to complete the G1 figures in Studio Series 86?
Studio Series 86 has been a great success with no intention of stopping what they are doing with that line. There are more coming next year. The fans acceptance of these toys is really appreciated. They like to see multiple fan generations coming to these toys.

We saw the Blaster teaser at Pulse Con, will we see a Soundwave to go with it?
Do you want to see a Soundwave to go with it? Do you want it to be a Voyager a scale figure too?

Can we expect to see the characters on the Legacy Poster at retail?
We love the artwork and how fans are reading into them and finding Easter Eggs. Just keep paying attention to what's coming. They are using more real estate on the boxes to tease more things.

WIll the upcoming Meansor work with other Combiner Wars figures?
The way the combiner works in this series, they wanted to really focus on Menasor as Menasor, but not so much in the same way as before where you could customize your own combiner. This is really a celebration of the Stunticons and Mensor as they are first.

Will Generations Selects open opportunities for other special figure editions?
They are in the golden era of Transformers and they want to expand on their approach to the Selects line. Legacy should expand more into these kinds of weird figures. Mark and Evan go back and forth on insane character figures like Action Masters and even Machine Wars ideas. Be prepared for some releases you may not expect.

How do you balance out what gets selected from many toy lines?
The keyword is "balance", they try to focus on micro-collections and support them with related characters. This allows fans to collect what they want but also dip into other lines. They strategize how characters are connected and then build out enough across time to make it feel balanced. It is very challenging to take in so many continuities and aesthetics into one shelf look. They also check if there is a good balance of different modes animals, alt modes, factions, gender, and even colors. They want to present a broad scope.

Will the Weaponziers and Fossilizers carry over into future lines?
What's next is so much crazier. They can't say but they saw the fan's reactions to what was done with the Weaponziers and want to engage that even further. The design team feels it is going to get absolutely nuts for customizing and compatibility. Almost like its Lego that you can build yourself.

Would Legacy include more of the Japanese figure like Deathsaurs and Lio Kaiser and figures from Zone and the like?
The umbrella is always expanding and they cannot confirm or deny but they will put those in where they can. They are aware of them. The success of HasLab helps, and influences what they can do for projects. They were sweating on waiting for the progress on Victory Saber.

2022 is the 20th Anniversary of Armada, will we see any love for that?
They are excited about Armada, those characters are something they cannot expand on the universe without including that. They are looking at what characters would be the crown jewels for that.

Will the Legacy line loop back to G1 and be the same across the series?
They want to maintain the design aesthetics across the line with treatments and overlays to work with all the characters. They are looking more at G1 era figures, but some characters won't get such an extreme makeover. They want them to look good on the shelf. This is something that is ever-evolving with many versions of the character to coexist in the Legacy Universe. G1 has a great influence but is not limited to everything. Such as Bulkhead, they made him look like the original but with a more military look. If there are different things fans that react to, they have lots of other forms of entertainment they can include them in.

Any chance we could go beyond the deluxe class in the Studio Series for some of the figures?
They don't think any is off the table with Studio Series. Everything is in great condition is still fair game as exclusives, or other releases to make them available for the fan community. The movies are always present so they want to cater to fans who come in from the movies. Hopefully at a more affordable price.

Can you tell us about the Legacy launch and what figures were chosen?
There are lots more Legacy figures to come. John Warden had a lot of ideas for what they could present character-wise and the new team is looking at how they can leverage molds into other characters like using Prowl mold for the Barricade figure. Wave 1 is a nice variety of alt modes and characters they thought fans are familiar with and wanted to bring the statement what Legacy will present. They are just starting to dip into what they are doing with Animated and others we have not seen in a while to show where the roots of the line can go. There is a ton of amazing stuff coming for 2022 and beyond, things that are near and dear to their hearts. Its going to blow our minds. This is a journey that they hope will be supported by the fans. They are excited to see what the new toys really look like.

Is there anything in Legacy that they are not sure how to do?
They look at some characters, Botanica mentioned, and wonder how to do them. They look at characters and try to see how they will fit into the Legacy and the other waves they have produced before and in the future. They think we will be surprised by what we will see in the coming releases and how they harken back to the original characters. They were excited by Prime Wars and WFC and intend to continue with that, nothing is off the table.

Is there any way to get the box art in higher resolution than what's on the boxes?
They are thinking of ways to present the artwork in different ways. The artists are fantastic and they want to tap into that. When the packaging team presents artwork, they always come up with new ideas for ways they can use it. They feel they have the right recipe for the box art. They love to see the evolution of the packaging as a team effort. They used to just see what it was when it's done, but now they are looking more frequently at the packaging designs and ideas they can share.

Will we see other play patterns like human characters coming in the future?
These kinds of ideas are always on the table such as use of Daniel and Bayverse characters that were included in the line. They work because they scale with the toys best as opposed to making a scale just for them. They have smaller scales like the Movie fembot scaled figures. These tend to be added as accessories so it is always a judgment call.

Is Legacy a trilogy like WFC and will we see more Beast Wars in the line?
Legacy is all things Transformers so we can expect to see more from all. It would be a shame to not see more of the Beast Wars subsequent seasons. They have plans that they will be revealing as the line progresses to help fans grow with the brand both young and old. They don't plan to make just cars, that would be no fun. They love Beast Wars, so they hope it will start new collections and finish old ones.

How does the upcoming Rise of the Beasts coming out affect the Legacy decisions?
Anything in terms of live-action productions has the opportunity to affect their live-action lines, but should not be taking away the focus from other lines. They are developed independently but they try not to repeat characters. Their goal is to continue what they are doing but they appreciate that fans engage with different brands and products.

Are there going to be more opportunities for designers and engineers to talk about toy releases?
They are coming to these things as Transformers fans and would love to offer more details on the production process and how they decide on what is made. They have talked about this, and want to do it more if they can at fan features and fan first Fridays. They plan to do more production features on the HasLab blog for Victory Saber once a month.

Will we have more Titan class figures in the future?
Yes. They love doing them so they plan to keep making more.

Do you plan to keep doing regular live streams when Toy Fair and SDCC return?
They cannot say right now, but they plan to maintain regular contact with the fans. It has been challenging to do and some are planned and unplanned.

Will there be more collaborations coming?
There are more coming with crossovers and they would love to see GI Joe and others come. The team has their favorites and pitch them to the team. Sam wanted to do the Orca from Jaws with the fishing boat, but this is just an idea. Evan wanted to see a Final Fantasy Chocobo based on the Dinobot figure in Chokobot mode, a giant Ostrich they ride. Mark, always wanted a Sponge Bob figure and possibly a Chester Cheetor figure with orange cheese colors. Also a macho man Slim Jim. Ben would like to see a Night Rider KITT. They have to pitch and negotiate the collaborations and can't always do them. It is a complicated and laborious process, they do the best they can. They are not always right for the time. It is getting easier as they do more, and partners see how they worked out with craftsmanship and storytelling. Rachel would like to see a LaBron James or Space Jam crossover. NOTE, these crossovers are just pie in the sky ideas, they are not planned for release at this time.

With Kingdom coming to a close, Legacy is coming up in early Summer. When can we see the final Kingdom and Legacy?
Legacy is coming starting 4/1/22 with more info on Kingdom coming soon.

Will we see the return of the celebration packs like we saw in the past?
They think they are interesting and cannot say whether they plan to do more or not. Buzzworthy Bumblebee is an example of how they might approach something like this. They look online to see how people embrace those things.

Can we expect to see more of Robots In Disguise?
It's always on the table, cannot confirm or deny it. Anything is possible. They have done polls and look at fan polls to learn what they would like to see.

Can they extend the Hall of Fame to be longer?
They can, and wanted to know if we liked the Google voting over Facebook.

Why didn't we get Origins Bumblebee in SIEGE instead of Buzzworthy Bumblebee?
They are not sure, because it was planned a long time ago. They wanted to add something special to the Buzzworthy series. They would like to do Thunderclash. They work about two years out on figures, before they go from idea to shelf. They often lose track of time on when something was planned and released.

Kingdom Wave 5 Blaster Revealed!
They are revealing a new product from Kingdom wave 5 that will be out 1/1/2022. The Voyager Blaster with Eject. Eject is energized blue plastic. Blaster has a spring-loaded button to open the tape bay. They worked hard on the boom box mode as well. His canopy is tinted black like the original. The speakers are articulated. They even added mock batteries on the back. Blaster will be out at retail after January 1, 2022.