Apple Watch owners can Transform their devices with these news Smartwatch Bands from Moby Fox. The G1 styled bands are made in the faction leader colors for Optimus Prime and Megatron. These are rolling out now just in time for the holidays at about $40 USD each. Read on to see the official product information followed by images of both models.
Transformers - Autobot Optimus Prime Smartwatch Band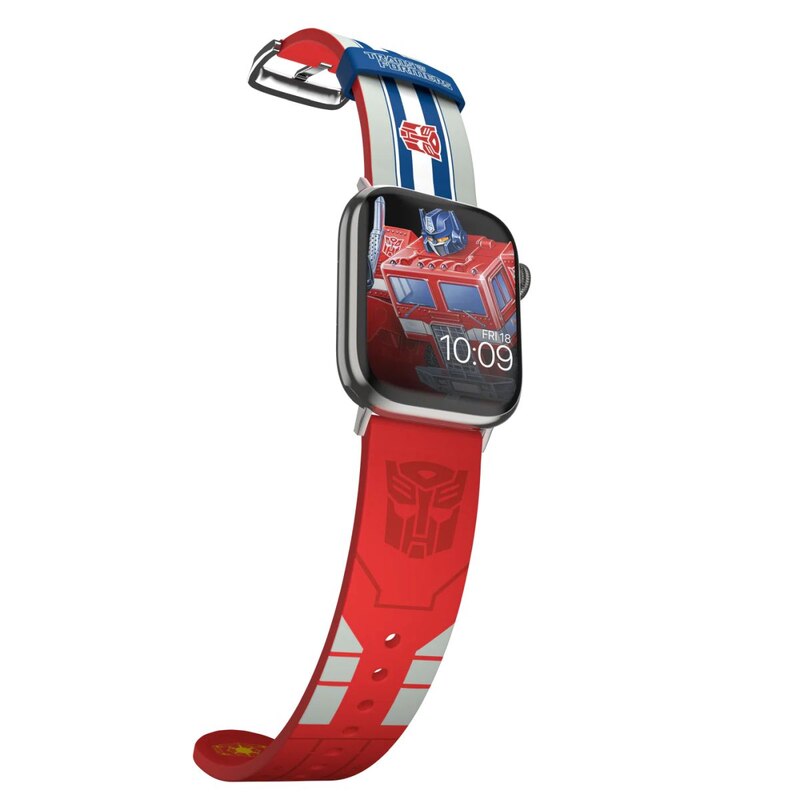 Price: $39.95 USD
Release Date: December 2022
Autobots, assemble! Fight to defeat the Decepticons in this watch band inspired by G1 era Optimus Prime. This red, blue, and gray strap features the heroic Autobot leader's red shoulder insignia, with components of his robotic form and the semitruck and trailer he converts into.
• Officially licensed: This smartwatch band design is officially licensed by Hasbro; package includes 2 sets of connectors to accommodate both 38/40/41mm and 42/44/45mm case sizes of Apple Watch Series 1, 2, 3, 4, 5, 6, 7, 8, Ultra & SE, as well as Samsung and other smartwatches with a 22mm pin
• Fits all Autobots: Whether in robot form or alt mode, this smartwatch strap was designed for a comfortable, universal fit on most wrists
• High quality materials: Made with sweat and UV-resistant silicone, this smartwatch band is tough while feeling smooth, able to withstand your battles with the Decepticons
• Customize your experience: Download the MobyFace App and scan the in-package QR code to unlock more than 20 exclusive Watch Faces included with your purchase, as well as thousands more from our ever-expanding catalog (available on iOS)
Transformers - Decepticon Megatron Smartwatch Band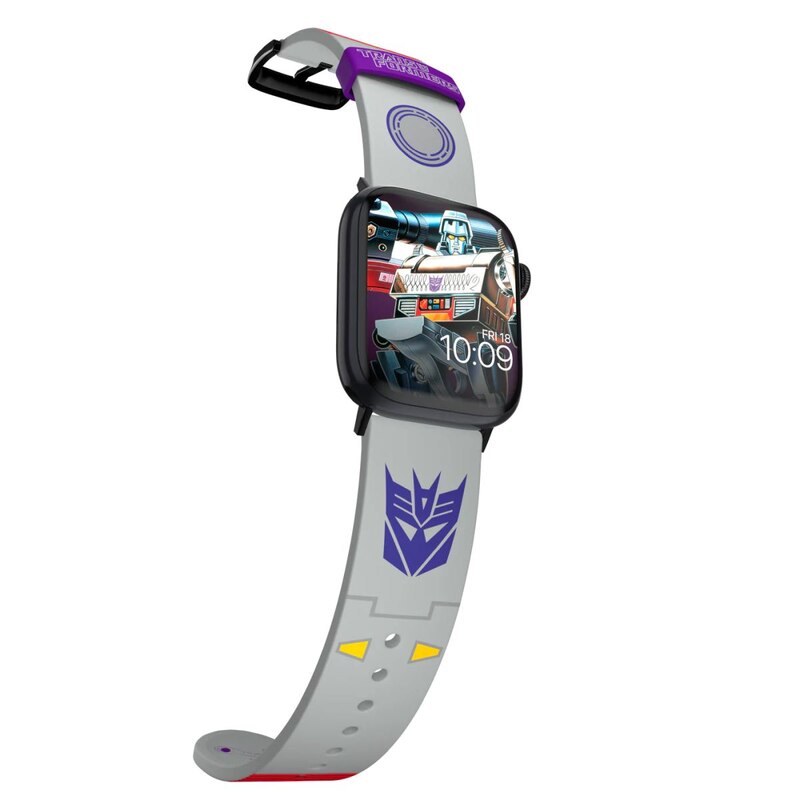 Price: $39.95 USD
Release Date: December 2022
Decepticons attack! Transform and rise up in this smartwatch band inspired by G1 era Megatron. This gray and purple strap features the evil Decepticon leader's purple chest insignia, with elements of his robotic form and the gun he changes into.
• Officially licensed: This smartwatch band design is officially licensed by Hasbro; package includes 2 sets of connectors to accommodate both 38/40/41mm and 42/44/45mm case sizes of Apple Watch Series 1, 2, 3, 4, 5, 6, 7, 8, Ultra & SE, as well as Samsung and other smartwatches with a 22mm pin
• Fits all Decepticons: Whether in robot form or alt mode, this smartwatch strap was designed for a comfortable, universal fit on most wrists
• High quality materials: Made with sweat and UV-resistant silicone, this smartwatch band is tough while feeling smooth, able to withstand your battles with the Autobots
• Customize your experience: Download the MobyFace App and scan the in-package QR code to unlock more than 20 exclusive Watch Faces included with your purchase, as well as thousands more from our ever-expanding catalog (available on iOS)