Just up on Amazon Canada is a new product listing for the Transformers Platinum Edition Trypticon Figure. The much talked about figure seems to have finally found its way to reatil, though its not sure if this will appear on the USA Amazon side or not. In any event, this G1 throwback is listed now for $189 CDN / $166 USD with a price of $176.13 CDN after discount. Read on for more details and the ordering link.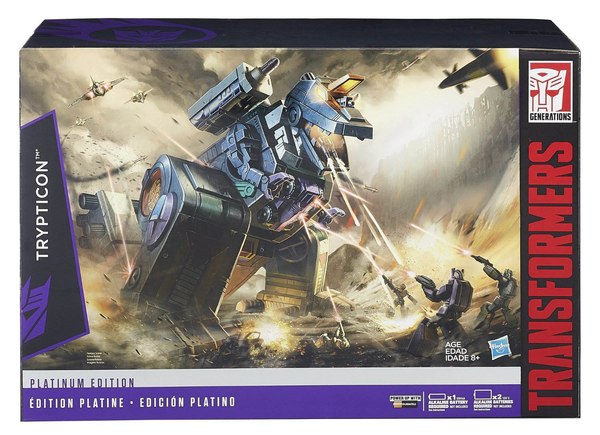 + Platinum edition Trypticon figure comes with Decepticon full-tilt figure and brunt tank vehicle.

+ 3-In-1 figure has dino, battle station, and city modes

+ Figure actually walks in dino mode

+ Converts in 6 steps

Includes:

Trypticon figure, Decepticon full-tile figure, brunt tank vehicle, 3 weapon accessories, 2 scanner accessories, 2 blaster stands, 2 loading ramps, 2 connectors and instructions.

Trypticon doesn't just want to defeat his enemies - he wants to completely obliterate them from existence. If it's a bot he's battling, he wants to reduce them to scrap. Once they're scrap, he'll melt them down to sludge. Cities get reduced to rubble, then stomped to dust. Once he gets going, there are few forces in the universe that can stop him - among the Autobots, only the mighty Metroplex can stand against him in battle. add the ultimate Autobot foe to your transformers adventures with this platinum edition Trypticon figure. this 3-in-1 deception bot-stomper is bad enough in dino mode, where he actually walks toward the target of his rage. When the battle is truly joined, he can convert to battle station mode with 2 cannons. But that's not all. he converts to city mode, with loading ramps for your deception full-tilt and brunt figures. it takes a village to take on the Autobots, and your Trypticon figure has the blasters, scanners, and allies to obliterate anyone in his path. transformers and all related characters are trademarks of Hasbro.
Order Transformers Platinum Edition Trypticon now at
amazon.ca