"The World In Your Eyes, Part Two" is written by Brian Ruckley, with art by Angel Hernandez and Cachét Whitman, with colors by Joana Lafuente and Josh Burcham.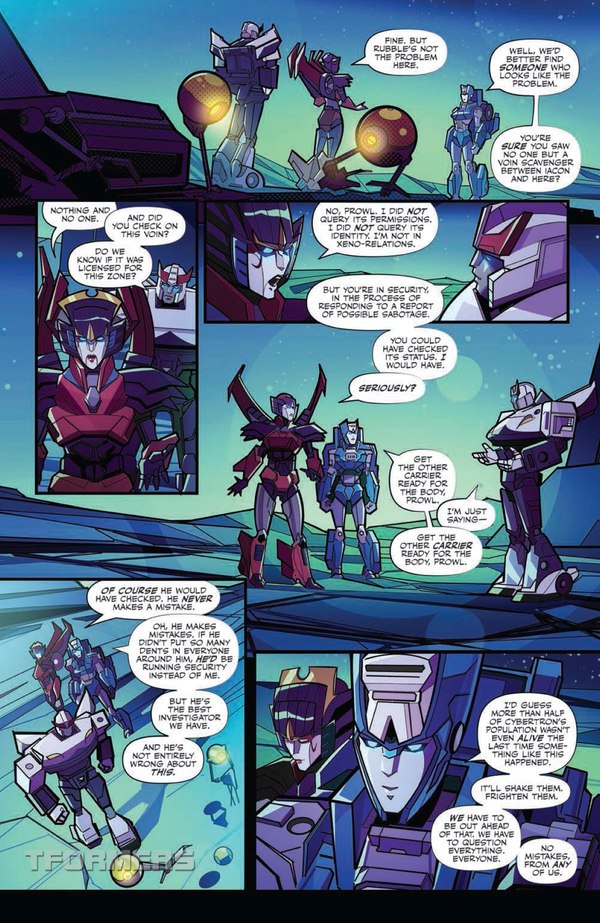 Across all universes and timelines, Prowl is a jerk.
Chris and I had fairly similar reactions to the first issue of the new Transformers. But mine was along the lines of "That sure was a first issue, following a lot of the same first issue beats I've seen over the last decade or so in major comics." Especially that last-page twist. But in this issue I feel like the comic is picking up somewhat. It still feels a like this was paced with the completed arc in mind, but the twice-monthly nature helps make up for that a little bit in the long run. It's just judging it without the benefit of the long run that is difficult at best.
But I think it's also just a function of how this story is treating the Transformers and pre-war Cybertron, which is taking some adapting for me. This Cybertron has a certain formality of speech to it that definitely sets it apart from IDW's previous universe, at least the stories I experienced from it. That clicked for me when Wheeljack was introduced. Most of the Wheeljacks I've known are a good bit more casual, and seeing this take on the character helped me understand what I'm looking at a little better. The vibe is kind of that of a costume drama, something that's establishing mood and setting through the kind of dialogue and environments we see. This is a very old, largely formalized society. (One that is, of course, about to break down). Imagine Wheeljack as played by Brian Blessed or Nicol Williamson in a booming, enthusiastic voice, and you get a sense of where and when we are. It's similar in tone to what I think the Star Wars prequels were going for - and I'm not sure how I feel about it here either.
All of this is to say, I think Brian Ruckley is using the leisurely pace and slight stiffness of dialogue here as contrast for things we will see later. I hope so, at any rate - but again, that's a pace and a concept that's a bit worrisome when you're selling "wait and see" to people at $4 an issue. Which is not to say there's nothing here. The question is just whether there's enough. The world-building is intriguing, and I did find Wheeljack entertaining. But even if there's a purpose to it slowness is slowness, and I'm already looking anxiously towards the destination even as the journey is just beginning.
The book's split between two art teams. The first 2/3 are done by Angel Hernandez with colors by Joana Lafuente, and the final third by Cachet Whitman with colors by Josh Burcham. Hernandez' style is interesting, with a lot of hard edges and thick outlines. Faces could be a more expressive for my tastes, with the exception being Wheeljack of all people, who has a little more life to his eyes (and... faceplate). Joana Lafuente remains, as always, a truly great colorist, and she provides a lot of depth to this and makes everything vivid. Whitman's work is clean and detailed, which makes some things a bit weird since both artists are clearly working directly from the Siege toy designs. It's odd to see the little 3mm nubs meant to mount effects parts expressed so clearly on Megatron's design, to say nothing of 5mm sockets! And while Megatron himself has some range there's a little bit of stiffness in facial expressions here too. (Again, this is a second issue and that's just something I expect will improve with time for both artists. Depending on how on-model they're required to be for this, it may be a side effect of working within the art style and/or character models they're being asked to use as well.) Burcham's coloring is very smooth here, and he makes interesting use of screentone or moire patterns to help distinguish the lead characters in group shots. It's a nifty, striking effect.
Taken on its own this is a more satisfying issue than the first, but it still feels like it's taking a good while to get to the point. That can't be helped I suppose, but I'm hoping that we'll continue the sense of acceleration in the next issue, and the ones that follow. I understand the need for world-building and especially the need to distinguish this Cybertron from others though, so I'll stick with this for a while.