HasCon 2019 is sounding like quite the event for Transformers fans - or it would have, had it not been indefinitely postponed at the very end of 2018. This morning, a listing on BBCW Distributors website for the Siege Refraktor Reconnaissance Team three pack (the toy deco set with extra camera parts and a Kremzeek) was found to carry a bit of interesting new information: it was going to be the HasCon 2019 Transformers exclusive.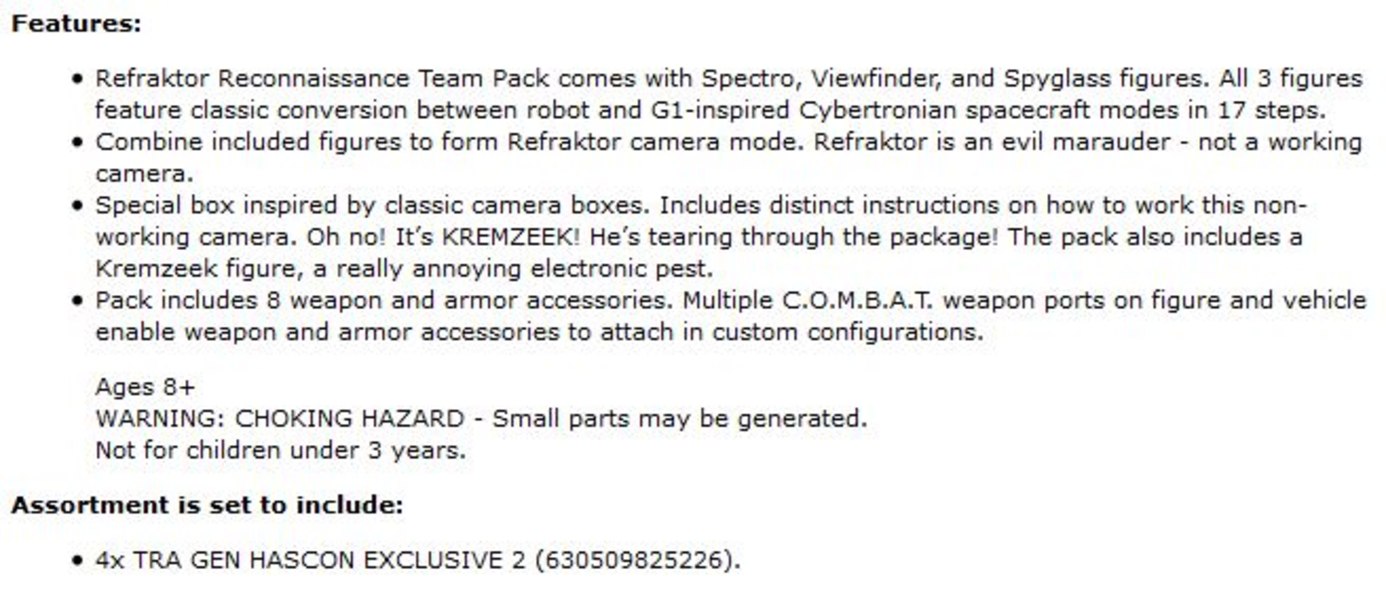 We've screencapped the description text they have for the set, where the relevant portion is in the very last line. "
4x TRA GEN HASCON EXCLUSIVE 2
" Even more interesting is that this is listed as "HasCon Exclusive 2", so it looks like this would have been the second Transformers exclusive for the event-that-never-was. Sadly, a quick search yielded no other Transformers items in the BBCW inventory marked as HasCon exclusives. But we've seen enough off the wall fan-appeal deep-cuts in our Generations line in the last few months that you could take pretty much any of them and call them originally a convention exclusive and you probably wouldn't get questioned.
This comes right alongside what we think is very reasonable speculation within the fan community that HasLab Unicron was probably originally planned to be unveiled and the crowdfunding campaign launch during HasCon weekend this year which would have kicked off on September 6th, before being necessarily shifted to SDCC. Remember, even though HasCon was postponed months ago, the planning for the toys had been underway for much longer. We've heard via Q&A sessions at SDCC that Unicron has already been in process for around 18 months, and the Refraktor three pack would have been decided on sometime in spring of 2018 at the latest. That's just a few months after the first HasCon, when early planning for the second show would have been the hot topic on a lot of minds at Hasbro.
It's unfortunate that the event would go on to be called off, but at least one of its exclusives has for sure gone on to still reach fans and collectors anyway. But you do have to wonder, if Unicron had made its big debut at HasCon, and the backing period started then, would the results to date be different than what we're seeing now? Ah, but for want of a quantum mirror to look through...
BaCon
2019-08-24 @ 2:05 pm
Thanks to @nobreakcool who's shared a nice batch of images giving us an in-hand look at the War For Cybertron SIGE Refraktor Reconnaisance Team special edition set that is made after the G1 Reflector team. Here, we get some first looks at the box and packaging contents along with a many angle shots of the there figures out of the box, in robot and combined camera modes of this HasCon cancelled exclusive set.
Click Image to Read the Full News Story Now